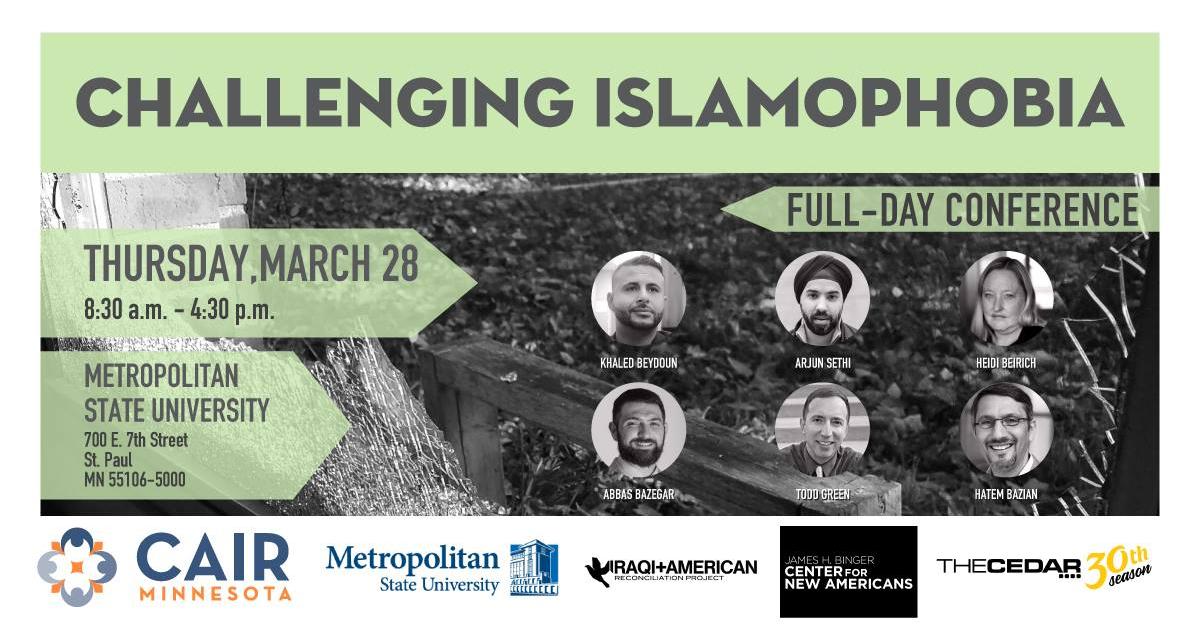 Join the largest regional conference on challenging Islamophobia in the nation, which will bring together leading national experts of Islamophobia, as well as community leaders in Minnesota, to address how to challenge Islamophobia. This conference will inform and equip you to challenge Islamophobia in your own lives and work settings. Topics to be addressed include:
the Islamophobia industry
the intersection of Islamophobia
antisemitism and white nationalism/supremacy
the impact of Islamophobia and hate
Greater Minnesota challenges
Breakout sessions will address the challenges of Islamophobia-based bullying, responding to hate in Minnesota and the Interfaith Response network. Conference speakers will include, but are not limited to:
Khaled Beydoun: a leading scholar on Islamophobia and senior affiliated faculty at the University of California-Berkeley Islamophobia Research and Documentation Project
Heidi Beirich: leader of the Southern Poverty Law Center's (SPLC) Intelligence Project and expert on various forms of extremism, including the white supremacist, nativist and neo-Confederate movements.
Arjun Sethi: community activist and civil rights lawyer, as well as the author of American Hate: Survivors Speak Out
Todd Green: professor of religion, public scholar, and author on challenging Islamophobia and championing interfaith collaboration
Abbas Barzegar: director of research and advocacy at the Council on American-Islamic Relations, spearheading the effort to document Islamophobia.
In 2018, the Challenging Islamophobia conference drew over 250 attendees, including school administrators, government employees, corporate diversity and inclusion leaders, non-profit leaders and elected officials, students, and community activists.
This event is sponsored by Metropolitan State University's Institute for Community Engagement and Scholarship, Equal Employment and Diversity Office, and College of Liberal Arts, as well as the Iraqi-American Reconciliation Project, the Cedar Cultural Center, the University of Minnesota's James H. Binger Center for New Americans and the Minnesota Council on American-Islamic Relations.
Accessibility
If you need disability related accommodations, including parking, to make this event accessible, please contact the Center for Accessibility Resources,
651-793-1549
or
accessibility.resources@metrostate.edu
.