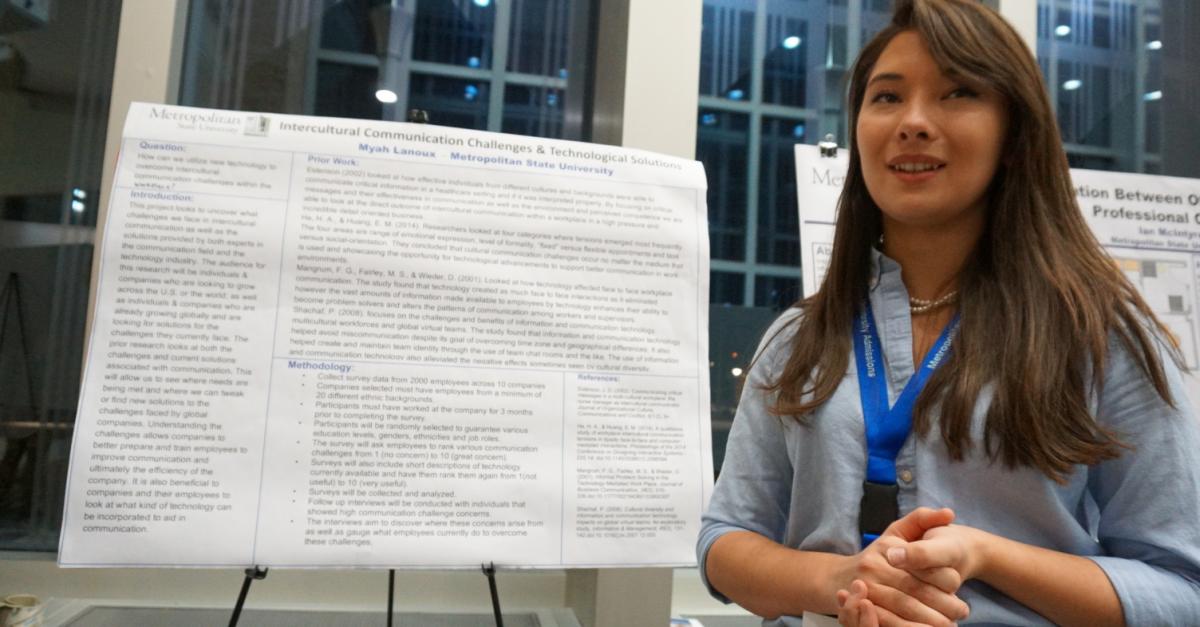 Please join your fellow Metropolitan State University students in the third annual Student Research Conference. At this conference, students have presented their scholarship from within and outside the classroom, including poetry, primary research projects, essays, secondary research, performative art, artistic projects, and posters. Your work should be shared with family; friends; students; faculty, staff, and administrators from across the university; and community members. The SRC is the chance to show everyone the great work being done here at Metro. Applications are due by April 9, 2019 and can be submitted at the following link: https://goo.gl/forms/LAQD0gfMconSRUDU2
Where: Metropolitan State University St. Paul Campus. Check-in for the event will be held in the Great Hall
Who: Presenting is open to all Metro State students. Attendance is open to all students, staff, faculty, administration, community members, and family members (free of charge to all). Refreshments and snacks will be provided
When: April 23; check in is at 5pm, event begins at 6pm
What: The conference will be divided into three categories: papers, posters, and creative projects, described below
Paper
A paper can be anything from a research paper to an analysis of something. Paper presenters can expect to either read their paper to the audience or turn their paper into a presentation (using PowerPoint slides, video, or other electronic medium. Paper presentations will be grouped into panels (60 min) and expected to be 15 minutes in length, allowing time for questions at the end of the session.
Poster
A poster is a stationary visual item that can be understood by a lay audience. Poster sessions are extremely common in many disciplines, so spending time making a poster can be extremely worthwhile. For this you may use large printed posters, tri-fold boards, or any other stationary medium. Presenters will be expected to spend time by their posters/boards during the conference to engage with the audience. Printing assistance will be provided upon acceptance if needed.
Creative Project
Sometimes research or creative work doesn't fit into a paper presentation or a poster session (audio project, theatrical project, and so on). If you have a project that you think would be interesting for other Metro State students, faculty, and/or community members, but doesn't fit within the confines of the above forms, please apply under this topic. Conference organizers will contact you to determine the feasibility of showcasing your project at the conference.
How: Application Guidelines
To apply, submit a 250 word abstract of your project and fill out the form linked below. In the abstract, you may want to talk about the following topics: what is the goal of your project? Who is the audience? What impact do you see your research or creative work having? Is this part of a larger project? How does it fit into other work you've done? Is this a personal project for you? Is this an advocacy project? Please submit your abstract at the following link by April 9, 2019 @11:59pm: https://goo.gl/forms/LAQD0gfMconSRUDU2
Accessibility Information:
If you need disability related accommodations, including parking, to make these events accessible, please contact the Center for Accessibility Resources, 651.793.1549 or at Accessibility.Resources@metrostate.edu