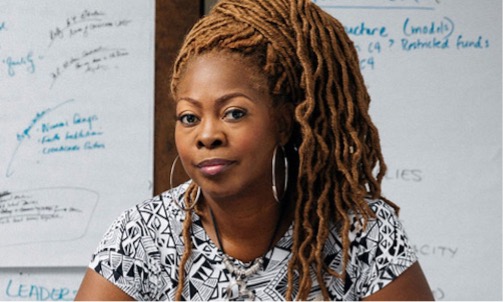 LaTosha Brown is at the intersection of social justice, political empowerment, human development and the cultural arts. A catalyst for change, thought leader and social strategist, Brown's national and global efforts have been known to organize, inspire and catapult people into action—not just lip service—and enable them to build power and wealth for themselves and their community. She is the recipient of the 2010 White House Champion of Change Award, 2006 Spirit of Democracy Award and the Louis Burnham Award for Human Rights. Brown is passionate about leading social change for the purpose of advancing humanity, creating a more equitable redistribution of wealth and power around the globe.
Register in advance for this webinar. To request accommodations, contact the Center for Accessibility Resources at 651-793-1549. The event will not be recorded for redistribution. Participants are encouraged to attend the livestream event, which will also be shown from the Student Life and Leadership Development Facebook page.
Brown is co-founder of the Black Voters Matter Fund and the Black Voters Matter (BVM) Capacity Building Institute, and adamant about ensuring that all human beings have access to quality education, safety, security, peace, love and happiness. She strives daily to hear, amplify and support the voices of women in leadership. She also works to eliminate human suffering through her vision of the Southern Black Girls & Women's Consortium. Recognizing that her work is not rooted in strengthening political systems, governments or institutions—but in the advancement of people— Brown serves as an authoritative figure in the lives of thousands, if not millions. More than ever, she's crystal clear that she is called to remind people of the power they hold within, pushing them through the birthing process of vision to manifestation.
The Black Voters Matter Fund was credited with energizing and turning out voters in Georgia's historic 2020 Presidential Election and 2021 run-off as well as in Alabama's Black Belt and playing a decisive role in Doug Jones' election to the U.S. Senate.
Brown and her Black Voters Matter Fund partners often travel through the South and key swing states on what they call "The Blackest Bus in America" to galvanize voters and stop to voter suppression. LaTosha's BVM Capacity Building Institute organization provides training and support to community-based organizations.
An in-demand public speaker, LaTosha is a distinguished trusted expert on political strategy, organizing, civil rights, economic development, wealth creation, and rural issues over a 20-year career. She is the founding project director of Grantmakers for Southern Progress and a founding member of the Rockefeller Philanthropy Advisors' Gulf Coast Fund for Community Renewal and Ecological Health. She has advised many national and regional foundations, including the Ford Foundation, Open Society Institute, and the Clinton Global Initiative. 
Event sponsors: Metropolitan State University Institute for Community Engagement and Scholarship, Office of the President, Metropolitan State University Student Association (MSUSA), TRIO Student Support Services, Student Life & Leadership Development and Multicultural, American Indian and Retention Services (MAIR).
Accessibility
Contact the Center for Accessibility Resources by
email
, or by phone at
651-793-1549
, if you need disability-related accessibility accommodations, including parking.