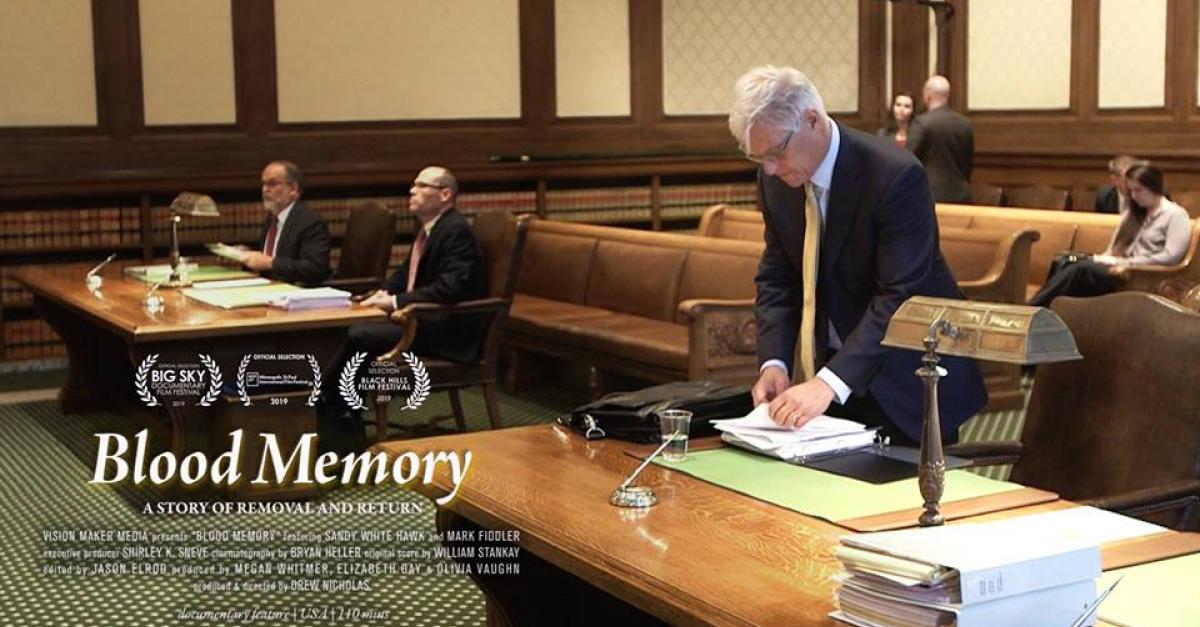 Community members are invited to a special screening of the 2019 documentary Blood Memory. A panel discussion will follow the documentary, which will feature filmmakers and storytellers. This event is free and open to the public. Light refreshments will be served.
Film synopsis
Blood Memory tells the stories of two individuals and their divergent experiences with forced family separation and the Indian Child Welfare Act (ICWA). The film provides first-hand accounts from adopted/fostered individuals, boarding school survivors, relatives, and those working for families and children throughout Indian Country.
Battles over blood quantum and 'best interests' resurface the untold history of America's Indian Adoption Era - a time when nearly one-third of children were removed from tribal communities nationwide. As political scrutiny over Indian child welfare intensifies, an adoption survivor helps others find their way home through song and ceremony.
Panel members
Sandy White Hawk
White Hawk (Sicangu Lakota) is the founder and director of First Nations Repatriation Institute (FNRI), which offers advocacy to adoptees, fostered relatives and their families. FNRI organizes Truth Healing Reconciliation Forums. These forums bring together adoptees, fosterees and families in an effort to identify post-adoption issues and strategies to prevent child removal. White Hawk is a former Commissioner for the Maine Wabanaki Child Welfare TRC and an Honorary Witness for the TRC on Residential Schools in Canada. She is also a member of the Board of Directors to the National Native American Boarding School Healing Coalition.
Mark Fiddler
Fiddler is a registered member of the Turtle Mountain Band of Chippewa Indians and a private practice attorney in Minnesota who specializes in the areas of adoption, foster care, third party custody and the Indian Child Welfare Act (ICWA). He was named one of the 2013 "Minnesota Lawyer Attorneys of the Year" and is a fellow and former trustee of the American Academy of Adoption Attorneys, as well as chair of its ICWA Committee. Fiddler is the founding director of the Indian Child Welfare Law Center and has litigated Indian Child Welfare cases in the United States Supreme Court, including the landmark case, Adoptive Couple v. Baby Girl, as well as in appellate and trial courts throughout the United States.
Shannon Smith
Smith is the executive director of the ICWA Law Center, which is a non-profit legal service organization that works to strengthen, preserve and reunite Indian families consistent with the mandates and spirit of the Indian Child Welfare Act (ICWA). Shannon started with the ICWA Law Center in 2000 as a staff attorney and has represented over two thousand families in ICWA proceedings. With over 19 years of experience working in the field of Indian child welfare, Smith is highly regarded as a leader in the field, serving on several committees affecting the interests of Indian children and their families.
Drew Nicholas
Nicholas is the director and producer of Blood Memory, a nine-year documentary film project. Nicholas earned a BA in Cinema and Digital Arts from Point Park University and studied creative writing/poetry at Naropa University. His films have been recognized by Big Sky Documentary Film Festival, Minneapolis-St.Paul International Film Festival, New Filmmakers: New York, and the Sprout Fund. Blood Memory is his feature film debut.
Blood Memory is a documentary film and outreach project produced with support from the Corporation for Public Broadcasting, Vision Maker Media, The Pittsburgh Foundation/The Heinz Endowments, Sinte Gleska University and the Sicangu Nation. This screening is hosted by the Metropolitan State University's Social Work program, Student Success, Women's and LGBTQ+ Resource Center, Equity and Inclusion Council, and Office of American Indian Student Services and Multicultural Affairs.
To RSVP, or for more information, check out Metropolitan State University's Facebook page, or contact Gao Yang by email or by phone at 651-793-1338.
Accessibility
If you need disability related accommodations, including parking, to make this event accessible, please contact the Center for Accessibility Resources,
651-793-1549
or
accessibility.resources@metrostate.edu
.