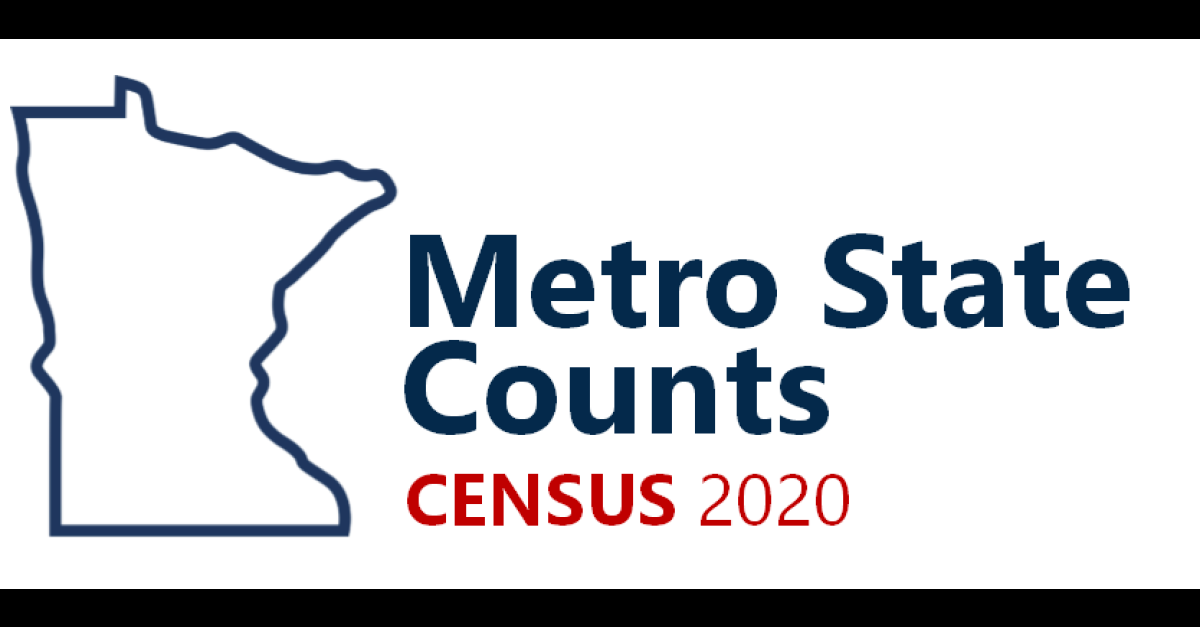 Also known as "Citizenship Day," Constitution Day commemorates the signing of the U.S. Constitution in Philadelphia on Sept. 17, 1787 and recognizes all who have become U.S. citizens since. This year, the university's observance will examine demographic, constitutional and cultural/socio-economic factors impacting the census, and engage participants in facilitated conversations about Census 2020.
This campaign is a year-long effort to educate ourselves and others about the significance of the 2020 Census, and to encourage a statewide complete count. Metropolitan State and its nearby communities represent many of the people who are at risk of being made invisible in the census, given that renters, students, people of color, immigrants and refugees, and low-income households have all been historically undercounted at disproportionately high rates. Metro State Counts believes our students and communities do count.

Why should you care? The census count affects everything from political representation to where businesses locate to the allocation of resources from the Federal government to the States—including financial aid and Pell grants. For Minnesota, a Congressional seat and some $16 billion are on the line.
Upcoming events include:
Faculty Lunch and Learn—Census 2020 and Faculty Professional Development
Wednesday, Sept. 11, 11:45 am to 1 pm, LIB 302, lunch provided.
This gathering is designed to support resident and community faculty in making the 2020 Census relevant to activities associated with teaching, scholarship and service. Cosponsored by the Center for Faculty Development and the Institute for Community Engagement and Scholarship, we will: introduce fundamentals about Census 2020 and why it's important; offer examples of course-based projects that utilize Census 2020 as a tool for high-impact teaching and learning; provide an overview of the Metro State Counts campaign and resources available to support community-engaged courses; feature an example of public scholarship using research; and, engage participants' questions and ideas for strengthening the Metro State Counts campaign. RSVP requested: https://www.surveymonkey.com/r/3HG5DKM.

Constitution Day Commemoration—Census 2020: We All Count. Will We All Be Counted?
Thursday, Sept. 19, 4:30 to 6 pm. Refreshments provided.
This event is free and open to the public. Light refreshments and free copies of pocket-sized Constitution booklets provided to all attendees. This is a great opportunity to learn about Census 2020 and how you can get involved. Contact community.engagement@metrostate.edu or 651-793-1285 with questions.
Guest panelists include:
Rachel Dame, Census 2020 Project Manager for the Minnesota Demographer's Office
Professor Matt Filner, Department of Social Science
Mónica Hurtado, Racial Justice and Health Equity Organizer, Voices for Racial Justice (invited) 


The Metropolitan State Counts Campaign and Constitution Day are cosponsored by the Institute for Community Engagement and Scholarship, Department of Social Science, and Master of Advocacy and Political Leadership (MAPL) program, with support from the university's American Democracy Project and Library and Information Services, along with Campus Compact of Minnesota and Iowa, Census 2020 Minnesota Higher Education Network, Minnesota Demographer's Office, and Ramsey County's Complete Count Committee.
Accessibility
Contact the Center for Accessibility Resources by
email
, or by phone at
651-793-1549
, if you need disability-related accessibility accommodations, including parking.