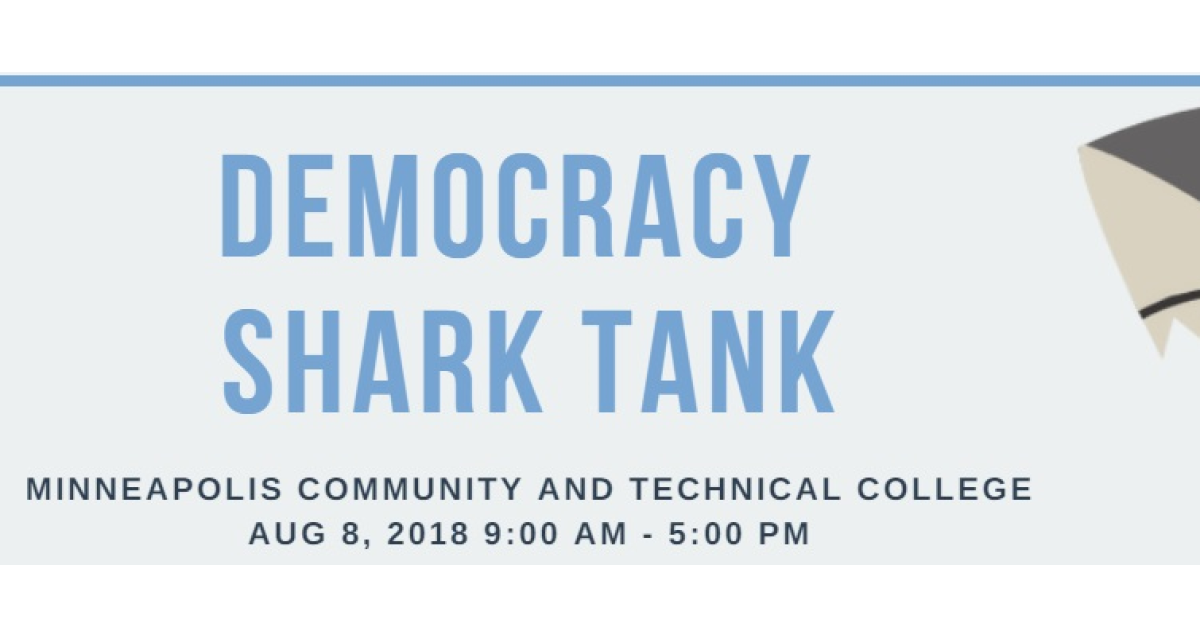 Compete against other colleges and universities from across Minnesota to win one of 13 grants to support civic engagement at Metropolitan State University.
Campus teams will develop their best ideas and plans to support student voter turnout in the 2018 election, then they pitch those ideas to a panel of "sharks" who will invest $10,000 worth of seed funding to help support campuses' work.
The competition will be 9 a.m. to 5 p.m. Aug. 8, at Minneapolis Community and Technical College, 1501 Hennepin Ave, Minneapolis.
If you would like to join the Metro State team, or to register your own team, contact jodi.bantley@metrostate.edu by Aug. 3. Teams must consist of three participants and must include at least one student and one faculty or staff member. Campuses may enter more than one team to compete for the funding, however only one team from each campus is eligible to win a grant.
Democracy Shark Tank Sponsors include Democracy Works (https://democracy.works/), LeadMN (https://www.leadmn.org/), Minnesota Campus Compact (http://mncampuscompact.org/), and Minnesota State (http://www.minnstate.edu/).
Questions? Contact LeadMN Director of Programs and Events Lindsay Barton, or Minnesota Election Engagement Organizer Rachael Houston. Democracy Shark Tank Sponsors include Democracy Works, LeadMN, Minnesota Campus Compact and Minnesota State.
 #MetroStateVotes2018
Accessibility
If you need disability related accommodations, including parking, to make this event accessible, please contact the Center for Accessibility Resources,
651-793-1549
or
accessibility.resources@metrostate.edu
.