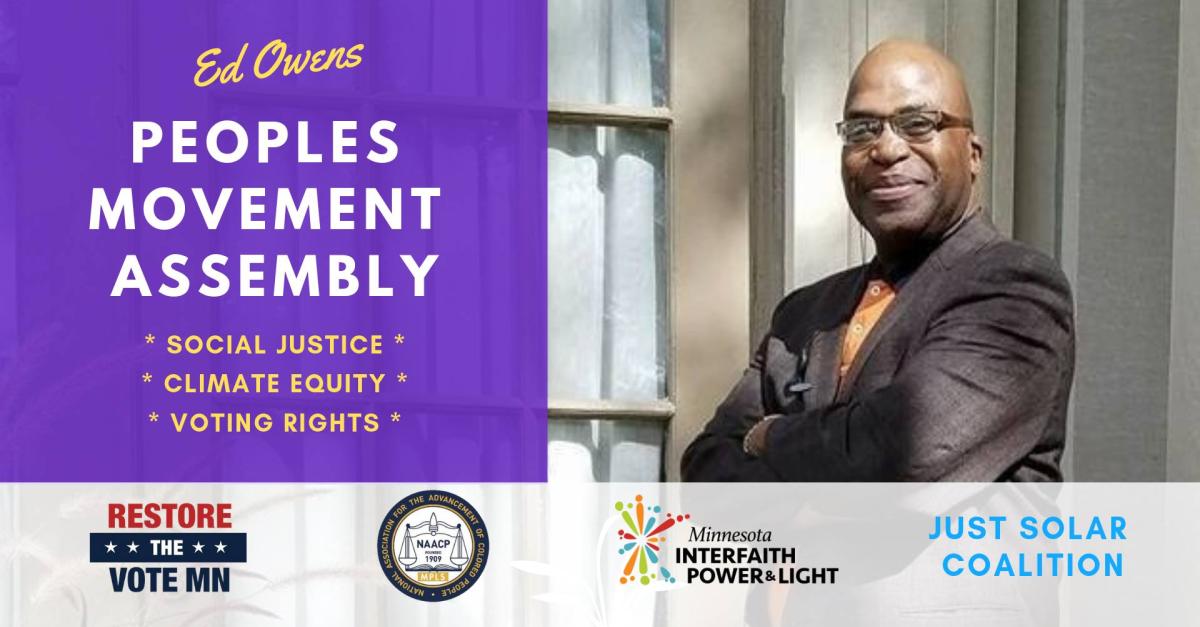 This event has been cancelled due to weather. We will update the event date at a later time.
The community is invited to attend the Ed Owens People's Movement Assembly. During this event, speakers, storytellers, artists and musicians will help us understand the structures of oppression that divide us. Other speakers joining Owens will include:
McKenzie Owens
Representative Raymond Dehn
Representative Carlos Mariana
Then, those in attendance will come together to explore a variety of solutions. This event will provide the opportunity for people from different social justice networks to meet each other and to honor the work of Owens.
In the past, Owens has used his work to fight mass incarceration, promote climate justice reparations and restore the vote to disenfranchised communities. Key topics and questions this event will cover include:
How do we elevate the voices of those who have been disenfranchised by economic, political and criminal justice systems?
What are the connections between criminal justice and just solar?
How do we decolonize the systems that we have today in a way that will lead to the restoration of land and voices?
How can communities change the story of the doctrine of discovery in order to restore voice and power for all?
The Ed Owens People's Movement Assembly schedule is as follows:
10:00 a.m.: Registration
11:00 a.m.: Plenary

Randy Gresczyk (Bois Forte Tribal Member)
Raj (Roots of Systemic Racism)
Anika Bowie (Restore the Vote)
Bob Blake (Solar Bear)
Louis Alemayehu (Elder Storyteller)
music
and more

12:45 p.m.: Great Hall
1:45 p.m.: People's Movement Assembly
3:30 p.m.: Great Hall 
For more information, or to RSVP, check out this event on Facebook. The Ed Owens People's Movement Assembly is hosted by the Minneapolis NAACP, Restore the Vote, Minnesota Interfaith Power & Light, and the Just Solar Coalition.
Accessibility
If you need disability related accommodations, including parking, to make this event accessible, please contact the Center for Accessibility Resources,
651-793-1549
or
accessibility.resources@metrostate.edu
.