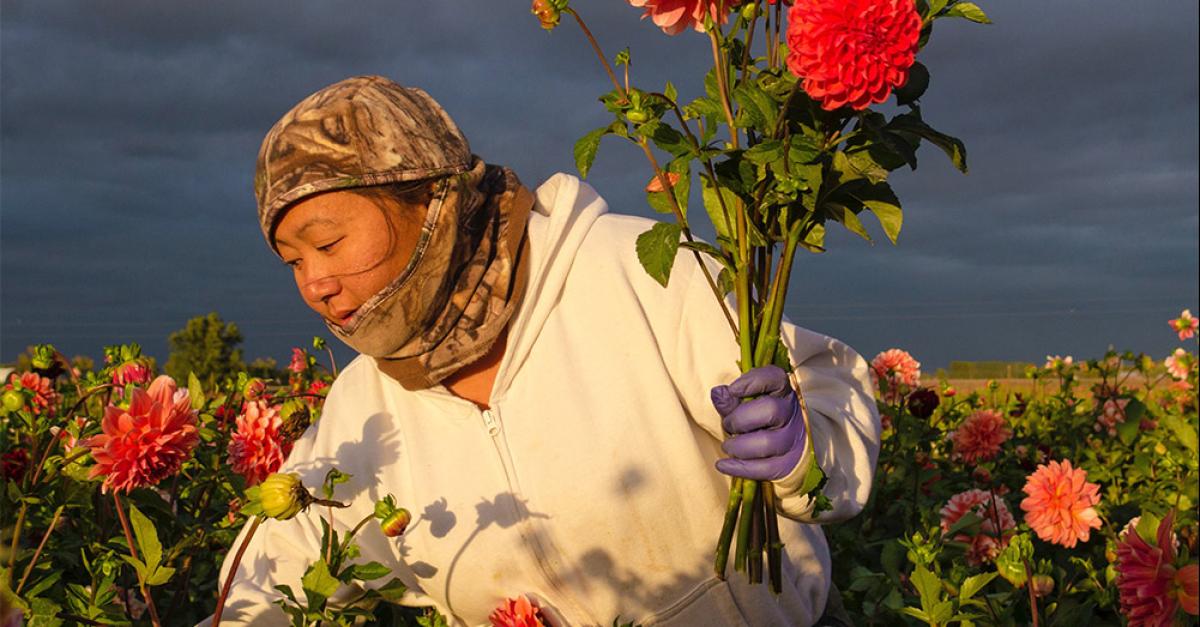 We Come from the Flower is a multimedia portrait of a year in the life of a farm. This solo exhibition by Minneapolis photographer Mike Hazard features photographs, stories, a book and a short video featuring the Hmong American Farmers Association (HAFA)  farm in Vermillion Township, Minnesota.
The project represents over four years of documentation and 3,000-plus archived images. "I was commissioned by the Hmong American Farmers Association to document the creation of a farm located south of Saint Paul," Hazard said. "I knew I would see beautiful plants and people to photograph. I did not know it would change my life. I now look at the land, farmers, and food differently. And I eat a plant-based diet."
Hazard is a filmmaker, photographer and poet. With many collaborators, he has made seven documentaries that have aired on PBS. Hazard's camera work has been collected by numerous museums including the Museum of Modern Art (NY), National Gallery, Walker Art Center, and the Minneapolis Institute of Art. A collection of Hazard's poems about people, This World Is Not Altogether Bad, is published by Red Dragonfly Press. 
"Although this exhibition has already made numerous appearances throughout the state of Minnesota, I felt that it was important to bring the exhibit to Metropolitan State," says Gallery Director Erica Rasmussen. "This exhibit carries tremendous value in celebrating the contributions of the Hmong community to the agricultural economy and the cultural landscape of the Twin Cities. Hazard's photographs and stories embody a deep respect for the people who make up more than 50 percent of the farmers in metropolitan farmers markets."
The gallery is located at the university's Saint Paul Campus on the third floor of the Library and Learning Center. The exhibition opens Monday, April 22 and runs through June 27.