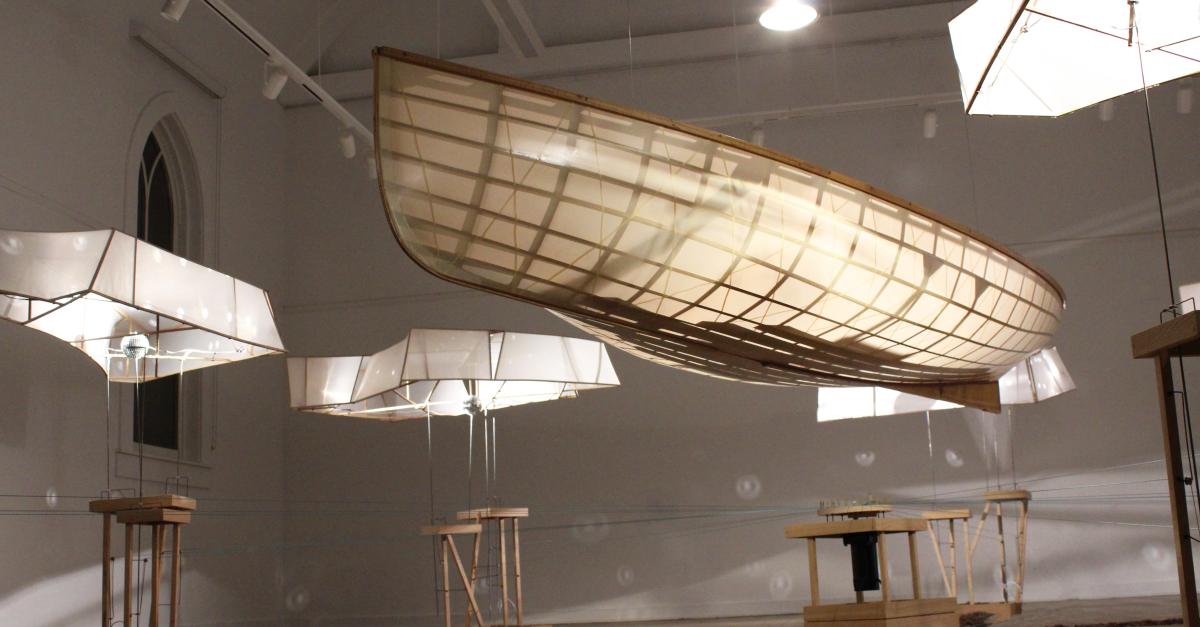 Swinging the Compass is a solo show, featuring the sculptural work of Danny Saathoff. Watching the rise and fall of ice breaking up on the south shore of Lake Superior and the prospect of the demise of this natural occurrence coming to an end within the span of the 21st century inspired the artist to create his sculptural installation. The centerpiece of this atmospheric environment is a wood and fabric boat, suspended from the ceiling of the gallery.
Regarding the exhibit, Saathoff said, "Swinging the Compass is a nautical term for recalibrating the main piece of navigational equipment aboard a ship. If the ship's magnetic compass is not reading true, one can carefully adjust components, typically steel balls, in order to make it read accurately. I am using this term as a metaphor for corrections in human activities that are resulting in climate change. We know that our actions are affecting the climate, but it's not too late for us to swing the compass to mitigate our future effect on the world."
"Upon first glance, Saathoff's work is both well-crafted and visually engaging. A minimal palette, gentle movements and shifts in illumination suggest the rhythms of nature. Humankind is represented as the pendulum through the abstraction of the delicate boat. However, the conceptual underpinnings of the exhibit ultimately make for a sobering experience," says Gallery Director Erica Rasmussen.
The gallery reception will feature a gallery talk at 7 p.m. by the artist. The exhibition opens Oct. 28 and runs through Dec. 5. For more information about the exhibit, contact Gallery Director Rasmussen by phone at 651-999-5942, or by email. More information and high-resolution images available upon request.
Accessibility
Contact the Center for Accessibility Resources by
email
, or by phone at
651-793-1549
, if you need disability-related accessibility accommodations, including parking.