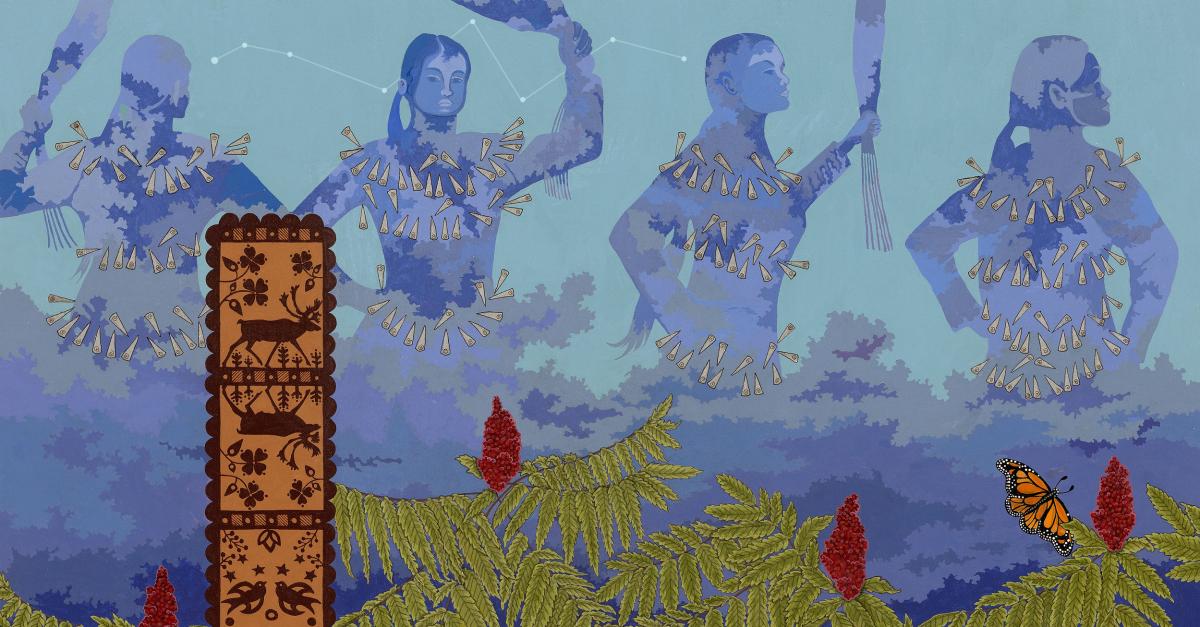 Gordon Parks Gallery proudly presents an opening reception for When the Mists Lift, the Many See with a gallery talk by the artist at 7:00 p.m. This is a solo show, featuring the paintings and textiles of Anoka Artist Chholing Taha, who is a seer. The stories and imagery for her paintings come to her as almost complete visions –characters, message, colors and balance. Her role is to render them as accurately as possible and to share these stories that her Ancestors say people need to hear now.
Taha tells stories through paintings and Native American textiles such as shawls, blankets and hoods. Her narrative paintings convey beauty, harmony, healing, life and redemption –for humans as well as the rest of nature under human affect. These reparative attitudes and lightness are immediately apparent to the viewer.  Her compositions are carefully balanced and often symmetric, her color choices are bright and cooperative, and most of the stories, in one way or another, honor the cycle of life and creation.
She knows the gravity of her responsibility but works and lives with a lightness of being. Not surprisingly, she holds beliefs that stray into magical territories. She knows too much of the spirit world to think otherwise. It is important to note that Taha's positivism comes not from naivety but rather from a recognition of human dysfunction, and a keen sense of what is needed to heal ourselves and the planet we inhabit.
"It could be argued that she's chosen the harder road, especially in times like these, to paint hope and stories of resolution, but like any artist of merit, she is true to her passions. And she is firm in her belief that positive vision is necessary for positive change. Chholing Taha has not wavered on this, even though contemporary art institutions (museums, art schools, curators, etc.) typically favor critique. Fortunately for her, art buyers often prefer artworks of beauty in their homes, and she sells almost every piece she makes," says Guest Curator John Schuerman.
Gallery hours are 11 a.m. to 7 p.m., Monday to Thursday, Feb 3 to Feb 27. For more information about the exhibit, contact Gallery Director Erica Rasmussen by email or by phone at 651-999-5942. High-resolution images are available upon request.
Accessibility
Contact the Center for Accessibility Resources by
email
, or by phone at
651-793-1549
, if you need disability-related accessibility accommodations, including parking.