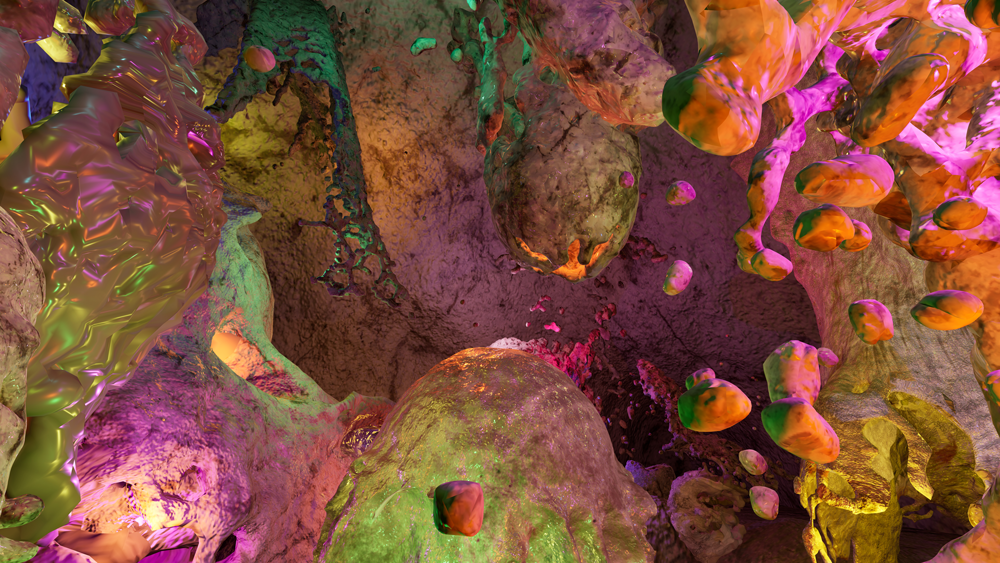 A virtual panel discussion with the artists, curator and tech team behind the exhibit Refresh: The Space in Between A Screen and A Body now on display at Gordon Parks Gallery.
This exhibition features Karst, a virtual reality artwork by new media artist Snow Yunxue Fu, and original choreography by dancer/visual artist Lela Pierce., and re-imagines the gallery as a digital space: a web page that is updated/refreshed with new "data" (motions, memories, layers of meaning, recordings of the virtual reality world and the performances). Karst is multi-level virtual reality visual and sound experience/artwork that creates liminal spaces in between the representational and the theatrical. Through projections, Pierce's unique exploration of Karst is broadcast onto her body and on walls of the Gordon Parks Gallery; through motion sensors and video, her physical presence is transformed from bodily memories to a flux of data. In Refresh, Pierce's dancing body is a breathing screen, a public platform for showcasing a world of physically inaccessible wonders that Fu recreated in VR.
Access the videos and virtual panel discussion at metrostate.edu/arts/gordon-parks-gallery. The exhibit opens Monday, April 26 and runs through July 1.
Gallery doors are currently closed to the public. The gallery is located at the university's Saint Paul Campus on the third floor of the Library and Learning Center, 645 East Seventh Street. For more information about the exhibit, contact Zoe Cinel, Interim Gallery Director, at 651-246-2086.
Accessibility
Contact the Center for Accessibility Resources by
email
, or by phone at
651-793-1549
, if you need disability-related accessibility accommodations, including parking.