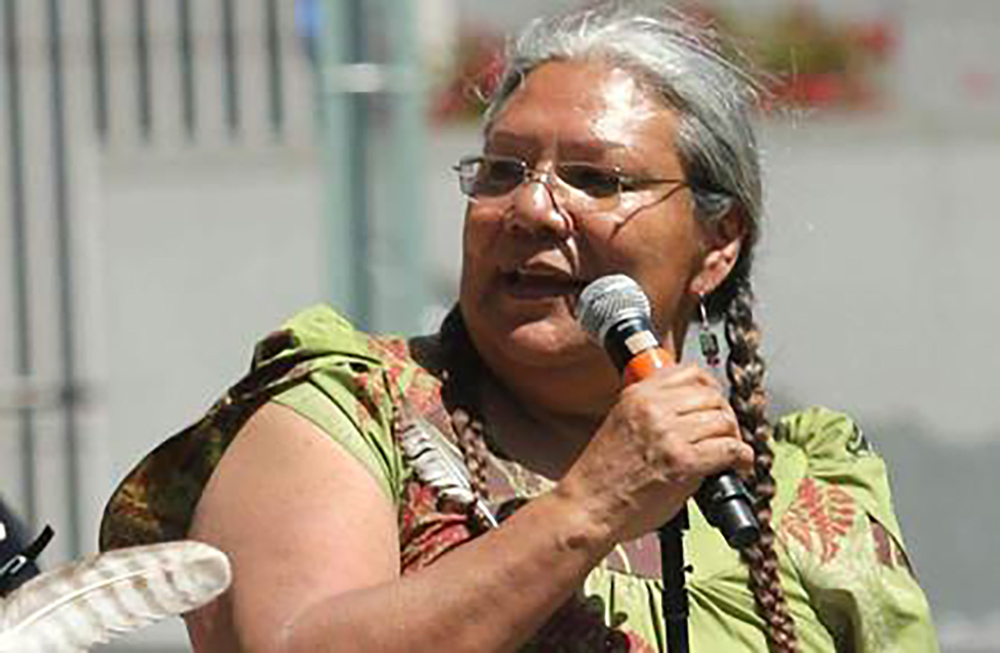 During this time of re-examining our place on this planet, take time to consciously look at ways to liberate oneself from learned conditioning.
Draw on our ancestral memory as well as modernization of Indigenous philosophies, and consider how we can create a network of support and inspiration for our daily lives? We are the voice of the Waters, Trees, Air, Four-leggends, Winged, and our future generations.
This talk addresses the importance of identifying and restoring cultural practices and rediscovering our beliefs and values for the empowerment of our original role-living with our relatives on this planet.
Lakota Harden (Minnecoujou/Yankton Lakota and HoChunk) is an organizer, community leader, and elder who has been part of Native American struggles for the past four decades.
She first became an accomplished speaker as a youth and representative of the early American Indian Movement's "We Will Remember" Survival School on the Pine Ridge reservation, established out of the 1973 Wounded Knee occupation. She has continued her activism over the years, working with the International Indian Treaty Council, Women of All Red Nations (WARN), Idle No More, Indigenous Women's Network, Lakota Traditional Birthing Project, and OYATE, a Native organization working to see that the lives and histories of Native peoples are portrayed honestly through books.
Lakota was the co-host of the weekly radio program, Bay Native Circle, on Pacifica radio station KPFA in the San Francisco Bay Area. The program featured interviews, current events, and perspectives of the Native American community.
She is a founder of the Herring Rock Water Protectors, an environmental group under the guidance of the Sitka tribe, that works to protect herring and salmon from overfishing by corporate interests. In following the spirit of Standing Rock this group focuses on the issue of herring depletion as a local embodiment of the destruction of culture and earth.
She is recipient of a Brave Hearted Woman Award presented by Mills College in Oakland CA and a Sisters of Fire Award presented by the Women of Color Resource Center to leading women of color activists and artists for their outstanding commitments to social justice.  Lakota is also featured in the 2018 documentary, Warrior Women.
Accessibility
Contact the Center for Accessibility Resources by
email
, or by phone at
651-793-1549
, if you need disability-related accessibility accommodations, including parking.