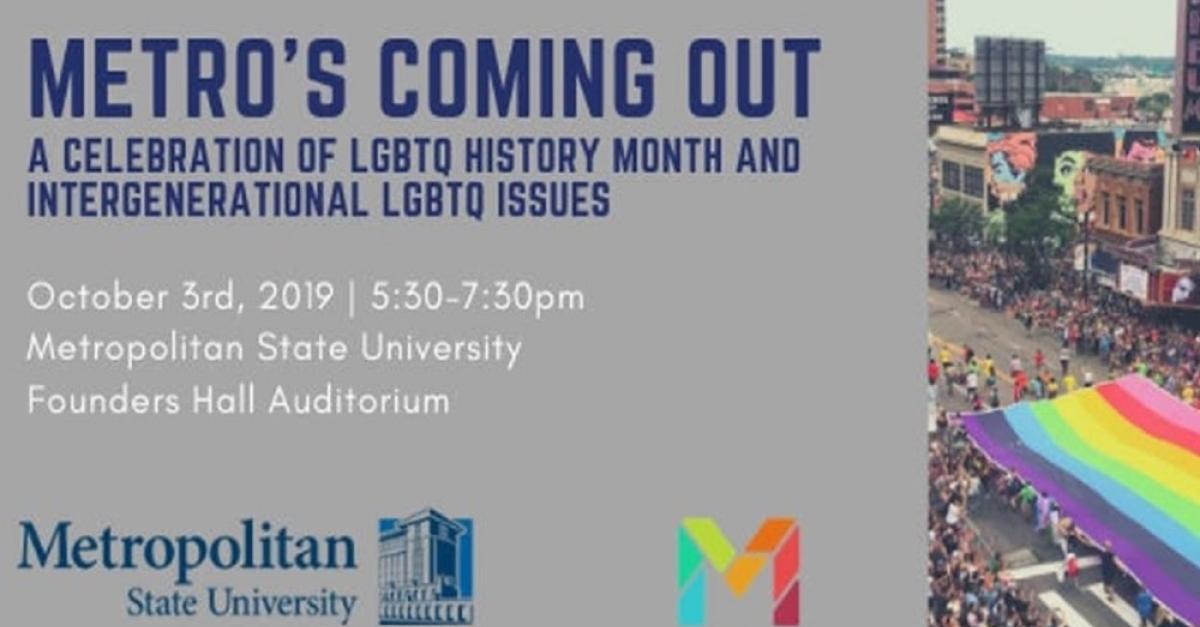 October is LGBTQ+ History Month and Oct. 11 is National Coming Out Day. In commemoration, Metropolitan State University and Mossier will host an intergenerational panel of LGBTQ+ individuals. Speakers will discuss their coming out stories at this event, which will also include a celebration of LGBTQ+ history. Panelists include:
Rebecca Lawrence, founder of Telling Queer History
Rosanna Hudgins, an activist involved with the Minnesota Coalition Against Sexual Assault (MCASA), Women of Color Institute (of MCASA), Women of Color Stirfry and National Women's Studies Association (NWSA)
Anne Hodson, alum, production manager of One Voice Mixed Chorus and Anne Hodson Photography owner
Daemeon Stanton, Metropolitan State student
Metropolitan State and Mossier have teamed up to bring you an exciting conversation between members of the LGBTQ+ community from different generations. Join an amazing panel of leaders and dive into the many complexities of coming out, as well as how those complexities have evolved as our world (and our acceptance of LGBTQ+ people) has evolved.
This event is free and open to the public, although donations for Metropolitan State's LGBTQ and Allies Scholarship Fund are encouraged. This scholarship fund was established to recognize and empower those Metropolitan State students who demonstrate activism and leadership within the lesbian, gay, bisexual, transgender, queer/questioning, intersex, asexual and/or allied community within Metropolitan State and the broader community. Donations will be accepted at the door. 
To RSVP, or for more information, check out the Women's and LGBTQ+ Resource Center on Engage or Metro's Coming Out on Eventbrite.
Accessibility
Contact the Center for Accessibility Resources by
email
, or by phone at
651-793-1549
, if you need disability-related accessibility accommodations, including parking.