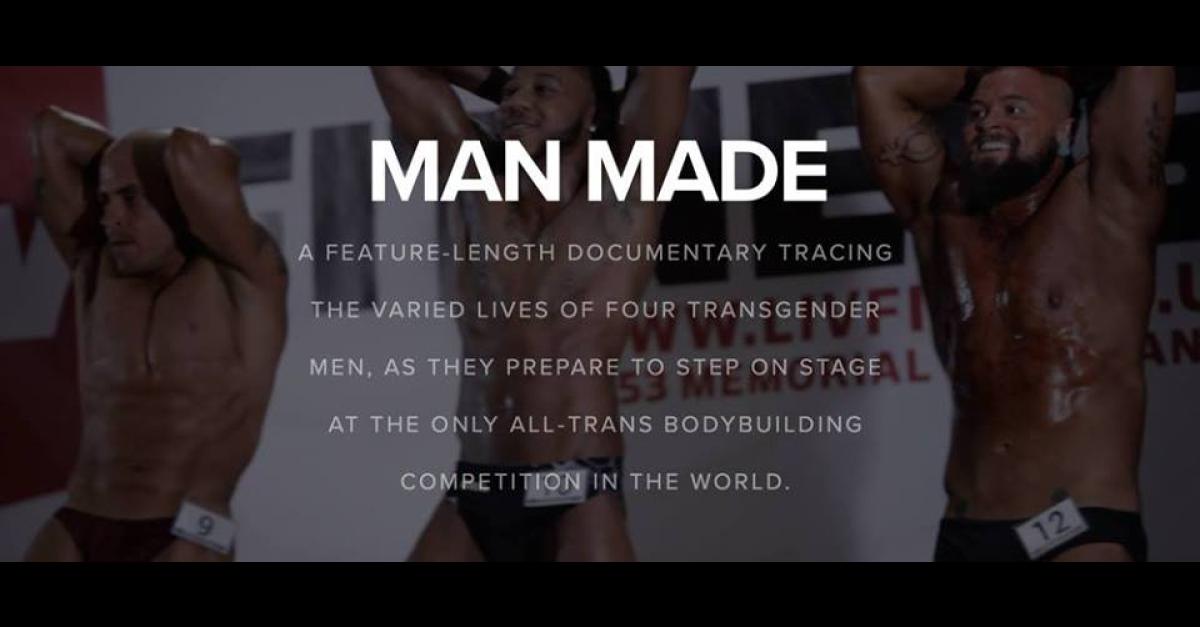 Gender Reel is excited to welcome Filmmaker T Cooper and documentary participant Dominic Giovon Chilko to the stage for a post-screening discussion about Man Made. Prior to screening Man Made, we will showcase two film shorts. The schedule of events is as follows:
6:30 p.m.: Long Story Short & The Decision of Riley
7:00 p.m.: Man Made, followed by discussion
Man Made takes us into the heart of transgender male (FTM) culture, revealing unexpected truths about gender, masculinity, humanity and love. Four trans men (who, like the film's director, were born and raised female), take a variety of life paths toward stepping on stage at Trans FitCon, the only all-transgender bodybuilding competition in the world (held in Atlanta, GA). Man Made is a character-driven, intimate and riveting verité-style competition film, but also a unique social justice narrative. It speaks to the ways in which we all choose to define and reshape ourselves, both figuratively and literally.
The strength on display in Man Made transcends the physical: Rese is a young father struggling with periods of homelessness; Dominic seeks out his family of origin, confronting an alternate history for himself; Kennie admits to himself and his loved ones who he is for the first time in his life; and Mason, a loving husband who struggles with mental illness, works daily to be the man he's always wanted to be—on both the inside and out. We follow these subjects' emotional and physical journeys as they navigate lives as the men they are, despite very real risks inherent in the current social and political climate. For the men of Man Made, it's not about winning—it's about being seen.

Cooper is the author of seven novels, including the best-selling The Beaufort Diaries and Lipshitz Six or Two Angry Blondes, as well as co-author (with Allison Glock-Cooper) of the new, four-part young adult novel series entitled Changers. (Changers Book One was published in 2014; Changers Book Two was released in 2015; Book Three was published in 2016; and Book Four is forthcoming in September 2018.) His most recent solo book is the non-fiction Real Man Adventures (McSweeney's). He has also written for television (including Netflix's The Get Down and BBC America's Copper), as well as radio. Cooper just recently wrapped his first feature-length documentary, Man Made, which is having its film festival run in 2018-2019. Cooper is a professor of creative writing at Emory University.

Dom Giovon Chilko, who is featured in the film, is a transmale rapper/singer based out of Saint Paul, MN, who is striving to create positive change for the LGBT community.
Admission to all Gender Reel events are $5. However, no one is turned away if they cannot afford a ticket. If you are unable to afford a ticket, please contact Joe and he will place you on the Will Call list so you can enter for free. Advanced tickets can be purchased on the Gender Reel website.
Accessibility
If you need disability related accommodations, including parking, to make this event accessible, please contact the Center for Accessibility Resources,
651-793-1549
or
accessibility.resources@metrostate.edu
.