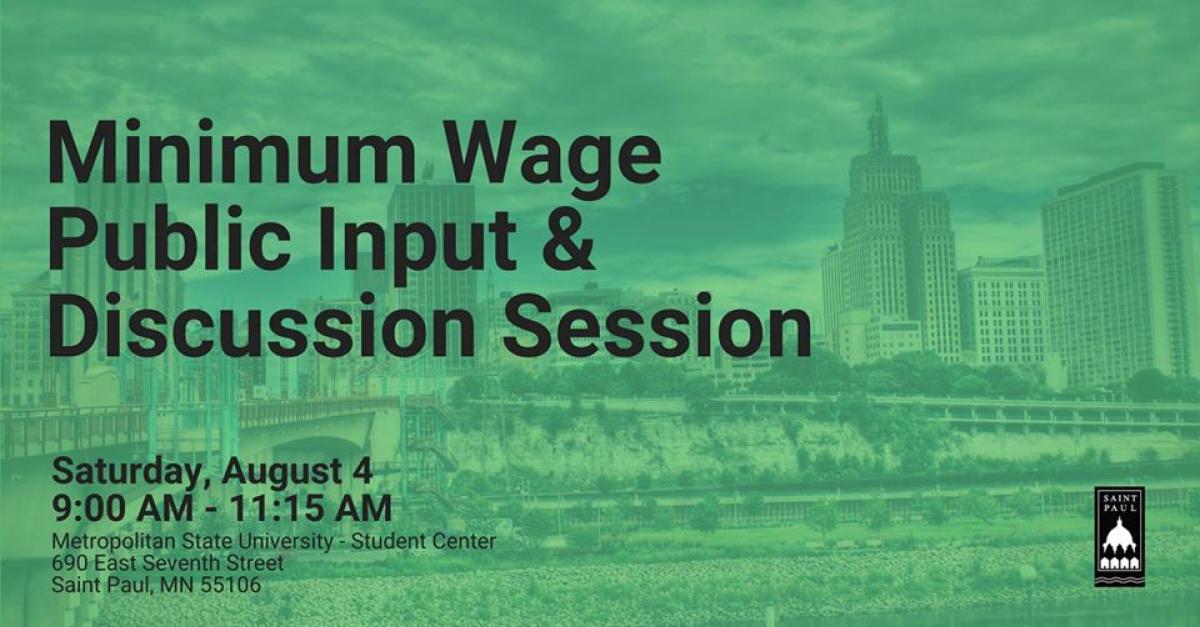 The City of Saint Paul is hosting a series of public meetings on a future citywide minimum wage increase. These sessions will offer additional venues and formats for community members to provide input and respond to the Citizens League Minimum Wage Phase 2 and Study Committee process. Workers, business owners and residents are encouraged to attend and participate in the Citizens League Minimum Wage Phase 2 process. The leagues' second phase of work includes facilitating a Study Committee process, conducting a localized economic analysis, and producing a final report.

The first and second session will focus on the Citizens League process and gathering feedback in facilitated small group breakouts. Data from the first two sessions will be collected and shared with the Study Committee. The second session is made possible by an in-kind donation from Metropolitan State University.

The third and fourth sessions will follow the release of the Citizens League Phase 2 Report. Attendees' discussion will focus on the results of the Citizen Leagues' final report, economic analysis and recommendations by the Study Committee surrounding a future ordinance. The third session is scheduled for Saturday, September 15 from 9:00 A.M.-12:00 P.M. The fourth session is scheduled for Thursday, September 20 from 5:30 P.M. to 8:30 P.M. Locations for these sessions will also be announced at a later date.

For more information, go to the minimum wage sessions website. For those unable to attend the sessions in person, comments may be sent via email to minwage@citizensleague.org and recorded voice messages may be provided by calling 651-401-2474.

In February, The Citizens League presented results from their Phase 1 scoping project on a minimum wage ordinance in Saint Paul to the City Council and Mayor Melvin Carter. Following the presentation, city officials requested the organization begin the second phase of their work, which includes leading an independent study committee. The Study Committee will provide feedback to previously identified key questions and economic analysis specific to Saint Paul. The Citizens League will conclude their Phase 2 report and conclude the Study Committee process by August 31, 2018. For more information about the Citizens League Phase 2 and Study Committee process please visit The Citizens League website.
Accessibility
If you need disability related accommodations, including parking, to make this event accessible, please contact the Center for Accessibility Resources,
651-793-1549
or
accessibility.resources@metrostate.edu
.