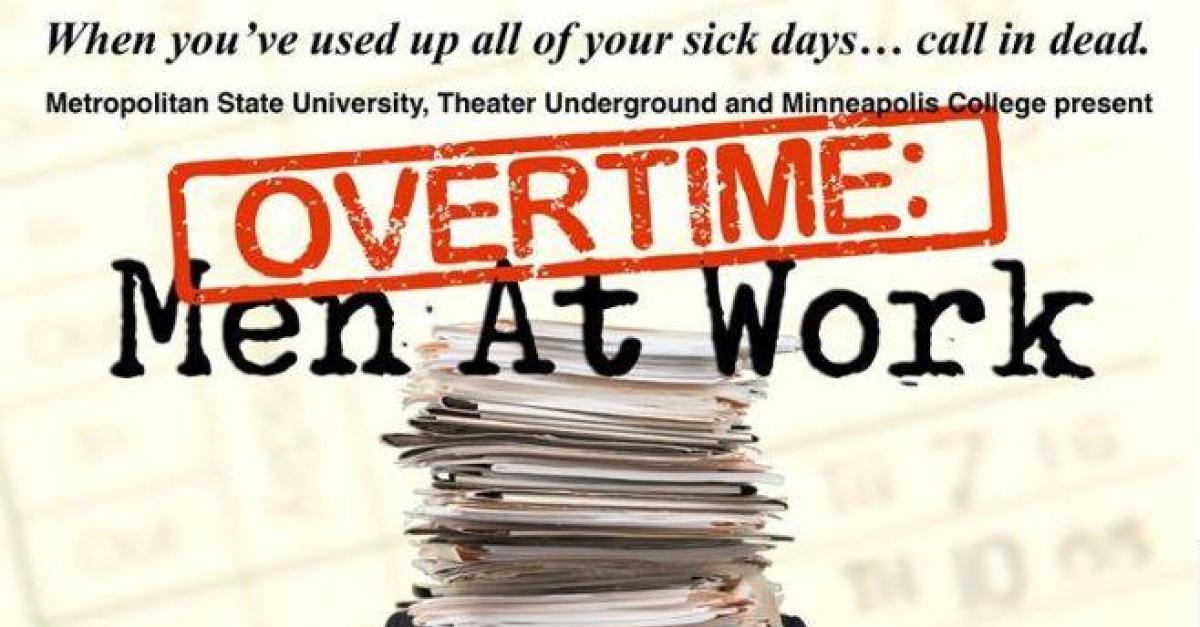 Directed by Metropolitan State University faculty member Jonathan Beller, Overtime: Men At Work is a corporate roller-coaster ride through the typical office cubicle, where every looming deadline seems to come quicker than the one before. Three desperate desk workers struggle to meet the demands of the office space rat race. Can they climb the corporate ladder, or will they lose their footing and slip, rung by rung, to the depths of depravity? As they navigate their way through monotonous workdays, these uninspired everymen are confronted with stark questions about their goals, motivations, scruples, and camaraderie.
Overtime: Men At Work is the final show of the theater season for Metropolitan State University and Minneapolis College. The play explores issues relating to workplace gender roles and capitalist exploitation, and themes of thwarted ambition, individuality, disillusionment, and the American Dream-Turned-Nightmare. It's a surrealistic romp with familiar iconography, quirky comedy, and the troubling undercurrent of struggles facing the typical working stiff.

Admission is free. Audiences may bring a non-perishable food item for the Minneapolis College Food Pantry. Parking is available in the Hennepin Avenue ramp.
For more information, contact Jonathan Beller by email, or by phone at 612-659-7157, or Anna Branstner by email, or by phone at 651-793-1549.
Accessibility
If you need disability related accommodations, including parking, to make this event accessible, please contact the Center for Accessibility Resources,
651-793-1549
or
accessibility.resources@metrostate.edu
.