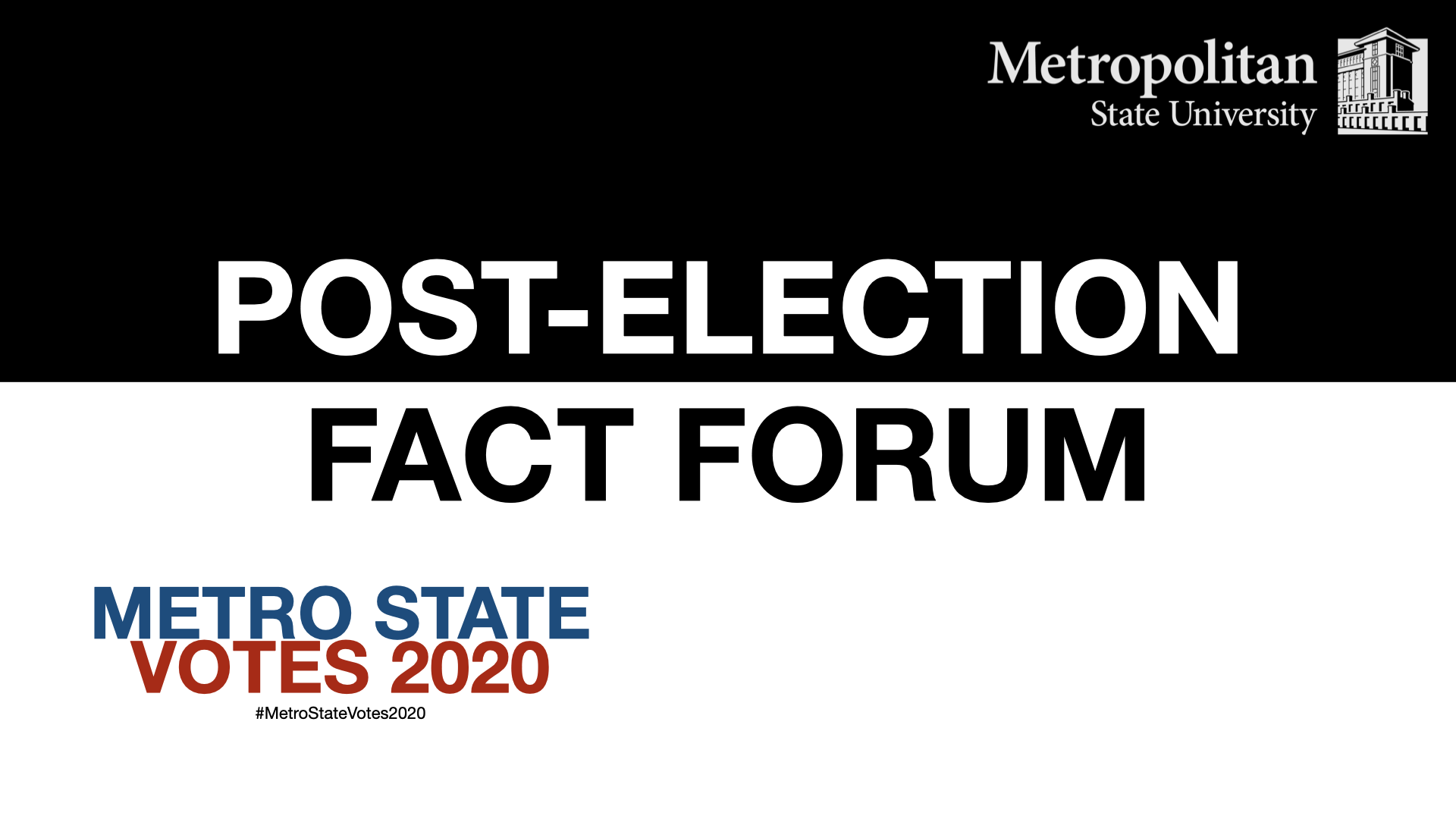 The 2020 election is unlike any other for many reasons. Polls show close races all over the country. Many states revised ballot procedures to make voting safe and widely available during the COVID-19 pandemic, including extending deadlines to count mail-in ballots received and/or post-marked by Election Day (November 3). As a result, final tallies probably won't be known until days—if not weeks—after Election Day. While extra time for ballot processing in no way undermines the integrity of the ultimate results, it could add stress and anxiety to an already challenging year.
Metro State Votes 2020 will host at least three Post Election Fact Forums to help separate fact from fiction, demystify the complexities of this year's election, and analyze the outcomes. All are welcome to join these free virtual forums 4:30 p.m.–6 p.m., Nov. 4, 5, and 6.
Register in advance at https://minnstate.zoom.us/meeting/register/tJ0udeygpzktHtfu2_y8CzpSL8PYt-ICbyGY. Those who register will receive a confirmation email and a link to the forum.
Political Science Professor Matt Filner and/or Political Science Associate Professor Kathleen Cole will be available to:
Share what is known about election processes and results, state-by-state 
Identify the information that is not yet known and why
Answer participants' questions about the 2020 election process  
Explore different scenarios that could occur. 
These non-partisan forums are designed for participants to ask questions, learn about the electoral process, and dispel any disinformation surrounding the 2020 election. REGISTER NOW and drop in for as little or as much time as you can during the three-day forum series.
Post-Election Fact Forums are sponsored by the university's American Democracy Project, Institute for Community Engagement and Scholarship, Metro State Votes 2020 campaign with grant support from LeadMN, Social Science Department and Student Life and Leadership Development. For more information, contact community.engagement@metrostate.edu.
Accessibility
Contact the Center for Accessibility Resources by
email
, or by phone at
651-793-1549
, if you need disability-related accessibility accommodations, including parking.