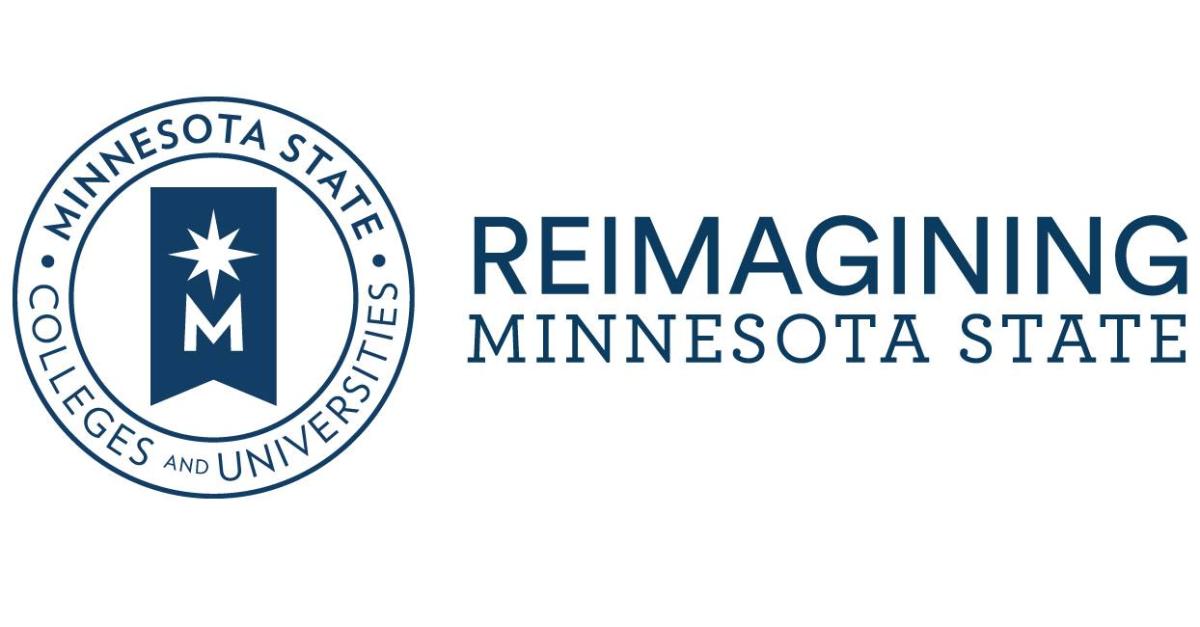 The last forum in the Reimagining Minnesota State series, "Innovative Models: Meeting Consumer Expectations, Improving Outcomes, and Reducing Costs through Innovation" will be presented at Metropolitan State University. Reimagining Minnesota State is a sustained study and discussion project of the Minnesota State Colleges and Universities' Board of Trustees. This project is a strategic visioning process designed to rethink system operations. It also strives to position Minnesota State as an interdependent network of colleges and universities that is focused on the success of all students and communities in Minnesota.
Minnesota State's Board of Trustees recently announced the Reimagining Minnesota State Forum Advisory Group. The first phase series of forum sessions provides attendees with opportunities for in-depth study and discussion regarding the significant forces impacting the future of Minnesota State. Guest presenters are invited to share their research and perspectives on the session topic to spur discussion among the Forum Advisory Group and across the Minnesota State system.
The Reimagining Minnesota State Forum Advisory Group consists of Minnesota leaders known for their success in driving strategic innovation, including:
Dr. Kathleen Annette, president and CEO of Blandin Foundation
MayKao Hang, president and CEO of the Amherst H. Wilder Foundation
Kenneth Holmen, M.D., president and chief executive officer of CentraCare Health
Neel Kashkari, president and chief executive officer of the Federal Reserve Bank of Minneapolis
David Mortenson, chairman of M. A. Mortenson Company
R.T. Rybak, president and CEO of The Minneapolis Foundation
Michael Vekich, (chair), Minnesota State Colleges and Universities Board of Trustees
Alex Cirillo, Board of Trustees of Minnesota State Colleges and Universities
Roger Moe, Board of Trustees of Minnesota State
Devinder Malhotra, chancellor of Minnesota State
Forum sessions are free and open to the public, and will be available via live streaming on Minnesota State's website. This site will also maintain information on both past and upcoming forum sessions.
The guiding question for the forum discussion will be: How will Minnesota State reimagine our approach to innovation to simultaneously serve the needs and expectations of the student body of the future, improve quality outcomes, and ensure the financial sustainability of the system?
Session panelists will be:
Bridget Burns, executive director, University Innovation Alliance; Burns has advised university presidents, system chancellors, and state and federal policy leaders on strategies to expand access to higher education, address costs, and promote completion for students of all backgrounds. Named one of the "16 Most Innovative People in Higher Education" by Washington Monthly, she is the founding executive director of the University Innovation Alliance
Louis Soares, Chief Learning and Innovation Officer, American Council on Education; Soares incubates and scales American Council on Education's executive leadership networks, as well as catalyzes compelling research and innovation initiatives across the Council. Working with colleagues, Soares integrates the work of ACE's leadership, research and innovation teams to optimize membership value for colleges and universities by developing programs and services to advance the success of senior leaders, diversify the executive talent pipeline and facilitate partnerships to enhance institutional performance.
Accessibility
If you need disability related accommodations, including parking, to make this event accessible, please contact the Center for Accessibility Resources,
651-793-1549
or
accessibility.resources@metrostate.edu
.