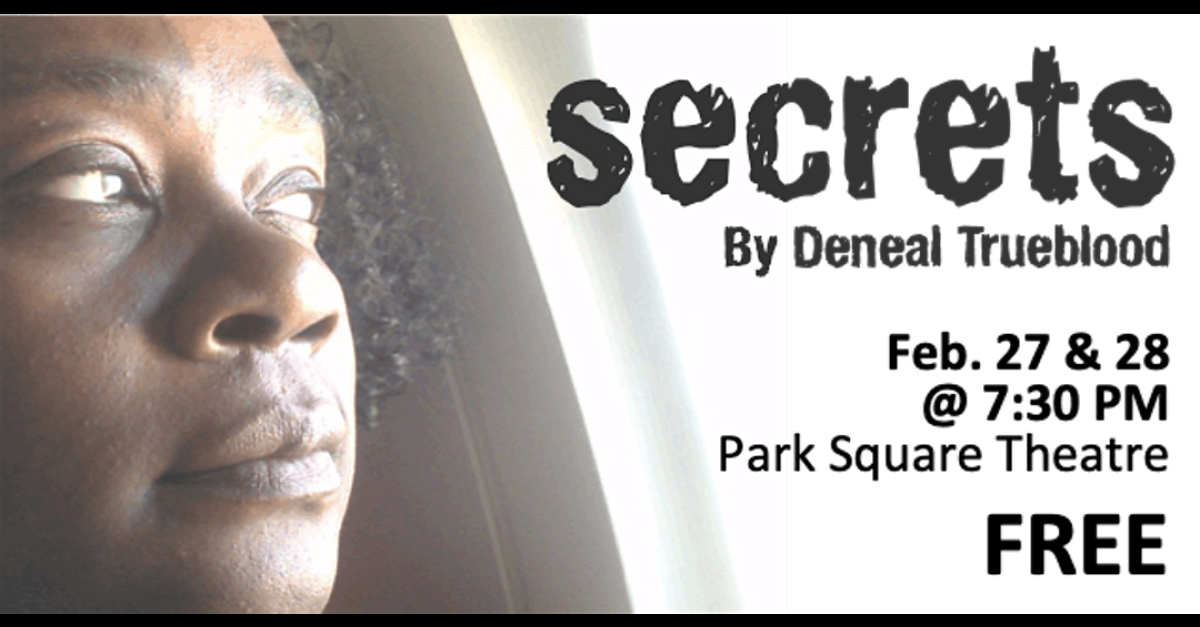 Live the experience of student playwright, Deneal Trueblood, in the premiere of, Secrets, a one-act staged reading that is the first of three student works to be presented by Metropolitan State University Theater this year.
Secrets is the true story of a family in crisis and the spiraling events that culminated in an assault, an incarceration, and finally a redemption. "In many communities of color—and certainly within my own family— we did not let the government or social services into our homes," Trueblood says. "As my mother told me: what happens in the family, stays in the family. There were reasons for that."
Written and directed by Trueblood with theater professor, Gail Smogard, Secrets will be presented by Metropolitan State University Theater in association with Theater Underground. The performance subject matter is mature and discretion is advised. A discussion with the playwright about the experiences chronicled in the play and the process of bringing it to the stage will follow each performance.
Admission is free with reservation. Paper tickets will not be issued. Unclaimed reservations will be released five minutes before curtain.
Secrets is one of three original student-written plays surrounding concerns in women's lives that will be presented by Metropolitan State University Theater in 2020. Three Mothers by Nancy Huisenga will be presented in April. Saved by Providence by Marcia McMullen is in workshop and will be read on campus in March, and considered for production in the fall. These three plays are the winners of the 2019 university Playwriting Contest. For information or reservations for these upcoming events, or about the theater program, contact Anna.Branstner@metrostate.edu.
Metropolitan State's Theater Program offers a seamless transfer to the final two years of a theater major for transferring students from Minnesota State Community Colleges, and has a focus on the development of student work for the stage.
Accessibility
Contact the Center for Accessibility Resources by
email
, or by phone at
651-793-1549
, if you need disability-related accessibility accommodations, including parking.