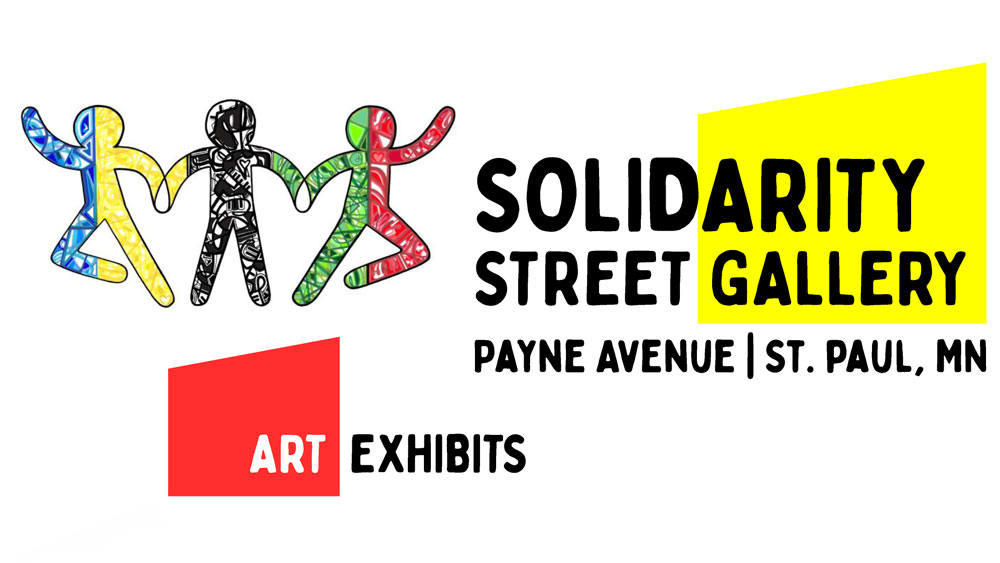 The Solidarity Street Gallery brings together a diverse group of artists to the East Side of Saint Paul to express their feelings on racial justice and equity. In the wake of the murder of George Floyd in Minneapolis this summer and the global COVID-19 pandemic, the Solidarity Street Gallery seeks build meaningful community connections between the community and local artists in a time of social isolation, through the unifying force of art. This COVID-conscious, outdoor event allows community members and visitors to socially distance while walking down Payne Ave and engaging with a variety of art exhibitions.
LOCATION: Payne Avenue from Maryland Avenue to E Hopkins Street in East St. Paul.

ART EXHIBITS
* 50+ artists - 20 exhibit sites
* viewable from the sidewalk
* virtual gallery - https://www.solidaritystreetgallery.org/
* art for purchase

COVID PRECAUTIONS
* outdoor - wide spaced exhibits
* face masks required
* hand sanitizer stations
* Covid prevention kits
* health + safety info

COMMUNITY ACTIVITIES
* children's art activities
* East Side Poetry Project (#solidaritystreetpoetryproject)
* photo contest (#solidaritystreetphotocontest)
* voter registration info

FOOD + ENTERTAINMENT
* Mantecoso skate demo (Caydence Coffee & Records)
* food trucks
* music

For more info, visit the website: https://www.solidaritystreetgallery.org/
Accessibility
Contact the Center for Accessibility Resources by
email
, or by phone at
651-793-1549
, if you need disability-related accessibility accommodations, including parking.