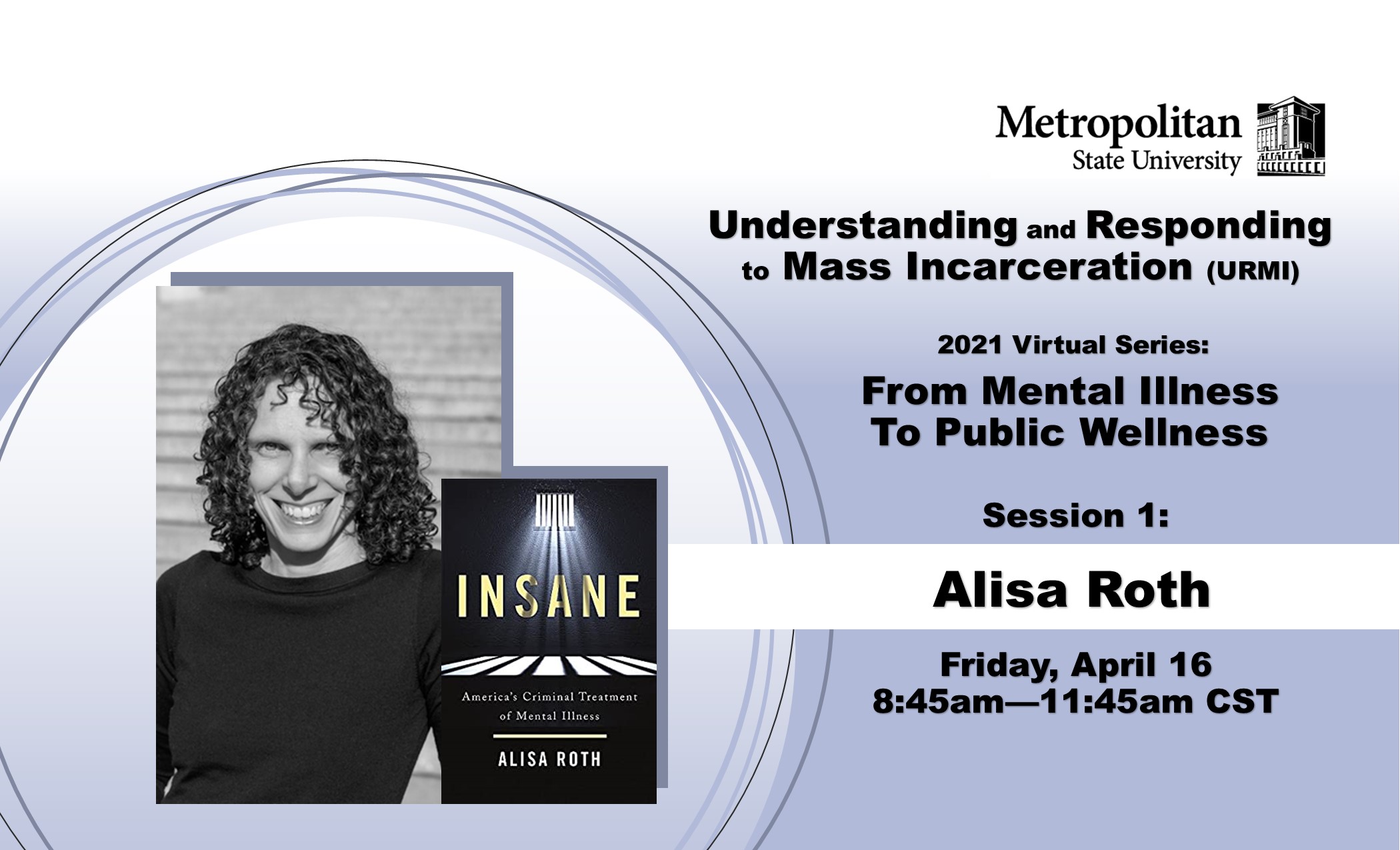 Jails and prisons have become de facto psychiatric holding facilities, with as many as half of incarcerated individuals dealing with mental illness. Reporter and author Alisa Roth provides insight into the crisis and its relationship to mass incarceration.

URMI 2021 SERIES, SESSION 1: ALISA ROTH
This four-part series will address the criminalization of those with mental health disorders and where we need to direct our organizing and activism. In the first session of the series, author Roth will provide an in-depth look at her investigation into this urgent yet largely hidden crisis. Roth will give an inside view of the crisis as it has played out across the country, show how it relates to the broader phenomenon of mass incarceration, and outline her thoughts on promising reform strategies.  Discussions to address plans for action will follow Roth's talk.
Roth is author of Insane: America's Criminal Treatment of Mental Illness, an investigation into the crisis of mental illness in the U.S. criminal justice system. A former staff reporter at Marketplace, Roth's work has also appeared on National Public Radio, The New York Times and New York Review of Books.  As a 2014-2015 Soros Justice Fellow, Roth spent a year investigating the growing role of jails and prisons as our de facto mental healthcare system. She has visited the country's three largest psychiatric care providers, Rikers Island in New York City, the Cook County Jail in Chicago, and the Los Angeles County Jail. Her research has included dozens of interviews with prisoners and their families, psychiatrists, lawyers, wardens, corrections officers and others.
Contact Therissa Libby, PhD (she/her), Metropolitan State University associate professor and Graduate Programs director, therissa.libby@metrostate.edu.
Accessibility
Contact the Center for Accessibility Resources by
email
, or by phone at
651-793-1549
, if you need disability-related accessibility accommodations, including parking.