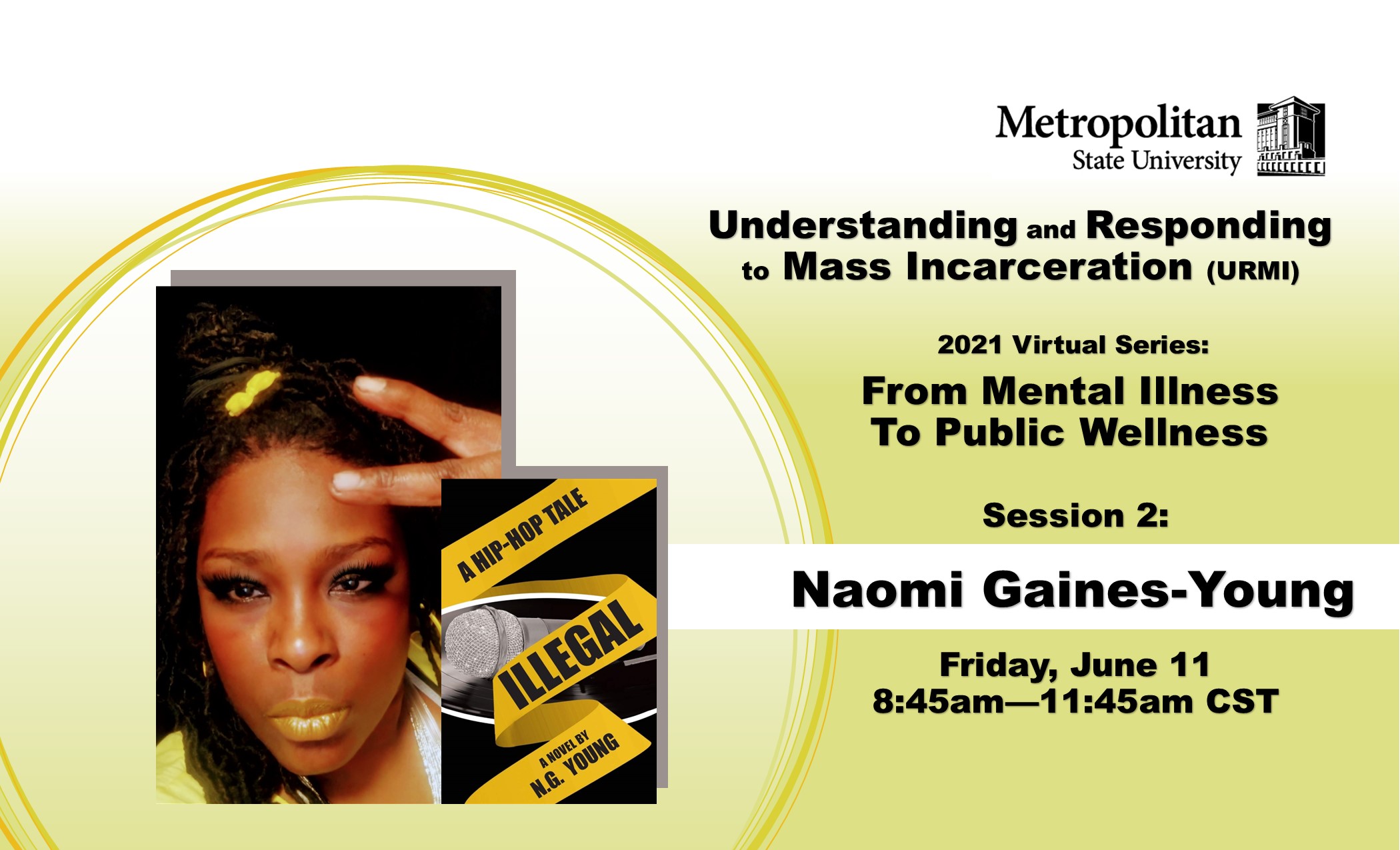 The four-part virtual Understanding and Responding to Mass Incarceration 2021 series addresses the criminalization of those with mental health disorders and where we need to direct our organizing and activism.

Session 2 features Naomi Gaines-Young presenting "Post Trauma, Present Problems, and Soul Solutions: How the Healing of the Souls of African Americans is Thwarted by the Censorship and Elimination of Culturally Positive and Spiritual Hip-Hop." Her keynote address will provide a brief history of how the culture of hip-hop was hijacked and exploited for profit, and has been used to fuel the engine of mass incarceration of black men, and to sexualize black women. It will also address how and why some rap artists, usually unknowingly, participate in the residual destruction of themselves and the Black community.

The keynote will be followed with questions from the audience, and then circle discussions to address plans for action.

Gaines-Young is a published author, singer, emcee, songwriter, and mental health advocate. She became an infamous figure after the death of one of her twin sons by infanticide in 2003, due to her untreated mental illness. Since her release from prison in 2016, she has dedicated her skills, talents, and her artistry to raising awareness about the dangers of ignoring mental health issues, especially within her own community. She seeks to both enlighten and inspire change and thoughtfulness while utilizing various mediums to foster growth and intellectual development about health and cultural wellness in her community and for mental and social health professionals alike.

Gaines-Young is passionate about helping others who live with mental illness to get the help they need by bringing awareness with her public speaking and activism in the community. She lives her life in service to the many who suffer in silence as she did, especially within the African American community. She seeks to end the cycle of guilt and shame, having purged herself of this debilitating state of mind. Gaines-Young speaks openly and honestly about the loss and pain in her past while moving forward in her future.

Contact Therissa Libby, PhD (she/her), Metropolitan State University associate professor and Graduate Programs director, therissa.libby@metrostate.edu for information.
Accessibility
Contact the Center for Accessibility Resources by
email
, or by phone at
651-793-1549
, if you need disability-related accessibility accommodations, including parking.