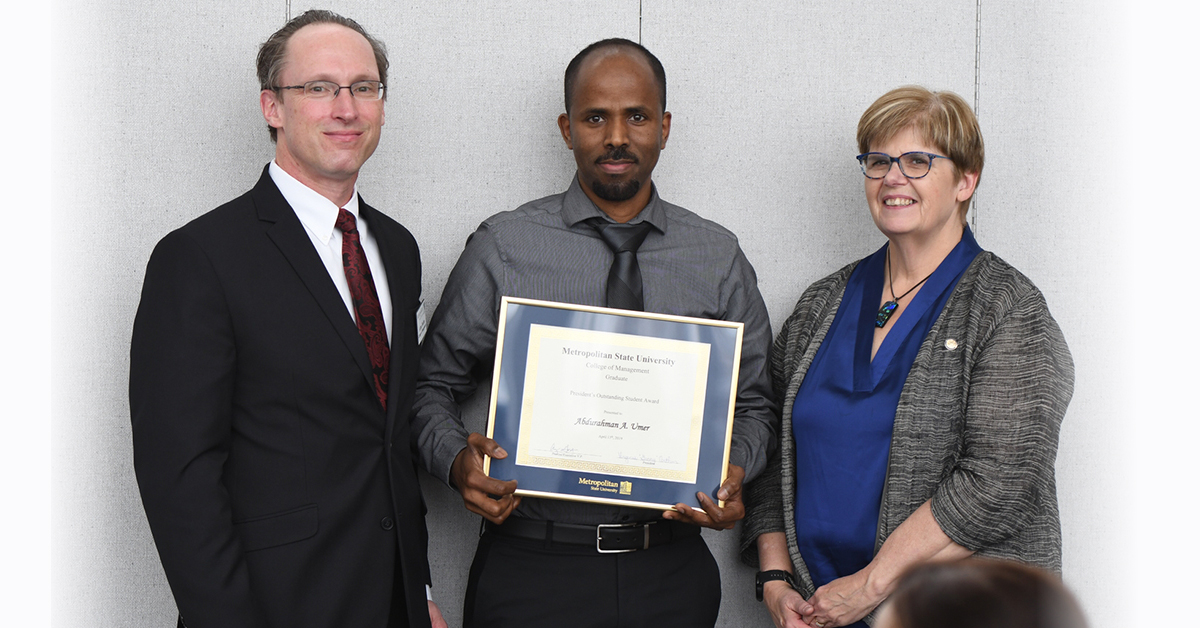 Abdurahman Umer of Woodbury has been selected a spring semester Outstanding Graduate Student at Metropolitan State University.
Umer graduates with a master's degree in business administration and management information systems and is selected as the President's Outstanding Graduate Student award recipient for the university's College of Management. He is one of 1,079 students graduating in the spring semester. Metropolitan State's 104th commencement exercises take place April 27, 2019, at the Minneapolis Convention Center to confer bachelor's, master's and doctoral degrees.
"My experience at Metropolitan State has been great," Umer said. "The invaluable advice and friendly ears from professors are exceptional." Following graduation, Umer is interested in working with different people and in different geographical locations. "Now that I have diversified my qualifications, I am considering leveraging myself into new worldwide opportunities to discover the line of work that I love, a challenging job that inspires me and enriches my life," Umer said. 
Umer was born in Ethiopia, and now lives in Woodbury, Minnesota. In his free time, he enjoys traveling the world, watching news and sports, and learning different languages and cultures. At Metropolitan State, Umer was active in student life. He joined the Metro Analytics Club when it was originally established. He will continue to be an alumni member of the club. In community service, Umer has volunteered for organizations such as the Minnesota Office of Enforcement and Compliance Assurance (OECA), and the Islamic Society of Woodbury-East Metro. Umer also earned graduate certificates in project management and business analytics. Eventually, he plans to continue his studies and earn a PhD. 
"Abdurahman was a leader in class discussions and in case analysis," said Erik Westgard, a community faculty member and one of Umer's nominators.
Each fall and spring semester, colleges at Metropolitan State nominate students for the Outstanding Student and Outstanding Graduate Student awards. Nominees are evaluated on the basis of their academic performance in their degree program, as well as achievements in their community and professional contributions. All finalists are recognized in the commencement program, outstanding students receive special recognition during commencement, and are eligible to speak at commencement.
Metropolitan State University, a member of Minnesota State, is the Twin Cities' public, urban, comprehensive state university providing lifelong learning and competitive academic and professional degree programs at the bachelor, master and doctoral levels.