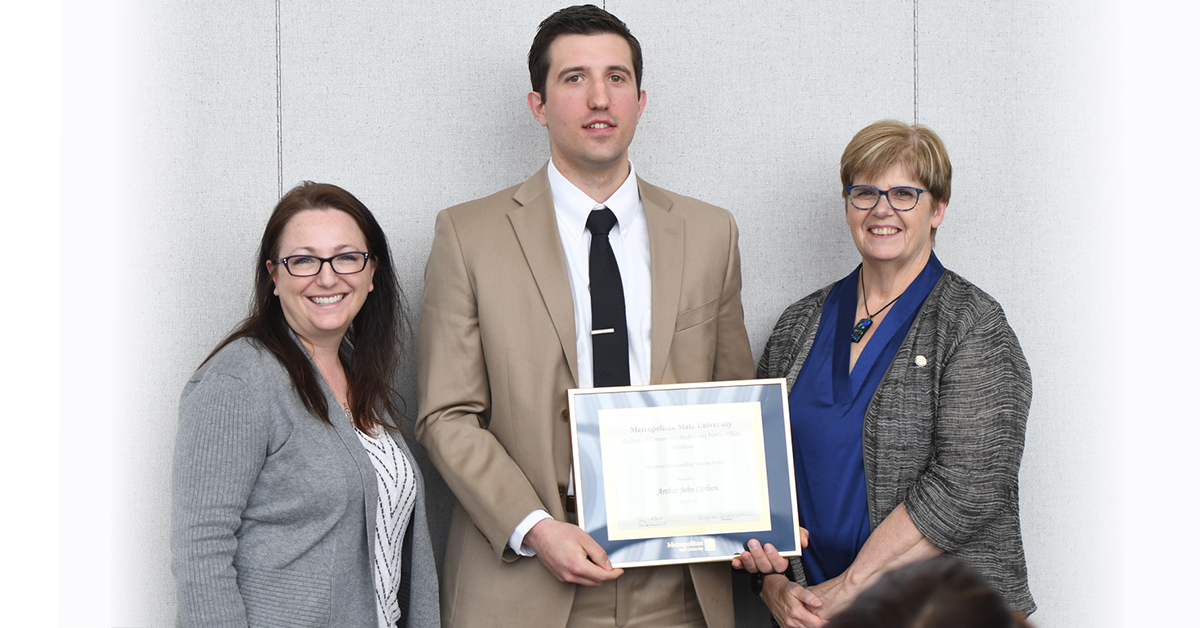 Arthur John Carlson of St. Louis Park has been selected as a spring semester Outstanding Graduate Student at Metropolitan State University.
Carlson graduates with a master's degree in public and nonprofit administration and is chosen Outstanding Graduate Student for the university's College of Community Studies and Public Affairs. He is one of 1,079 students graduating in the spring semester. Metropolitan State's 104th commencement exercises take place April 27, 2019, at the Minneapolis Convention Center to confer bachelor's, master's and doctoral degrees.
Carlson works for the City of St. Louis Park, and is also active in community service. He participates in mental health and multicultural advisory groups, promoting proactive outreach, and the city's Parks and Recreation basketball program, which serves kids in the neighborhood.
"He is employed as a crisis/hostage negotiator at the St. Louis Park Police Department, serves on the City of St. Louis Park Multicultural Advisory Committee and Police Advisory Commission…is a mentor through the Big Brothers and Big Sisters program, and speaks at Minnesota Drivers' Education Trainings to promote safe driving practices," explains Crystal Fashant, who nominated Carlson.
Carlson has also received a commendation for de-escalation and received a lifesaving award. Eventually, he may pursue further education and teaching, as well as leadership opportunities within the city and police department.  
"It's important to emphasize community engagement, so not only do people feel for the positive emotion of being part of the community, but they actually feel, as a stakeholder, invested in the community and the future," explains Carlson. "That investment then pays dividends in the future."
Each fall and spring semester, colleges at Metropolitan State nominate students for the Outstanding Student and Outstanding Graduate Student awards. Nominees are evaluated on the basis of their academic performance in their degree program, as well as achievements in their community and professional contributions. All finalists are recognized in the commencement program, outstanding students receive special recognition during commencement, and are eligible to speak at commencement.
Metropolitan State University, a member of Minnesota State, is the Twin Cities' public, urban, comprehensive state university providing lifelong learning and competitive academic and professional degree programs at the bachelor, master and doctoral levels.