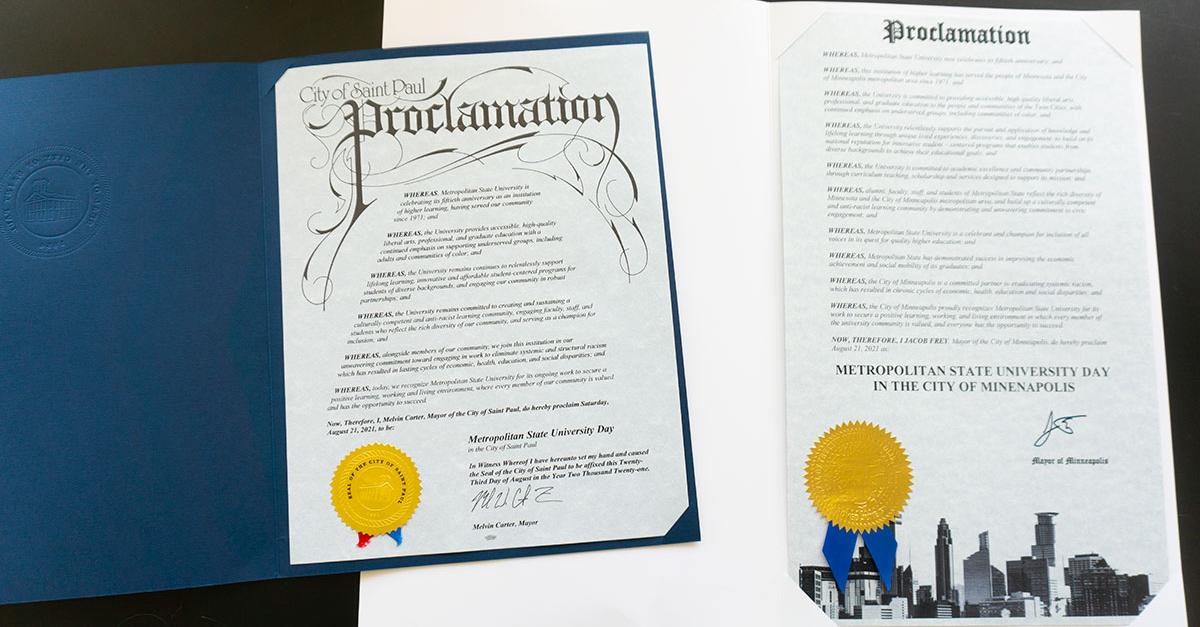 Metropolitan State University is kicking off a season of 50th anniversary celebration with proclamations from the mayors of Saint Paul and Minneapolis declaring August 21 Metropolitan State Day!
These proclamations from mayors Melvin Carter and Jacob Frey of Saint Paul and Minneapolis, respectively, recognize Metropolitan State's 50 years of commitment to serving the higher educational needs of the Twin Cities, and deep roots as an active and engaged community partner. The Metropolitan State community is thrilled for these recognitions. The announcement was delivered by President Ginny Arthur in her Aug. 16 convocation address to the university staff and faculty was met with appreciation and excitement.
Convocation marks an important event in the life of an academic community as the official x welcome for faculty and staff ahead of the fall academic start, and in this exercise Metropolitan State emphasizes coming together as a community to re-connect after a year and a half of distancing and working remotely to reflect on our shared purpose as an academic community that provides a different experience for our non-traditional student body. Fiftieth anniversary celebrations this fall include several on-campus and virtual events, the student-organized Fall Fest, and a 50th Anniversary Gala in October.
With its four campuses throughout the Twin Cities area, Metropolitan State has grown since its origin as the "college for those who have no college." The proclamations recognize Metropolitan State's role in the importance and significance that education plays in the lives of minority and first-generation college students. The university ranks 35th of 1,458 institutions nationally in the Social Mobility Index—an assessment of the impact of a university's education to lift its students to higher socio-economic levels after graduation. This ongoing success is a testament to the focus on academic access that lies at the core of the Minnesota State system.
As a minority-serving institution (MSI) with 51% student diversity. received the Higher Education Excellence in Diversity (HEED) Award. It recently earned designation as an Asian American Native American Pacific Islander-Serving Institution (AANAPISI), and received a $1.48 million AANAPISI grant from the U.S. Department of Education in 2020  —  the only four-year institution in the Minnesota State system to receive this grant.
Metropolitan State University was founded in 1971 as an upper-division university offering bachelor's degrees for working adults. Since then, it has achieved national prominence as an innovative, urban university that serves primarily older students of diverse backgrounds. Early on, Metropolitan State became known for its student-centered approach to serving adult students by recognizing demonstrated learning gained outside the classroom and offering smaller classes and flexible class schedules. Practitioner-oriented community faculty members continue to teach most courses.
The University maintains robust connections with its graduates through supportive ongoing programs for alumni, and formative mentorship networks between alumni and students. With more than 51,000 degreed graduates, alumni are a critical part of the community as they exemplify Metropolitan State's values of excellence, engagement, diversity, inclusion, respect and integrity in to the Twin Cities area and the community beyond.