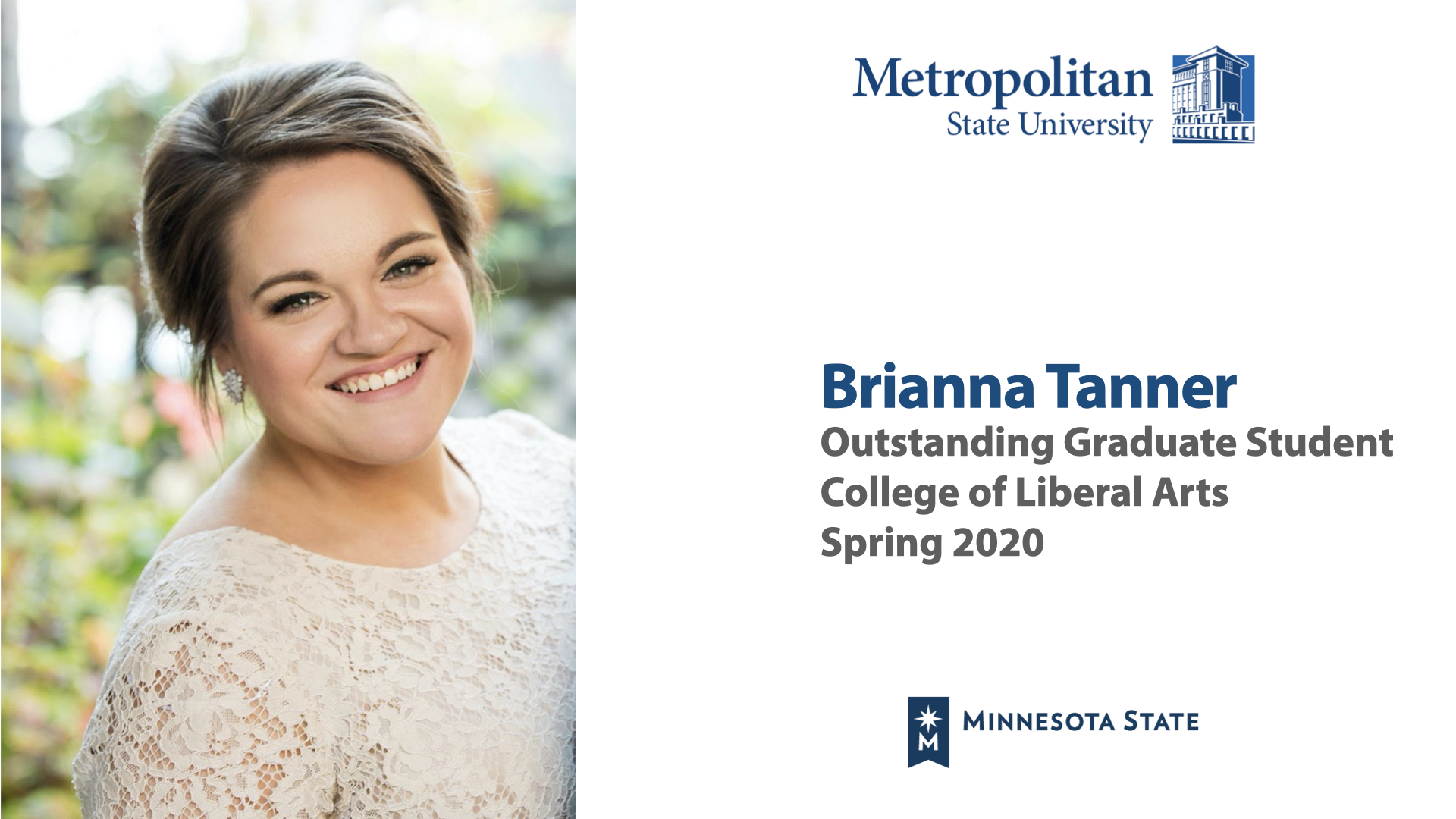 A Minneapolis resident has been selected a spring semester Outstanding Graduate Student at Metropolitan State University.
Brianna Tanner graduates with a Master of Science degree in Technical Communication and is chosen Outstanding Graduate Student in the university's College of Liberal Arts. Metropolitan State's 106th Commencement will take place as a virtual graduation exercise on Aug. 15. With spring and summer 2020 semesters together, Metropolitan State is conferring 791 bachelors, 80 masters, and 17 doctoral degrees. Since 1971, Metropolitan State University has conferred 46,003 bachelor's degrees, 4,158 master's degrees and 105 doctoral degrees.
"I struggled throughout my undergrad and, while I was able to complete once I got to Metropolitan State, I was worried it would be a bigger challenge than I could handle," Tanner says. "From my initial meeting with my advisor and throughout the entire program I received so much reassurance from my advisors and professors that I was on the right path. That encouragement and support was critical to my success!"
Tanner, who earned a bachelor's degree in English Language and Literature from Metropolitan State in 2014, is employed as a manufacturing technical writer at Boston Scientific. Her future education goals may include additional certifications.
Tanner is also a volunteer coach for the Minnesota Special Olympics Team G. She lives in Minneapolis with her husband, Matthew. In her leisure time she loves to cook and bake for family and friends. She is a graduate of Blaine High School in Blaine.
Each fall and spring semester, colleges at Metropolitan State nominate students for the Outstanding Student and Outstanding Graduate Student awards. Nominees are evaluated on the basis of their academic performance in their degree program, as well as achievements in their community and professional contributions. All finalists are recognized in the commencement program, outstanding students receive special recognition during commencement, and are eligible to speak at commencement.
Metropolitan State University, a member of Minnesota State, is the Twin Cities' public, urban, comprehensive state university providing lifelong learning and competitive academic and professional degree programs at the bachelor, master and doctoral levels.