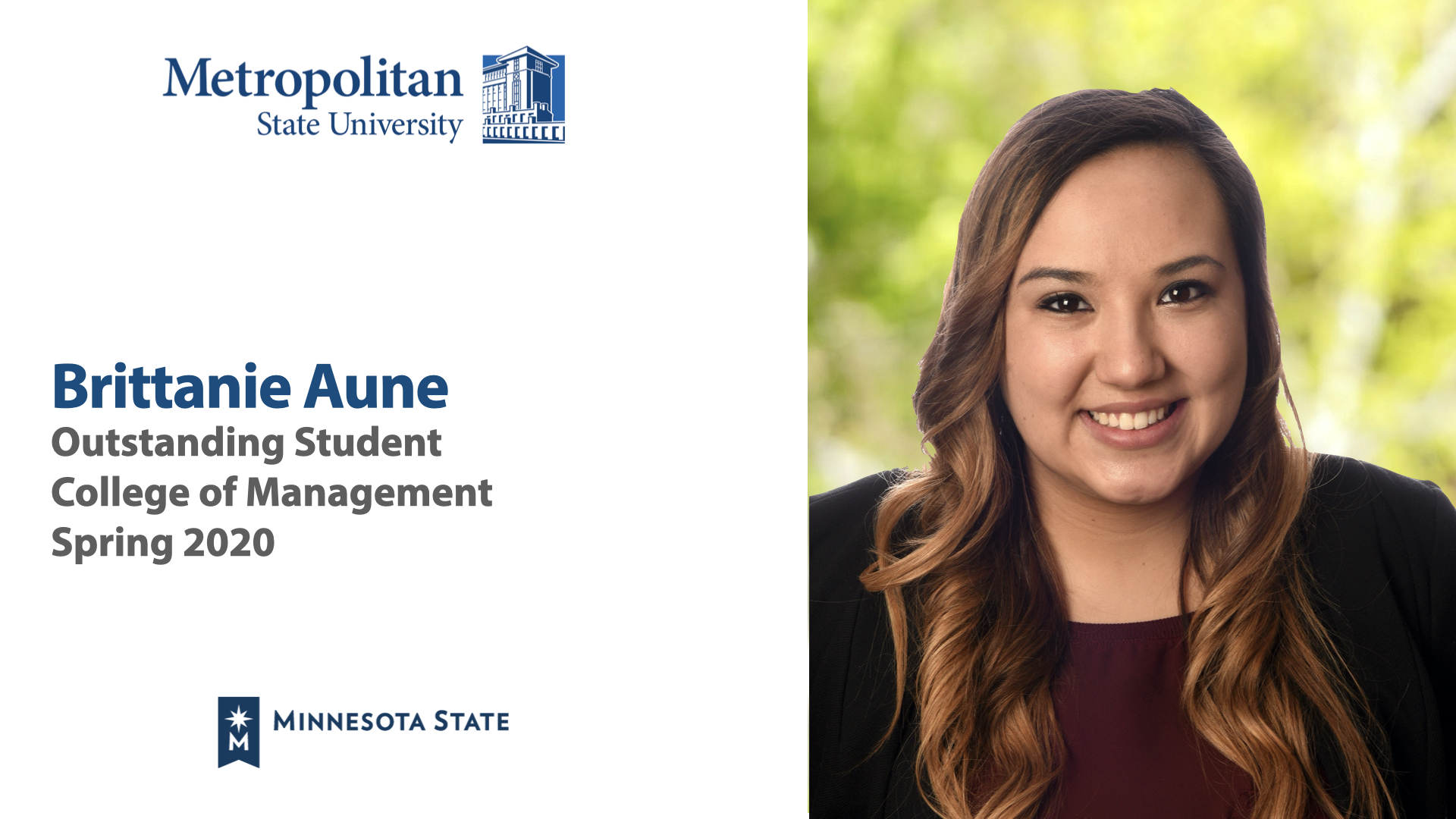 Brittanie Aune of Hugo has been selected a spring 2020 semester Outstanding Student at Metropolitan State University.
Aune graduates with a Bachelor of Arts degree in Business Administration and is chosen Outstanding Student in the university's College of Management. Metropolitan State's 106th Commencement will take place as a virtual graduation exercise on Aug. 15. With spring and summer 2020 semesters together, Metropolitan State is conferring 791 bachelors, 80 masters, and 17 doctoral degrees. Since 1971, Metropolitan State University has conferred 46,003 bachelor's degrees, 4,158 master's degrees and 105 doctoral degrees.
"I chose Metropolitan State because it is affordable and the degree I wanted to complete was available," Aune says. "When I was looking around at other colleges and meeting with an admissions person, Metropolitan State made it easy to understand the path that I needed to take and answered all my questions before applying. I also work downtown Saint Paul, so the location was great!"
Aune began attending Century College shortly after graduating from White Bear Lakes Area High School in 2009. "I was going part time, taking semesters off and not doing so well," she says. In 2016, she had a child. "I knew that I needed and wanted to get serious about finishing school and setting an example for my son." Now a full-time working mother, Aune persevered through her fear to finish her Associates Degree at Century College that year and transferred to Metropolitan State. The opportunity to take classes online was key to being able to complete her bachelor's degree.
"I decided to jump in with both feet and just get it done and do my best. I worked hard to manage my time," Aune says. "I appreciated the ability to finish my degree in the way that worked best for me."
She will continue at her job at Regions Hospital Foundation, where she has worked as the Annual Giving Coordinator for the past six years. "I love what I do because I can go to work and see so many programs that without philanthropy would not be possible," Aune says. Her future education goals may include pursuing a Master of Business Administration degree, but her immediate plans are to spend time with her family. Aune lives in Hugo with her partner, Kyle. She is a 2009 graduate of White Bear Lake Area High School.
Each fall and spring semester, colleges at Metropolitan State nominate students for the Outstanding Student and Outstanding Graduate Student awards. Nominees are evaluated on the basis of their academic performance in their degree program, as well as achievements in their community and professional contributions. All finalists are recognized in the commencement program, outstanding students receive special recognition during commencement, and are eligible to speak at commencement.
Metropolitan State University, a member of Minnesota State, is the Twin Cities' public, urban, comprehensive state university providing lifelong learning and competitive academic and professional degree programs at the bachelor, master and doctoral levels.