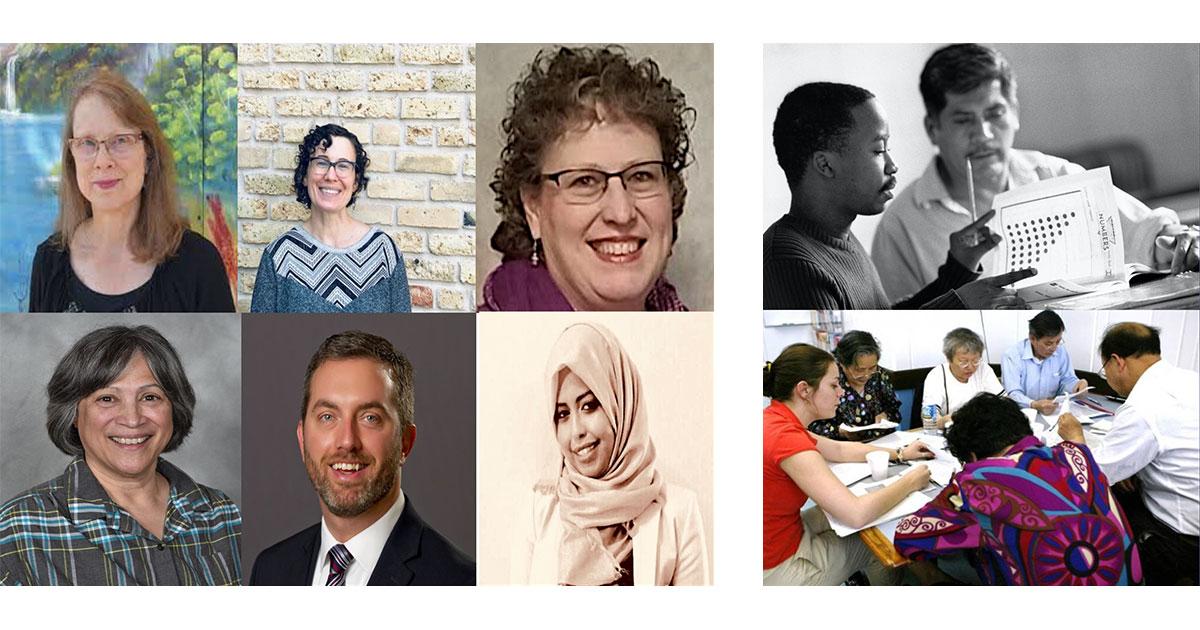 By Sarah McVicar
Institute for Community Engagement and Scholarship
When Project SHINE launched at Metropolitan State University in the fall of 2001, no one could have predicted the profound transformation it would bring about over the ensuing two decades.
Metropolitan State graduate Roz Johnson can attest to this firsthand.
A self-described "20-year homemaker and bilingual social worker" who had never finished her degree, it was her encounter with Project SHINE participants from Metropolitan State that finally inspired her to return to school. Johnson met the SHINE students when she was volunteering at CLUES (Comunidades Latinas Unidas En Servicio) and their passion for Metro ultimately convinced her to enroll herself—at last fulfilling an educational journey spanning multiple decades that would lead her full circle to a full-time position at CLUES where she now serves as an Adult Education Site Supervisor in Saint Paul.
Indeed, Johnson says, Project SHINE "changed the trajectory of my life."
Project SHINE—Students Helping In the Naturalization of Elders—originally began at Temple University in Philadelphia in 1997 to help elders in immigrant communities learn English and obtain U.S. citizenship. When the successful securing of grant funding allowed the project to be replicated at other universities nationwide, Metropolitan State was among the first to get on board.
Today Project SHINE is a wide-ranging program partnering Metro State students with 16 community organizations across the Twin Cities and a diverse community of thousands of adult immigrant learners (including Somali, Latino, Ethiopian, Karen, Hmong, and Vietnamese populations) ranging from 18 to over 80 years old.
While the program was initially created with a specific focus on citizenship classes and naturalization for elders, the flexibility within its design allowed it over time to significantly expand its focus to better meet the needs of both partner organizations and Metro State's Project SHINE student participants, who now work with immigrant learners of a variety of ages on a range of subjects. Today, the impact of this broad strategic partnership reaches across the Metropolitan State community—including administrators, faculty, and students—to long-standing partner organizations like CLUES and the Hubbs Center for Lifelong Learning and to the manifold adult learners those organizations serve.
Hubbs Center Volunteer Coordinator Ruth Rodriguez, who has worked at the Center for nearly three decades, has partnered with Metro State since the inception of Project SHINE.
"It's great to have the additional individualized attention for our students that Project SHINE volunteers make possible," Rodriguez explains, noting that Metro State students are not just tutors, they are also role models and advocates.
Andrea Echelberger, ESL Training Coordinator from Literacy Minnesota, another key Metro State partner that provides training to Project SHINE volunteers, echoes that sentiment, noting that the diversity reflected in the Metro State student body offers an especially good fit for Project SHINE. As Echelberger explains, it is not uncommon for Project SHINE volunteers to be working in a classroom where 17 different languages are spoken: a "microcosm of the newcomer (populations) in the neighborhoods."
Echelberger says the Metro State students she trains are "hands down my favorites to work with. Working with both traditional and nontraditional students with such a wealth of life experiences makes [the training] much richer."
Echelberger continues, "I think there's an empathy factor when you have people who are adult learners themselves working with adult learners...there's a value given to education when people make a deliberate choice to go back to school as an adult, an appreciation placed on the process; you're bringing lived experience into the classroom."
For Echelberger, seeing the students she trains start to make connections is profound: "This is the chance to pull back the curtain and reveal the why [of teaching]: this is why it's done."
The success and longevity of Project SHINE at Metro State that underlie its far-reaching impact is a testament to the program's remarkable institutional support, without which its continued existence would not be possible.
Greg Mellas, the original coordinator of Project SHINE, is clear on this point: "We needed investment from the institution to sustain the infrastructure to make the program possible for participants on both ends: community partners and students."
Faculty emerita Maythee Kantar, former chair of Communication, Writing and the Arts (CWA), was one of the integral early adopters and Project SHINE enthusiasts. She speaks passionately of CWA's commitment to creating more intentional relationships with the community across the curriculum and the university's long history of community engagement: "We made an effort to make sure faculty could do [community engaged] work or provide opportunities for their students; we provided work for community and resident faculty; we did engagement and developed teaching modules in every class that was interested in doing Project SHINE."
"Project SHINE set a great foundation and was so successful. It grew and mushroomed; it was really instrumental in making the [CWA] department feel they could continue to expand and develop new projects because of the successful relationships we had through Project SHINE," Kantar says. "It was also a connection with the founding principles and values of Metropolitan State."
Mellas agrees that community engaged learning, as exemplified by Project SHINE, became core to the educational philosophy of CWA. Beyond that, Mellas says, it has had a lasting effect on the culture, and in turn, curriculum design: "It's been transformational academically for the institution."
"Once you start saying we value community engagement—when people realize those ideas are truly valued—something comes up in every discipline," Kantar says. "Project SHINE was a seed that other things grew from."
Ultimately, Mellas says, Project SHINE was able to provide opportunities many students would not have otherwise had: "We've had over 1,000 students go into the program over the years… tens of thousands of hours of learning, it's hard to say how many lives [Project SHINE] has touched…it's certainly had an exponential effect."
Mellas describes feeling invigorated by the "radical transformations" he and other project staff have witnessed among even initially hesitant or skeptical participants.
In fact, a number of students expressed in the Project SHINE survey feedback that they had even changed career paths because of their involvement in the program. Mellas himself recalls one student who Project SHINE inspired to rethink her lifepath and go into immigrant law. He ran into her several years later at the ceremony celebrating her graduation from law school.
For Johnson, the "20-year homemaker" and volunteer who returned to Metro State to complete her degree, her favorite part of Project SHINE was both the new perspective she gained on immigration—including her personal immigration story—and the formation of deep relationships with immigrant learners.
The idea of learning across differences is central to the program. "It's an opportunity to dispel a lot of stereotypes," Mellas says, "both on the part of students and the immigrant learners—myths about what it means to be an American and what an American looks like—these are powerful experiences."
The intergenerational aspect of the relationships, Mellas adds, is powerful as well: elder learners are "energized" to find young students interested in their lives, and the elders' stories, in turn, move and educate the younger students. As Mellas describes, "So many [learners] were highly respected in their own countries and were starting over…Individuals struggling to reconstruct life and identity [in a country] that didn't respect their prior experiences…those were the stories students were bringing back that shook up their world views."
Two decades later, while the program's emphasis may have broadened, Mellas says the structure remains largely the same. Throughout, community partners have played an essential role in tailoring experiences to the Project SHINE students and adult immigrant learners. Mellas says, "The role they played in being co-educators was – and continues to be – instrumental."
Awo Ahmed, Metro State's current Project SHINE Coordinator, elaborates on the importance of community-university partnerships: "When communities and universities come together to tackle societal issues there's so much that can be done."
For Ahmed, Project SHINE highlights this kind of mutually beneficial strategic partnership: "Students are going into diverse communities and bringing [the experience] back to the classroom while communities are getting additional resources;" thus, Project SHINE is an example that "learning can take place both in classroom and in the community, and community partners provide those kinds of resources and learning opportunities to our students."
In order for this to happen, Ahmed invests substantial energy into relationship building, continuing to develop relationships with faculty members whose students participate in Project SHINE as well as relationships with trainers like Literacy Minnesota and a growing number of community partner sites.
Ahmed wants there to be no doubt about Metro State's commitment to fostering strong partnerships.
"I take pride in making sure students are prepared and ready to engage with community partners and represent Metro State in the best light possible," Ahmed says. "Continuing to grow mutually beneficial partnerships is critically important to me and to the university. Seeing what changes community partners are anticipating, knowing what's happening at the community level each semester: that shows [partners] we really care about their opinions and meeting their needs. We never want to be one-sided or to take resources away from the community. We want our partners to see Metro State as a place where they are highly sought out, thought of, and respected."
Ahmed, too, points out Project SHINE's rare ability to work across disciplines from political science and criminal justice to ethnic studies and interpersonal communication: "I feel like every faculty member who incorporates Project SHINE uses it to expose students to different aspects of society and engagement. It's such a rich program that lends itself to being incorporated in so many different ways."
Now, as Project SHINE enters its third decade, Ahmed looks forward to seeing the program continue to flourish and expand in new ways. "I always enjoy the opportunity to continue to innovate and improve systems and programs," Ahmed says.
As for her plans, she hopes to bring together faculty members from across disciplines to collaborate, share ideas, and ultimately explore ways to optimize the experience for both Metro students and community sites, helping those students better understand the connections between their work in the classroom and work in the community, and how it may open doors to future careers.
Focusing on ongoing relationship building, Ahmed also envisions more faculty members visiting community sites as part of the 'Metro State team,' and hosting dinners where community partners can meet Metro State faculty and leadership. "These kinds of small gestures that deepen relationships are so critical," Ahmed says. "We want the organizations we partner with to know that we're truly invested in their best interests; that the relationship is genuinely reciprocal and not just geared toward the university's needs."
Expanding the list of community partnerships and the mutual benefits they offer is, of course, also high on Ahmed's list. It is critical, she explains, to look for new sites while continuing to carefully nurture existing relationships and remaining ever-sensitive to the constraints posed by COVID-19 restrictions and the continuous need to adapt.
Ahmed says, "It's a matter of balancing the experience faculty want students to have and the needs of the community partners, making them fit together. It can be a challenge, but if you understand the [evolving] needs and expectations it can be done."
While there are certainly challenges, some known and some unforeseen, Ahmed sees a bright future ahead for Project SHINE and for the countless lives it has touched since 2001.
"We've reached 20 years," Ahmed says. "What the next 20 years will look like is something we need to figure out together. The possibilities are endless."