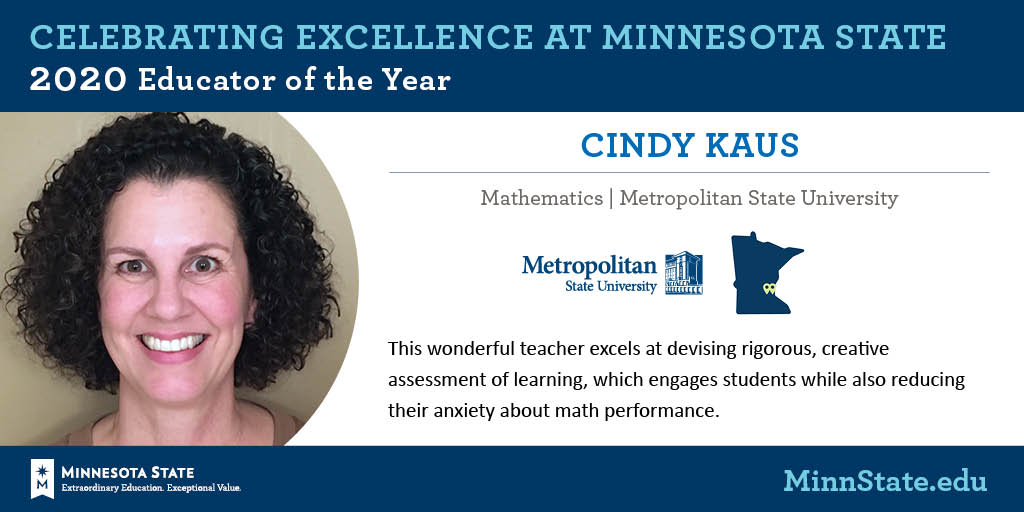 We are excited to announce that Dr. Cindy Kaus is Metropolitan State's first recipient of the Board of Trustees Educator of the Year award.
Dr. Kaus' focus in her teaching has been to make math relevant to her students' lives whether through the Science Education for New Civic Engagements and Responsibilities project, which applies mathematics to civic and social issues that matter to students, through her Math for Liberal Arts, which includes projects on home buying, fuel efficiency,greenhouse gas emissions, and income and wealth distribution in the U.S., or in the Ordinary Differential Equations course for math majors, where students apply the same mathematical techniques used by the CDC to complete the project , "Can Math Save the World from the Zombie Apocalypse?" Dr. Kaus is a nationally recognized expert on effective math pedagogies.
Dr. Kaus is particularly adept at culturally responsive teaching. She builds community through group and project work in her courses and by providing ways for students to express their cultural backgrounds through the solutions to the projects. These opportunities allow students to connect to the mathematical concepts on personal level and demonstrate how culture affects each person's analysis of so-called objective data.