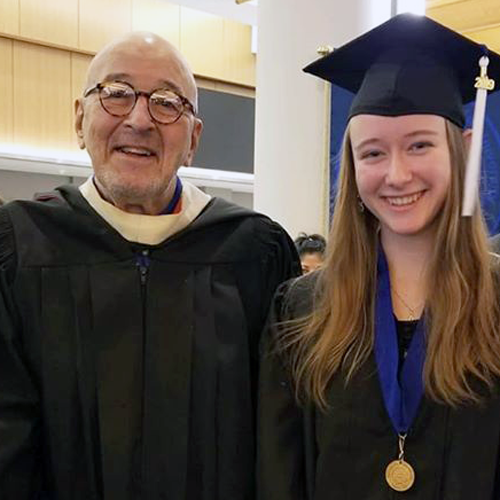 Recent Metropolitan State University graduate Elizabeth Penny of Northfield, Minn., was announced the winner of the Great Plains Sociological Association Undergraduate Student Paper Award.
The award was announced after the Great Plains Sociological Association's (GPSA) annual meeting Nov. 6, 2019 in Sioux Falls, South Dakota. The GPSA is a regional organization with members from the Great Plains states, particularly Minnesota, North Dakota, and South Dakota. The GPSA is an opportunity for new and seasoned sociologists to discuss and share their work in an academic and comfortable environment.
Penny's paper, titled "The Art of Nonviolence," uses selected works from Joan V. Bondurant, Hannah Arendt, and Kimberley Brownlee to examine the conditions that legitimize modern non-violent resistance. These conditions are base building and collective action, the communication of goals and norms inside and outside of the movement, and a respect for a diversity of tactics. Penny describes those conditions using the modern contexts of the Line 3 resistance and the German anti-coal group, Ende Gelände.
Penny graduated with a bachelor's degree in social science from Metropolitan State University's College of Liberal Arts in fall 2019. She also was nominated a finalist candidate for the Metropolitan State's Outstanding Student award, representing the College of Liberal Arts, Department of Social Science fall 2019 graduating class. The nomination described her environmental activism as a member of the Young People's Action Coalition of Northfield and as a founder of Cooperation Northfield. A letter to the editor that Penny wrote about the need for the regulation of carbon emissions was published by MinnPost last year.
"Elizabeth is an exemplar of the extraordinary journeys and talents of so many of our students at Metropolitan State University, says President Virginia "Ginny" Arthur. "Our belief in their abilities and encouragement challenges them to be their best that enables them to thrive in so many unique ways."
"It has been a great joy to witness Elizabeth's growth as both a student and an activist. Elizabeth cares deeply for the world, and because she cares deeply for it, she thinks deeply about it," says Kathleen Cole, a political science professor at Metropolitan State who teaches the class, "Advocacy for Policy Change." "She is already an important leader in her communities and I look forward to seeing her leadership grow and develop after graduation."
Metropolitan State University, a member of Minnesota State, is the Twin Cities public, urban, comprehensive state university providing lifelong learning, and competitive academic and professional degree programs at the bachelor, master and doctoral levels.