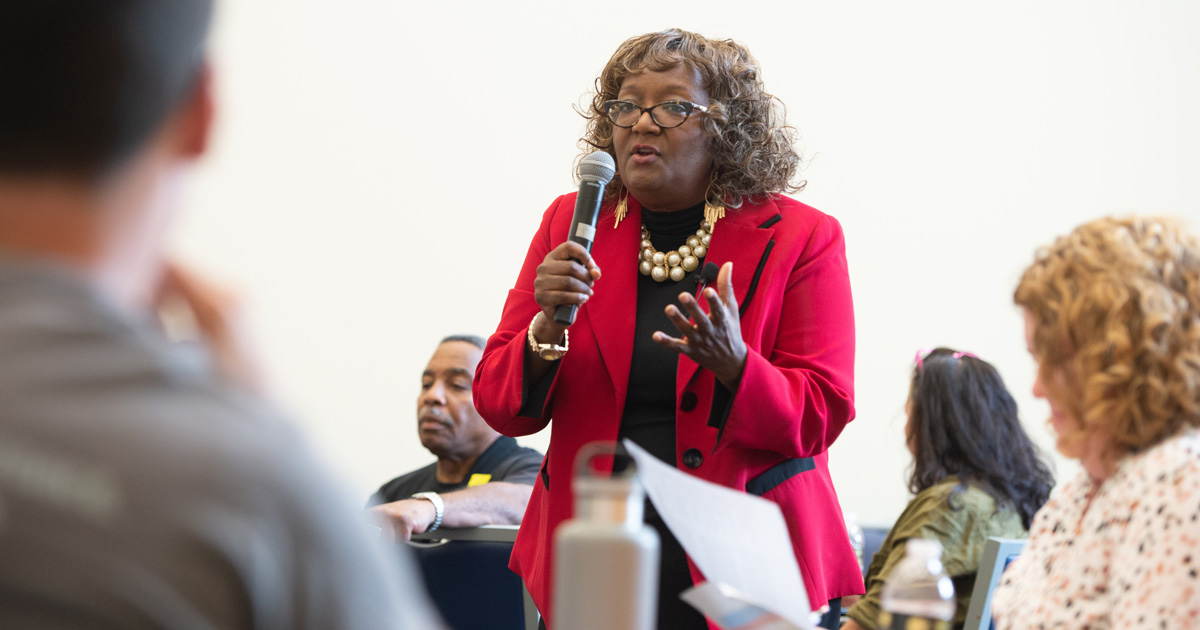 By Tessa Schmitz
Student Writer, Institute for Community Engagement and Scholarship
"My mindset is focused, clear and driven," Dr. Denise E. Williams told me through a Zoom interview. "I do the necessary homework and dedicate myself to my goals."
Denise E. Williams, who is known in academia as Dr. DEW, is the living, breathing example of community engagement. I had the pleasure of chatting with Dr. DEW one crisp, fall Monday over Zoom. In an hour Dr. DEW magnified the importance of relationship building and strategic planning in community engagement while offering advice from her abundantly impressive experiences.
Dr. DEW has always been surrounded by educators as a third-generation teacher and administrator. "Particularly in African American communities," she points out, "you rarely hear that. My grandfather was a principal and my grandmother was a teacher."  When her grandparents came to the North, they were not allowed to hold those positions. But they kept the mentality and mandate of education, and all of their children, and their children's children earned post-secondary degrees as well. Dr. DEW herself received her undergraduate degree from Spelman University, a historically Black college for women, in economics. She earned her masters and doctorate from Indiana University's Kelley School of Business. From there, she obtained her MBA at Wharton Business School at the University of Pennsylvania. Visions of possibility have been ingrained in her since her childhood, and it is clear that this focus has not wavered.
Her experience ranges across multiple arenas with 25 years in corporate America in leadership positions where she was always the only person of color and often the only woman. She has traveled and established relationships across the globe, including a year-long collaboration in Zimbabwe with AfriCare, a nonprofit organization that provides developmental aid to Africa. Additionally, Dr. Dew serves on the board of directors of Junior Achievement North and has served on the Women Business Development Center board, the National Association of Women Business Owners regional advisory committee, and the CEO Brain Trust for the Minority Economic Development Association. In 2017, she was granted the Veteran's Small Business Champion by the U.S. Small Business Administration. She is also a prized professor and department chair of Management, Entrepreneurship, and Human Resource Management.
After listening to her for ten minutes, I tell her she needs to write a book. Her answer? That's her 2022 goal.
Please enjoy this conversation with Dr. Denise Williams.
TESSA: Okay, so, let's get started.  What drew you to Metro State? Was there something about Metro State's mission and vision that spoke to your identity as a community engaged scholar?
DR. DEW: Metropolitan State University is what drove me to the university. The mission and its long-term devotion to marginalized [minority women, veterans, first-generation] students and stakeholders — that's what brought me here. I had been serving in organizations, like private universities and large research I universities, where there wasn't a lot of minority representation. At some point in my life, [I realized] my personal mission is really to share what I know with people who very rarely will get access to it. I am really personally devoted to empowering those that have not been empowered. That's where I want to spend my time. That's where I want to bring the secrets of what I have learned.
I bring the real world into the classroom and I wanted to do that specifically for the nature of the students here. In fact, I had a couple of colleagues and mentors that were like, "Well, we can pick up the phone and get you to University of Minnesota," and I said that's not where I want to go. I told them I want to go to this little school that you haven't heard about. And I have been thrilled because it has allowed me the opportunity to do exactly what I wanted.
TESSA: The university is fortunate to have you. In your experience, what separates community-engaged teaching and learning from traditional forms of teaching?
DR. DEW: Action and application. You still need the theoretical background and foundation but you're adopting a mindset of application, meaning you're creating an environment where it becomes real. You're bringing the community inside the container that you've created at the university or you're taking your students out and inviting them to engage in that way — however that happens. It could be through videos, through connections, through inviting them to events. Sometimes I will bring in issues and conversations that I'm having with a board of directors and bring it into the classroom as real-life experience. So, community engagement for me is about application. We used to have a theme at Metro State, which I really, really like, "where the real world and learning meet." That's what it is about. That's the best way to learn.
TESSA: What effect does this approach to community-engaged teaching, learning and scholarship have on your department, college, and interactions with other faculty?
DR. DEW: It has had a lot of effects. Metro State is very fortunately governed by unions. Faculty have a union called Inter-Faculty Organization (IFO), and IFO has negotiated a contract with Minnesota State for all of the faculty. Part of that contract requires that faculty are very rigorous in five key areas that deem you as worthy as continuing as faculty and moving up the ladder. Those areas are: your classroom first (Metro State is teaching oriented, not research oriented), scholarship (creating new knowledge that you speak out at conferences or getting published in academic journals or writing books), professional development, student success (we have to prove each year what we are doing toward student development and advising), and service (to your department, to your college, to your community at large).      
Community service has always been where I played.  My whole area is innovation and entrepreneurship and women leadership development. All of that has come into Metro State University in terms of alliances and contracts and engagement. We have tons of entrepreneurs and leaders all over the Twin Cities that are alumni — most of our graduates stay in Minnesota — so the more we can reach out to them, the more they can bring their knowledge to us, the more they can engage with our students, then the more they can invest in the programs that we're doing. So, I think there are a lot more opportunities and I'm very excited that the university is focused on this.
TESSA:  How have students responded to your community-engaged approach to teaching and learning?
DR. DEW: We have to recognize students' resilience. I've been working with the Career Center and Student Life along with Dean Sullivan to try to get students to design their goals earlier in the process. So that everything you take is a part of that goal. You want to have an idea of what you're doing as you're the captain of your ship. You want to see opportunity in everything. So many students are just checking the box. You've got to be able to recognize how you're constantly building yourself. You can get anything you want. I've proven that. I know that to be true.
Having a mindset of community engagement is critical, because community engagement is just translated in having relational capacity building. That's the theory I use. That's what everybody really wants. With the diversity and equity and inclusion challenges that we have, if we focus on relationship building, we would take it in a different way. People wouldn't get so triggered by the words. We can shift to relationships and focus on how we can create better relationships with people.
So when I think of community engagement, I say it's relational capacity building, it's proactive behavior, and application, and it's empowered living. It's the ability to see opportunities and turn them into something that is a win-win. It's not just about what I want. It's understanding the other person and understanding what their needs are and creating something together that's a win-win for both of us.
TESSA: What advice would you offer to other faculty members who want to take steps to connect their teaching, learning and scholarship with the community?
DR. DEW: I'd say strategically plan. When you're going back to the premise of relational capacity building, you won't have people feeling used. You can tell a guest to come into class, and we can check the box. But community engagement is relationship. So what are you going to do with that person next? Have you made sure that the students have reached out to them to say how grateful they were or what they learned? What are you going to do for them and create opportunities for them? We serve each other. Just like any kind of relationship, it is work. Be strategic about who it is or what you're trying to do. Recognize in that planning process what it is that you can provide to the other person.  Be strategic. Understand the give and take. Be willing to invest the time to manage the relationship. Make sure that you don't take your hands off of it.
TESSA: So, what do you see as the future of community-engaged teaching, learning and scholarship at Metro State?
DR. DEW: We need to document. When you're in academia, it's all about the science and evidence. I think we could do a better job at documenting the impact and clarifying to people what it means. People may be hesitant because they don't know exactly what it is. One opportunity is to document it across different colleges so we have a better idea of how it shows up. Then, quantify it. What kind of impact has it had? How many students has it involved? Surveys pre and post.
We're going to have a whole new brand rollout in January. We are celebrating the 50th anniversary of Metro State. Marketing has optimism, advocacy, and trailblazing as their foundation. How can community engagement reframe itself in a way that addresses these three?
We can get a measurement of what people think of community engagement, because people are thinking about it differently. It may feel, in a time that we're in right now, where people's capacity to do anything else is small. The thought of community engagement feels like a lot. So how can we reframe that and tie into hope? Community engagement uplifts me because I am able to design programs and opportunities to be in relationships with people that are exciting to me or where we can empower one another.  Maybe community engagement can be repositioned as the breath in your work as opposed to feeling like another hat that you've got to wear.
When we talk about the future, it has to be creating evidence that's needed for our leadership to recognize the value of community engagement. You've got to make a business case for community engagement.