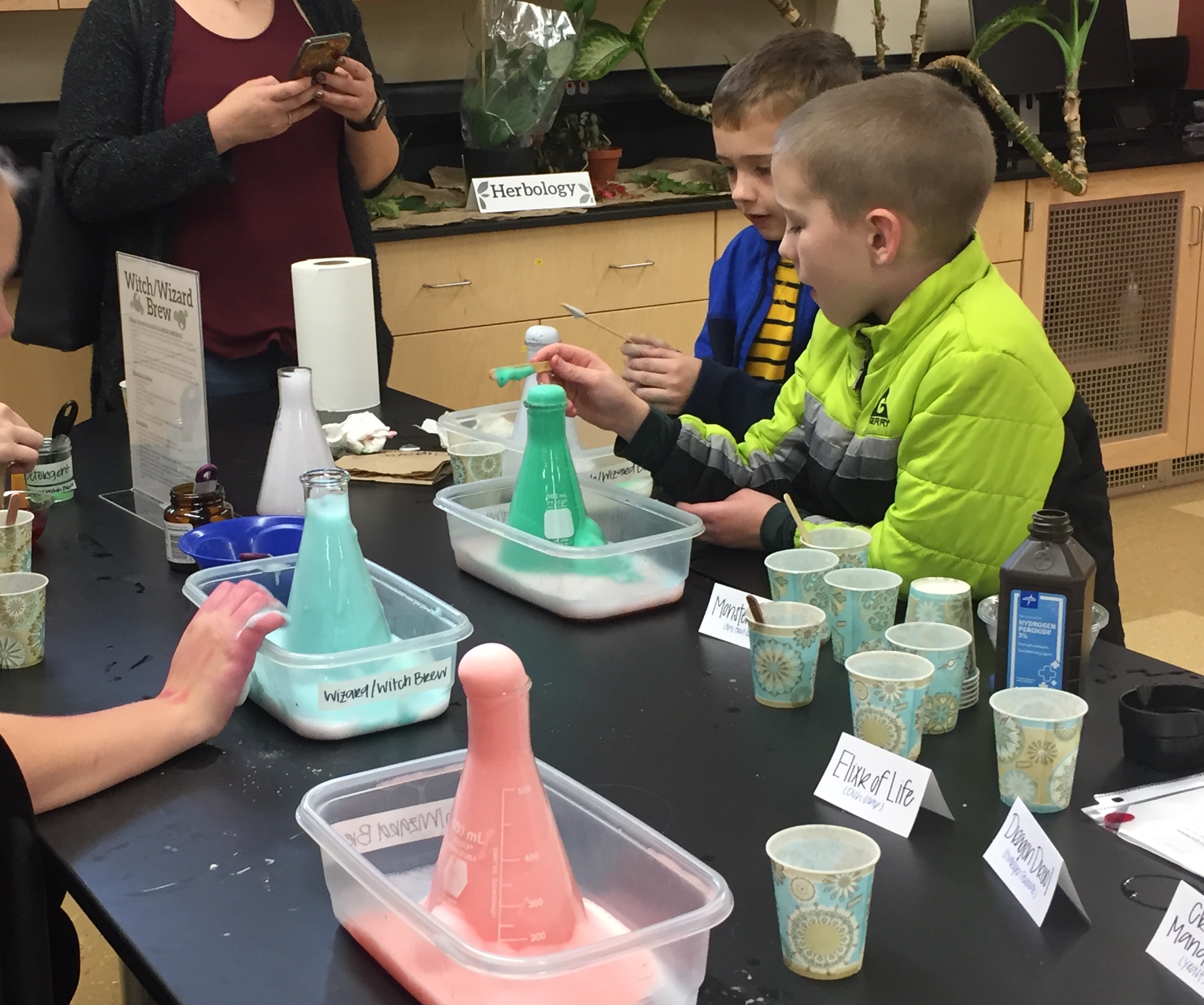 By Sarah McVicar
On a quiet Saturday around 11 a.m., Metropolitan State University Associate Professor Kate Ries is preparing for an explosion. This explosion, fortunately, is both under control and educational. Ries is performing a chemistry demonstration in front of a rapt audience of children and their parents, who watch from a safe distance while she explains the science behind the dramatic visual display.
The demonstration is just one of the many activities offered by First Saturday Science, a program designed for children of all ages to expand their knowledge of science through exploration in a hands-on laboratory. Developed by Metropolitan State's Institute for Community Engagement and Scholarship (ICES), the program's goal is to show that science is for everyone to discover and experience, and that it encompasses many options for future careers. Each month's workshop has a different theme, such as the five senses and the human body to dinosaurs (paleontology), renewable energy, and pop-culture themes such as the physics of the hit sci-fi television series Stranger Things.
Ries became involved with First Saturday Science through her connection to student Julie Chau, whom she had previously taught and served as an advisor. Along with fellow ICES student worker Antavia Paredes, Chau currently spearheads much of the planning and execution of First Saturday Science under the leadership of Community Engagement Coordinator Awo Ahmed.  
"Julie [Chau] is very enthusiastic and motivated," Ries says, "and that motivates others [to get involved]." Natural Sciences Department Laboratory Specialist Elizabeth Hinds, whom Ries describes as a "huge proponent of science education, outreach, and volunteering," is also an important staff supporter of the program, and students from the campus STEM Association often volunteer at the workshops.
Hosted in the university's Jason R. Carter Science Education Center, the monthly workshops typically offer between five and 11 different hands-on stations or activities, each with its own learning objective, related to that month's theme. The program has benefited significantly, Ries says, from the innovation of student leaders. "Previously, we sometimes only had one family [in attendance]; Julie figured out a way to make it more accessible and appeal to a wider audience." Workshops now can be tailored to the understanding level of children of all ages and attract up to as many as 50 people, Ries says. Creativity and adaptability are key, as RSVPs are not required and it's unknown in advance who – or how big – the audience will be. 
In addition to being responsive to all ages, Ahmed explains, First Saturday Science strives to be accessible to underrepresented youth and families of diverse backgrounds, many of whom may have limited opportunities for this kind of hands-on science exploration. Indeed, Ries says, "For some, it's their first lab experience ever. They've never done anything like it before." Along with being free, the program promotes the spirit of mutual learning in a fun and nonjudgmental environment. "We don't judge kids or parents about their knowledge [of science]," Ries says. "We want people to know it's OK to ask questions and encourage that curiosity…[it's] what moves us forward."
Ahmed sees the First Saturday Science program as a way to introduce diverse communities to the sciences as something fun, interesting, and accessible. "There's definitely an underlying notion that science is a lofty, academic, sterile subculture of society for white people with privilege," Ahmed explains. "People from diverse backgrounds may not feel welcome and we want to counter that narrative." One aim of the program, then, is to encourage young participants of all backgrounds to consider the possibility of higher education and perhaps even a career in the sciences. "These are the next scientists and policy writers," Ahmed says. "It's important to establish interest early on."
Ries also emphasizes the importance of reaching out to diverse populations. When people come to First Saturday Science, she notes, they see mostly women and people of color conducting the workshops – not "what you might expect [a scientist to look like] from the media, textbooks, and pop culture."
"People see a reflection of themselves when they come to our campus," Ahmed says.
For Ries, those involved with the First Saturday Science program represent the changing face of science. She hopes the program can help to challenge societal stereotypes around science and scientists and provide role models for all kids who may be interested in the field. "It's important to realize that people come in with different ideas and backgrounds," Ries says. "And it doesn't matter when it comes to science. Science can serve as a bridge, bringing people together. This is our opportunity to be the change."
Chau echoes this belief in science's ability to be a force for good, adding that for her the program is "an opportunity to use what I like to do to do something helpful to the larger community." Following her time at Metropolitan State, Chau plans to become a physician assistant working with children battling cancer.
The positive change made by First Saturday Science is already visible. The program now attracts families with children of all ages from as far away as Rochester, a nearly 80-mile drive. Ahmed recounts that at least one parent who attended a workshop ended up enrolling at Metropolitan State. The program has a lot of work to do to expand its reach, increase visibility, and be seen as a community resource, Ahmed says.
"We need to ask: how do we more effectively reach our primary audience?" Ahmed says. "How can we make Metropolitan State more accessible to diverse communities?
In addition to ICES' ongoing outreach work, there are many reasons for optimism for the program's future. First Saturday Science recently introduced take home science kits to expand learning beyond the lab. ICES plans to gradually transition the bulk of the planning to the College of Sciences, which already has the necessary lab space and equipment, while remaining involvement in outreach and community building. In the meantime, Ahmed, Chau, and others involved continue striving for "more diversity, more voices… and reaching more students and parents," seeking to ensure the program will continue to grow and provide benefit to the community for years to come. 
"The future is bright," Ahmed says. "Possibilities are endless for this program."