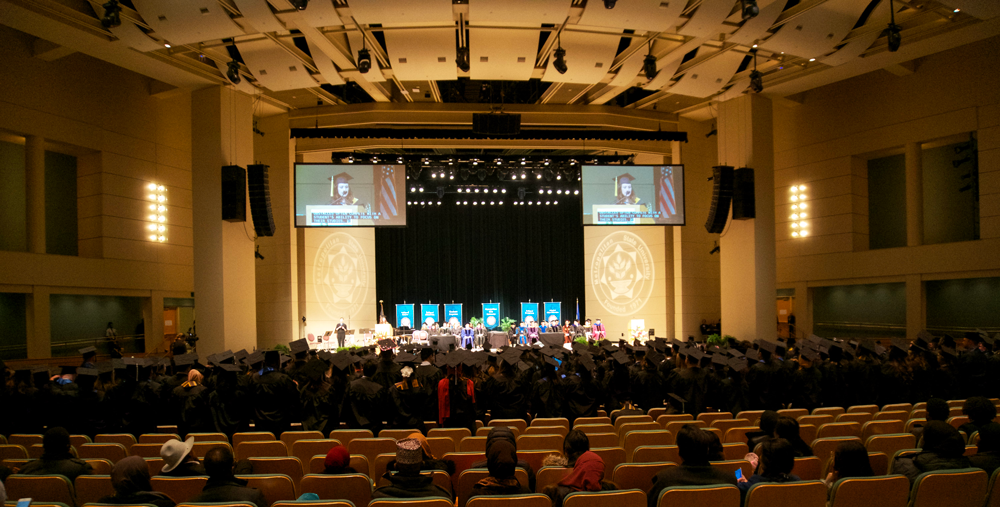 Approximately 801 students are receiving bachelor's and master's degrees students this fall, as Metropolitan State observes its 105th Commencement exercise.
This fall's class brings the total number of Metropolitan State graduates to 49,416.
To accommodate Metropolitan State's growing student body, the spring commencement ceremony will take place as two programs, Dec. 14 at the Minneapolis Convention Center, 1301 2nd Ave. S. The morning program will begin at 10 a.m., and the afternoon program will begin at 2 p.m. All guests must have a ticket. The ceremony will be live-streamed on the university website for those unable to attend.
The morning program's student address will be delivered by Sariah Marth, President's Outstanding Graduate Student award recipient for the College of Sciences. The morning exercise recognizes graduates from the College of Liberal Arts, College of Management, College of Sciences and the School Urban Education.
The student speaker for the afternoon exercise will be Mariah Wilberg, President's Outstanding Student award recipient for the College of Community Studies and Public Affairs. The afternoon program recognizes graduates from the College of Community Studies and Public Affairs, the College of Individualized Studies and the College of Nursing and Health Sciences.
Other commencement participants include:
Virginia "Ginny" Arthur, J.D., Metropolitan State University president
Dr. Amy Gort, provost and executive vice president for Academic and Student Affairs
Hamisha Alkamooneh, president of the Metropolitan State University Student Association
Jay Cowles, chair, Minnesota State Board of Trustees
Kristine Hansen, director, Alumni Relations
James E. Lukaszewski, Alumni Association Representative
Dr. August Hoffman, president of the Inter-Faculty Organization
Since 1971, Metropolitan State has conferred 43,214 bachelor's degrees, 3,916 master's degrees and 72 doctoral degrees. Metropolitan State is committed to meeting the higher education needs of the people of Minneapolis–Saint Paul. Learn more about Metropolitan State on the university website.