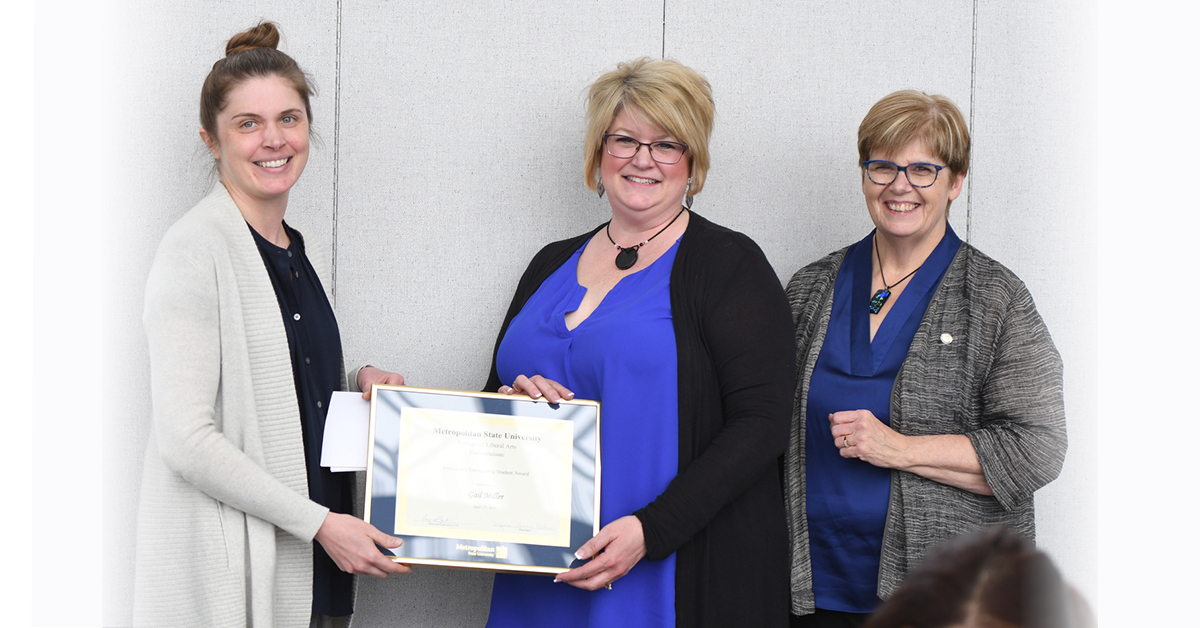 Gail Miller of Ham Lake has been selected a spring semester Outstanding Student at Metropolitan State University.
Miller graduates summa cum laude with a bachelor's social science and focus in political science and is chosen as the President's Outstanding Student award recipient for the university's College of Liberal Arts. She is one of 1,079 students graduating in the spring semester. Metropolitan State's 104th commencement exercises take place April 27, 2019, at the Minneapolis Convention Center to confer bachelor's, master's and doctoral degrees.
Miller chose to attend Metropolitan State because the social work program was especially appealing for adult students, like her, who wished to complete their degrees. Miller started school in 2013 at Anoka Ramsey Community College and transferred to Metropolitan State in 2015.
In response to the challenges she had faced, Miller said, "Juggling class, homework, family, and work has been the most challenging. My family has been very supportive, having taken on extra duties at home to help out as I had to switch jobs a couple of times in order to accommodate my class schedule.
"I am most grateful for the support and encouragement of the Social Science department, and especially the guidance, direction, and encouragement of my advisor. The whole department has been a big factor in helping me see that I am capable of much more than I thought I was," Miller says.
Advisor Kathleen Cole, associate professor of social science, said, "Gail has consistently demonstrated that she cares about learning and that she uses what she learns in classes to better understand herself in relation to the social world. She has also taken advantage of every opportunity the social science major makes available for students. She has completed meaningful internships in important public offices. She has completed multiple independent studies on advanced topics in social science. She has done exemplary course work and submitted her work to a statewide undergraduate research competition—and won! As a department, we are so proud of the work she has done and we can't wait to see what she does after graduation."
Miller is employed with Lutheran Social Service of Minnesota and plans to stay with the organization.  In her free time, she loves to read and spend time with her family and dogs.  She plans to start the master's program in Advocacy and Political Leadership program at Metropolitan State University in spring 2020.
Each fall and spring semester, colleges at Metropolitan State nominate students for the Outstanding Student and Outstanding Graduate Student awards. Nominees are evaluated on the basis of their academic performance in their degree program, as well as achievements in their community and professional contributions. All finalists are recognized in the commencement program, outstanding students receive special recognition during commencement, and are eligible to speak at commencement.
Metropolitan State University, a member of Minnesota State, is the Twin Cities' public, urban, comprehensive state university providing lifelong learning and competitive academic and professional degree programs at the bachelor, master and doctoral levels.