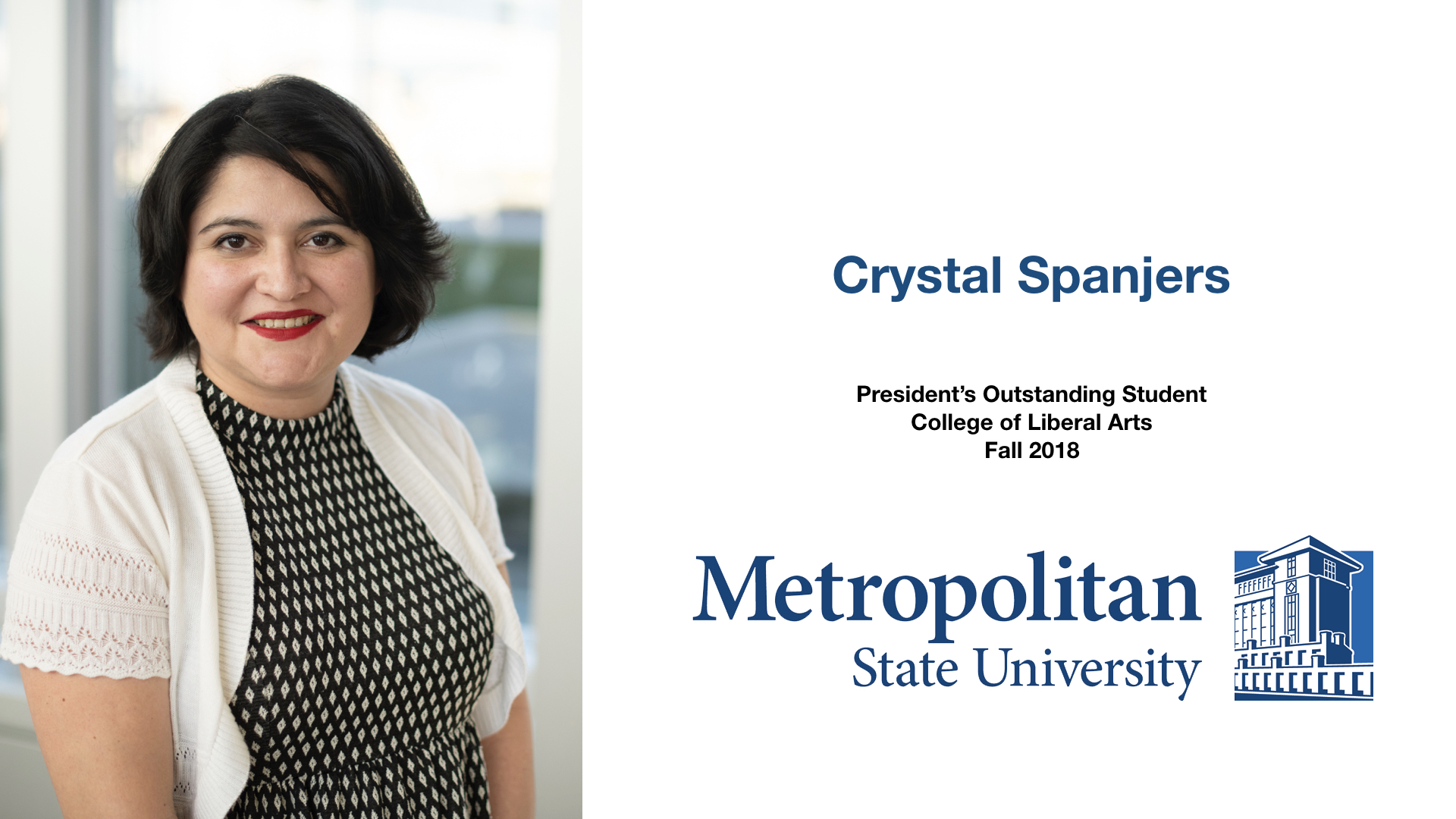 Crystal Spanjers, of South Saint Paul, graduated with a bachelor's degree in English literature and was chosen President's Outstanding Student in the university's College of Liberal Arts. She was one of 1,302 students receiving bachelor's and master's degrees from Metropolitan State this semester. She was one of 583 graduates participating in the university's 103rd commencement exercises on Saturday, Dec. 8, at the Minneapolis Convention Center.
"As a working mother, when I determined I wanted to go back to school, I chose a university that was friendly to non-traditional students. Metro State had great reviews from students such as myself, who were looking for flexible class schedules and online options to balance school schedules with work and family schedules," Spanjers said.
Spanjers, who graduated from Burley High School, in Burley, Idaho in 2001, is currently a Senior Collections Analyst for SPS Commerce. "I have recently accepted a position with our Customer Success department… the good thing about an English lit. degree is that the skills are applicable to a wide range of fields," Spanjers said.
Between a career in the financial industry and being mother to three children, Spanjers found time to pursue her studies. Spanjers will be the first to quickly rework the narrative on the 'difficulty' of being a mother and a student into a story of how being a mother can inspire or enhance her identity as a student," says her nominating advisor, Tammy Durant, associate professor and Literature and Language Department chair in the College of Liberal Arts. "And her work demonstrates this inventiveness, incorporating film and graphic novel to illuminate difficult theoretical concepts."
After graduation, Spanjers plans to stay with her present company, where she has been for eight years. "I'm one of the few who entered my program without plans to monetize my degree… For the immediate future, however, I plan to continue to grow my career, care for my family, and to read works of English literature and write my thoughts about them while I determine my next goal. Spanjers lives in South Saint Paul with her husband and three children. They have a dog and a cat.
"Crystal is an astonishing representative of the kind of nontraditional student served by Metro State. Somehow, she balances the demands of being a working mother with being a truly outstanding student," Durant says. "Collegial with her fellow students, quick to compliment or respectfully disagree, Crystal is an independent thinker who cares deeply about ideas, justice, and beauty. And she has persisted! We need more like her."