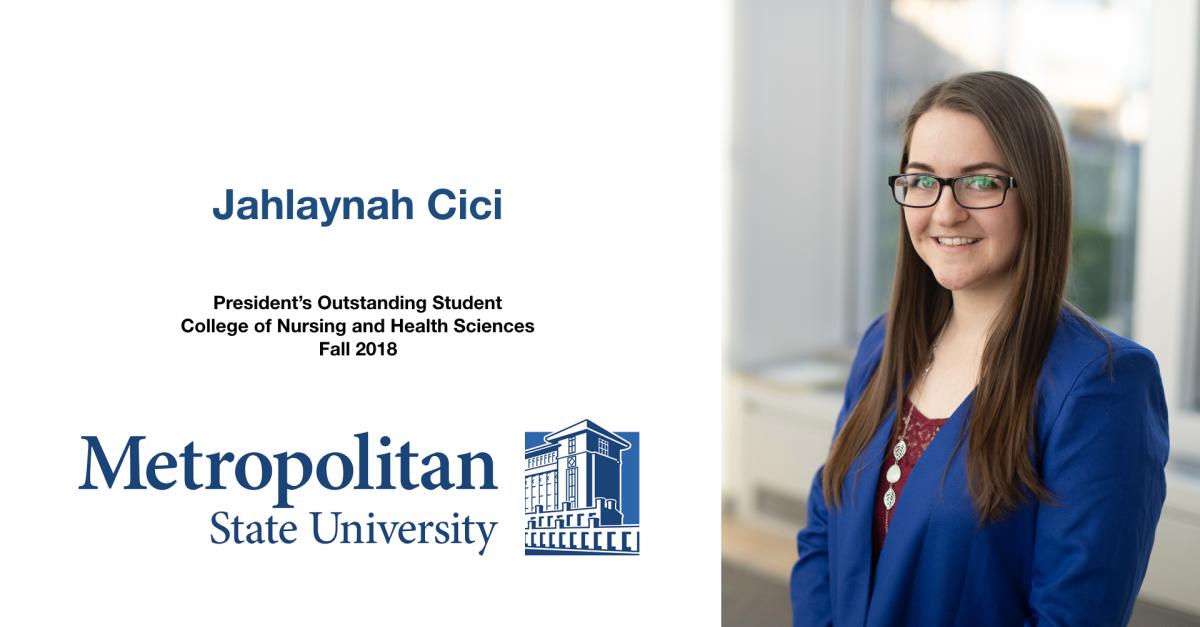 Jahlaynah Cici, a Saint Louis Park resident, has been selected as a fall semester Outstanding Student at Metropolitan State University.
Cici, who graduated with a Bachelor of Science in Nursing, was chosen as a President's Outstanding Student in the university's College of Nursing and Health Sciences. She was one of 1,302 students receiving bachelor's and master's degrees from Metropolitan State this semester.  She was one of 583 graduates participating in the university's 103rdcommencement exercises on Saturday, Dec. 8, at the Minneapolis Convention Center.
As Cici transferred to Metropolitan State University she "was looking forward to the additional clinical experience offered at Metro so I could explore nursing in pediatric acute care."
 "I am thankful for the MANE Nursing Program's commitment to finding valuable and diverse clinical learning experiences for graduating students," she explained. 
Cici earned an associate's degree from Anoka-Ramsey Community College in 2008 and a bachelor of science in biology from Hamline University in 2011. She is currently employed as a registered nurse at Regions Hospital and plans to continue working there, while continuing to pursue her newfound interest in holistic nursing.           
At Metropolitan State, Cici was active in the Nursing Student Organization, as well as the Minnesota and American Holistic Nurses Associations. She was also a distinguished member of the Anoka-Ramsey Community College. Her clinical preceptorship was at Gillette Children's Specialty, which, she explained, cemented her passion for working with children. In her community, Cici is also a member of the American Holistic Nurses Association and the Minnesota Holistic Nurses Association. She also has been an active member, advisor and alumna of Phi Theta Kappa Honor Society since 2007. She hopes to become more involved in healthcare committees and quality improvement efforts, and gain more experience in pediatrics.
Outside of the healthcare industry, Cici currently resides with her husband, and her younger brother. She pursues creative projects, works with her husband in the film industry, and volunteers within the community. She also explained that, for fun, "I enjoy board games, reading, movies and traveling." She hopes to continue to learn more about becoming an active participant in political and social change.