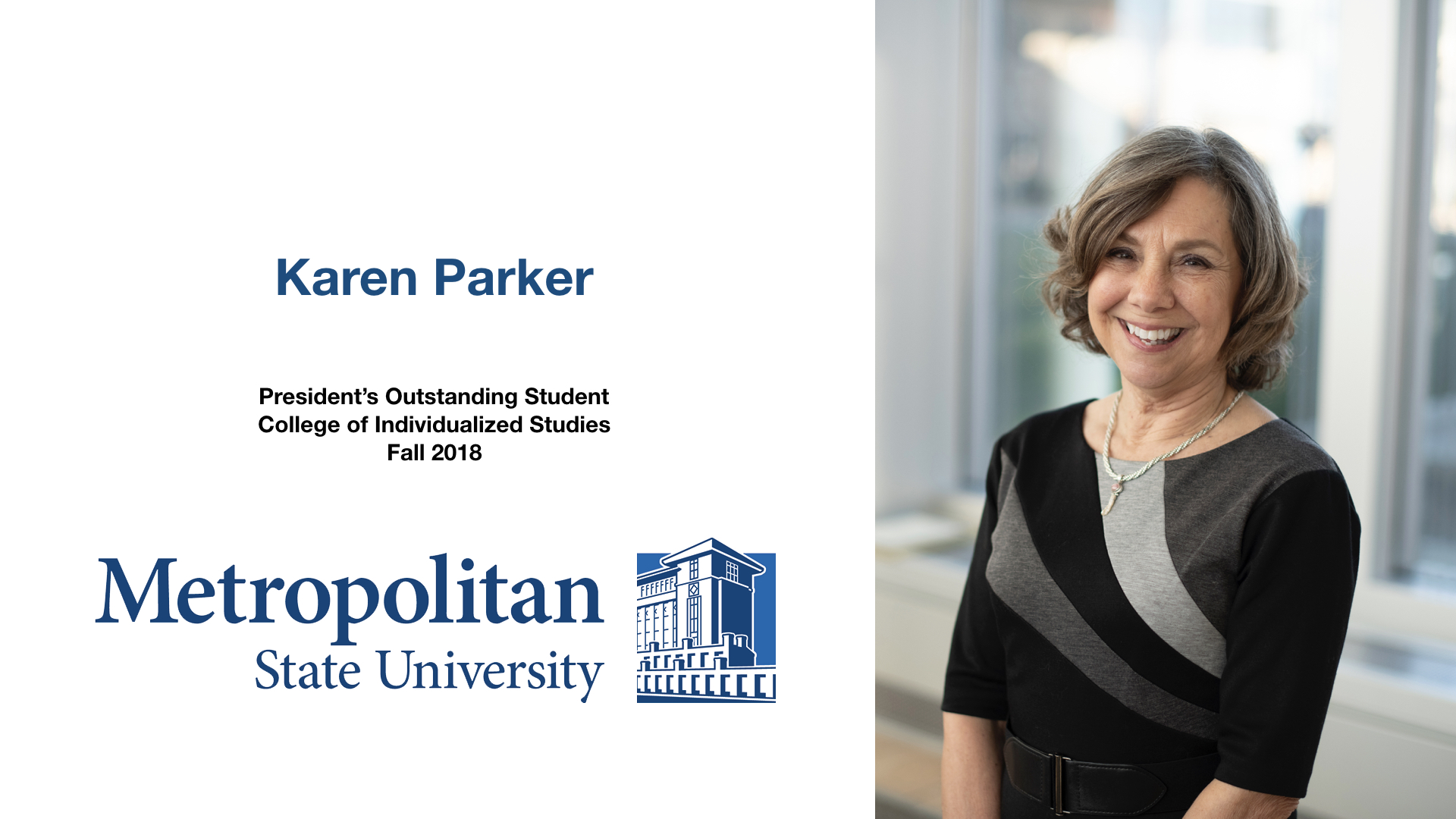 Karen Parker of Farmington graduated summa cum laude with a bachelor's degree was chosen President's Outstanding Student in the university's College of Individualized Studies. She was one of 1,302 students receiving bachelor's and master's degrees from Metropolitan State this semester. She was one of 583 graduates participating in the university's 103rd commencement exercises on Saturday, Dec. 8, at the Minneapolis Convention Center.
"I started college in 1973 but it had been 30 years since my last college course," Parker said. "I was concerned about my writing skills. I was also concerned about the time commitment. To overcome my fears about my writing skills, I relied on professor feedback on my papers and continued to improve."
Parker, who began her college career more than 30 years ago, came to Metropolitan State University to finish what she had started.
"My initial goal was to earn a BA degree as my workplace had recently instituted a pay differential for college degrees. In my perspectives course I realized just how meaningful it would be for me personally to complete the degree I had started so long ago."
Parker is active in her community and serves as president of Ed MN Local 7313. She also volunteers at East Side Freedom Library, Open Arms MN, and the Dakota County Library. Parker will travel this winter on a mission trip to San Lucas Mission in Guatemala.
Active in community service, Parker was instrumental in the early stages and served as a co-chair in the development of Parents of Latin American Children and its summer camp for children adopted from Latin America. For a decade, she has participated in Mission Jamaica and travels there each year to help repair the orphanage and interact with the children. She also oversees community development activities and donates uniforms to Mission Jamaica.  When traveling to Cuba she brings fun stickers for the children, new guitar strings so some hearts can sing again, and other supplies of essential items.  On trips to Cuba, she brings luggage packed with school and medical supplies. "The circle widens when we give," Parker says.
"I know that [Karen] has wiped away the tears from the eyes of some children. She lightens the load for others. In her heart, her communities have no boundaries, borders, or walls.  She embarks on another mission to Guatemala in February…Thank you for your devotion, relieving some suffering and saving lives, and knowing the fight others have for their freedom and dignity," says Judith A. Minning, academic advisor for the College of Individualized Studies.