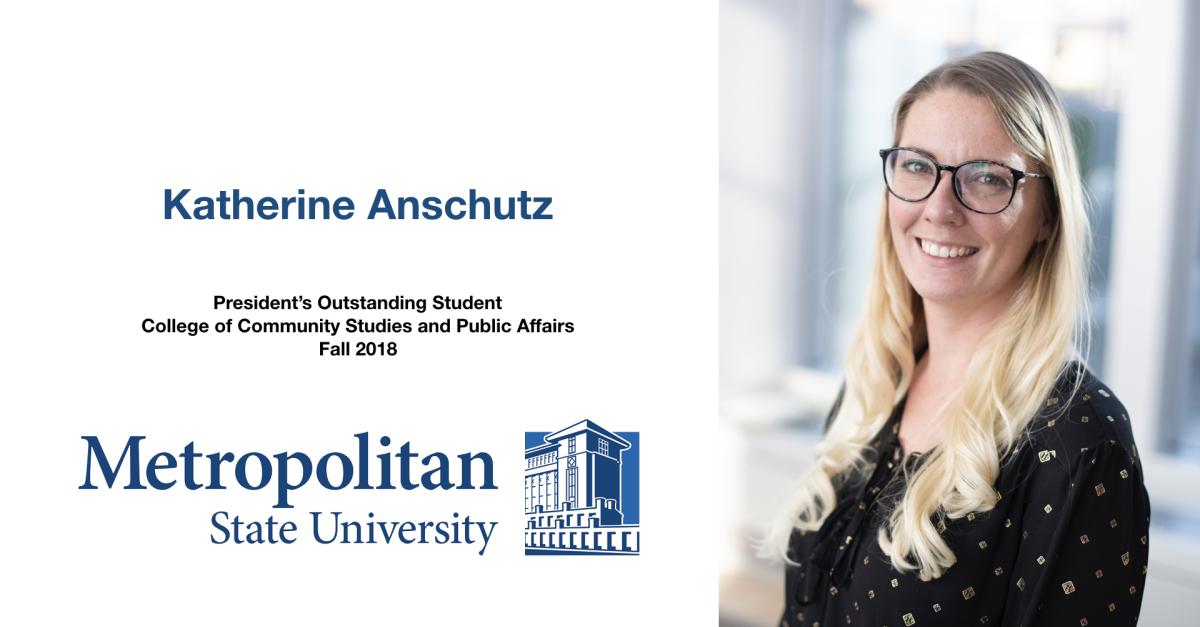 Katherine Anschutz has been selected a fall semester President's Outstanding Student at Metropolitan State University. Anschutz graduates summa cum laude with a bachelor's degree in alcohol and drug counseling and is the recipient of the President's Outstanding Student award for the university's College of Community Studies and Public Affairs.Approximately 1,302 students are receiving bachelor's and master's degrees this month, of whom 583 participated in Metropolitan State University's 103rd commencement exercises on Saturday, Dec. 8, 2018, at the Minneapolis Convention Center.
Anschutz all delivered an address to graduates at commencement: Watch her speech here: https://youtu.be/gvKqiIzH1pQ
"I was afraid that I could not balance life as an adult and school. I was afraid that I could not do as well as I wanted to, and that I would let myself down," Anschutz said. "It was a challenging balance and I did want to give up at times, but I was able to break down my goal in to smaller steps, and use set-backs as motivation to do better in the future."
She currently works at Mercy-Unity Hospital on the addiction service team, and will soon start a position as a substance abuse counselor. She will pursue a master's degree in social work beginning fall 2019.
As a student, Anschutz was a member of the Minnesota Association of Resources for Recovery and Chemical Health, and belongs to St. Olaf Church in Minneapolis. She likes to read, be outside, cook, garden, and spend time with loved ones.
Deborah Mosby, who is Anschutz's advisor and nominator, said, "Balancing a challenging job, a demanding school schedule, and family commitments, Kate maintained an "A" average and graduated summa cum laude with a 4.0 grade point average. She is the first grandchild on both sides of her family to graduate from college, which she says 'feels like an amazing accomplishment that we have all shared along this journey.'"