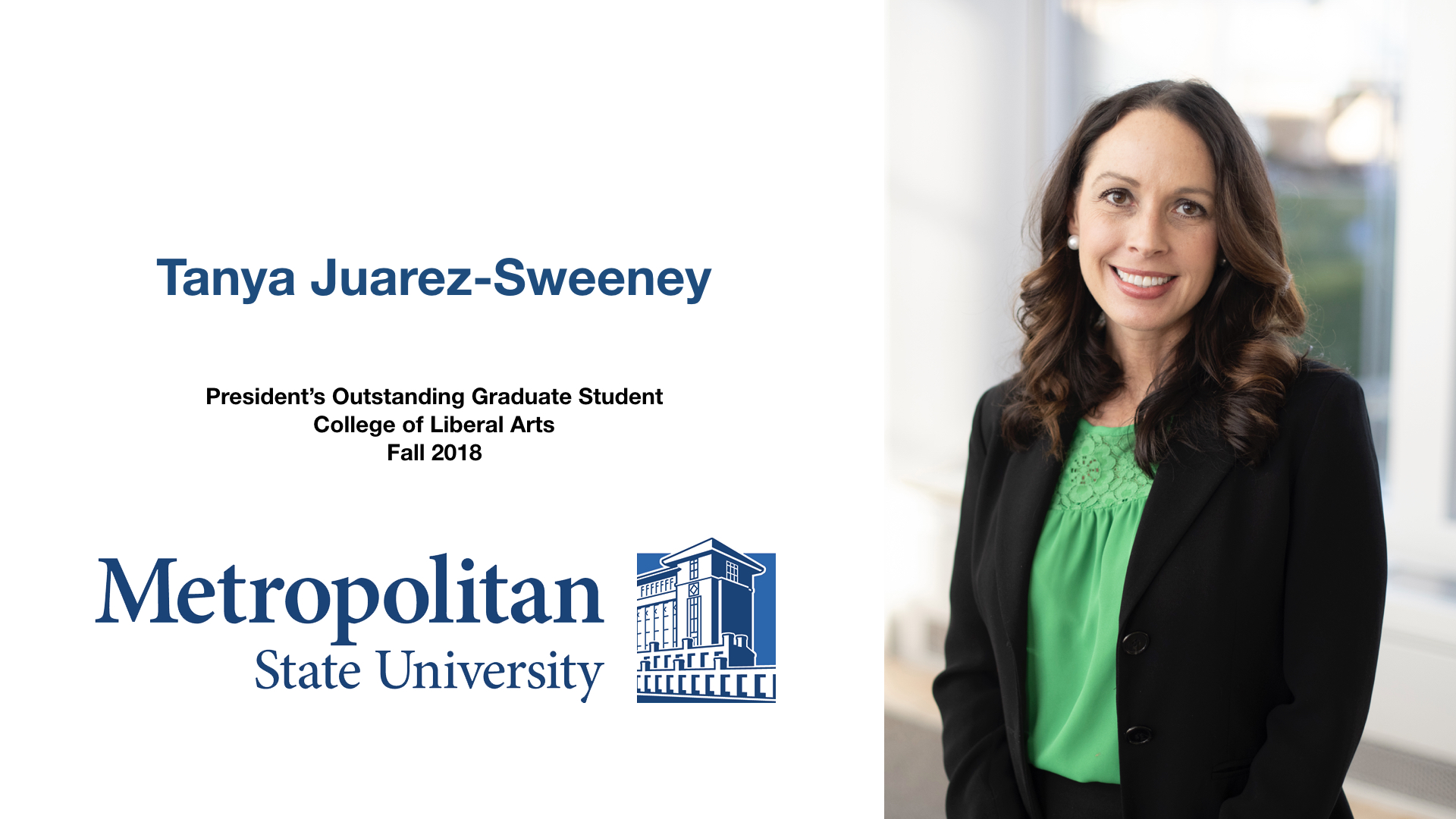 Tanya Juarez-Sweeney, of Saint Paul, has been selected as a fall 2018 semester Outstanding Graduate Student at Metropolitan State University.
Juarez-Sweeney, who graduated with a master's degree in technical communication, was chosen as an Outstanding Graduate Student in the university's College of Liberal Arts. She was one of 1,302 students receiving bachelor's and master's degrees from Metropolitan State this semester. Selected as the student speaker for the morning ceremony, Juarez-Sweeney addressed 582 fellow graduates and their guests at the university's 103rd commencement exercises on Dec. 8 at the Minneapolis Convention Center.
She was also a student speaker at commencement, delivering an address to the graduating class. Watch her speech here: https://youtu.be/DQW-jGfYfJM
"The things that I learned from my peers and faculty made me grow personally and professionally," Juarez-Sweeney says. After working with children for eight years, she explained that getting back into the college environment was a bit intimidating. "I'll never forget how nervous I was for my first day of class. I was afraid to speak, but I found my adult voice again."
Juarez-Sweeney previously attended Duluth Denfeld High School in 1992, Minneapolis Community and Technical College in 1998 and the University of Minnesota in 2005, while also participating in military service between 1993 and 2001. Juarez-Sweeney is also active in community service organizations including Habitat for Humanity, the Minneapolis Institute of Arts and Children's Minnesota. 
Currently, Juarez-Sweeney works as an innovation designer for the software company, Calabrio. In the near future, she intends to pursue the UX graduate certificate at Metropolitan State. She will continue to enjoy live music, artwork and local art museums, and the company of her husband and two teenage children. 
Tori Sadler, who submitted Juarez-Sweeney's nomination, explained that "all faculty in the technical communications program contributed to the nomination." She continued by saying, "I think Tanya was chosen because she really is outstanding, and by that I mean she is accomplished."