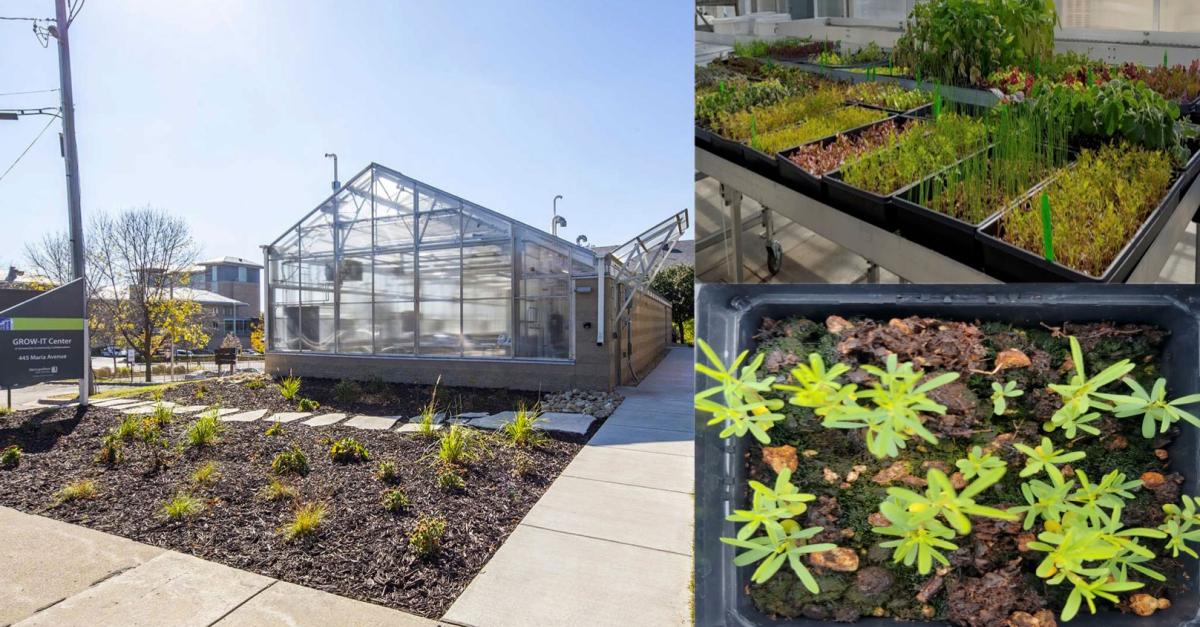 By Sarah McVicar
Student Writer, Institute for Community Engagement and Scholarship
In the fall of 2019, youth interns from Urban Roots – a Saint Paul organization "empower[ing] youth through nature, healthy food, and community" – began gathering at the newly-opened GROW-IT Center, where over the coming months they worked steadily to grow more than 5,000 microgreens, agricultural, and native plants – including the greatest volume they've ever produced for distribution to East Side families struggling to access healthy food.  
Located on Metropolitan State University's Saint Paul campus, the stated vision of the GROW-IT Center is to be a "year-round learning hub" that offers university and community members a space to come together, share knowledge, and address issues of sustainable urban agriculture, healthy food production and access, and ecological preservation – ultimately with the hope of inspiring the next generation to carry on the critical work.
If this aim seems ambitious, it is. 
In fact, it has taken the hard work of many passionate Metropolitan State faculty, staff, and community partners over several years to create the GROW-IT Center as we know it today: a state-of-the-art greenhouse for shared teaching, research, and learning. 
While contributions have been made by many, recent members of the core team include Jodi Bantley from the Institute for Community Engagement and Scholarship, College of Community Studies and Public Affairs faculty August Hoffman and College of Sciences faculty Mark Asplen, part-time greenhouse manager Jennifer Edgerton (PhD), and – prior to her July retirement – Patsy Noble, former Executive Director of integral community partner Urban Roots. "It couldn't have happened without anyone on our team," Bantley says, adding that partnerships with Friends of Swede Hollow and First Lutheran Church were also invaluable: "We secured resources for this project because of the integrity of those partnerships."
Indeed, key to the project's success is the way in which the Center and its work – designed to take place through a combination of research, outreach, workforce development, innovation, and teaching – is uniquely positioned to serve as connector and change agent, providing rare opportunities for diverse partnerships between university and community to take action on urgent social issues.
"If I had to summarize the essence of the GROW-IT Center, it would be true collaboration," Hoffman says. "It's a central hub that brings people together from different walks of life and cultures to understand not only the process of growing [healthy food], but also to understand more about each other."
For Bantley one of the central aspects of the project is the alignment of "academic, practical, and traditional" knowledge – something she identifies as a powerful force for positive change from within communities: "Communities that are struggling know what they need and have the knowledge to address it – aligning these forms of knowledge to tackle societal problems is very exciting."
"We're continually in conversation with community partners," Asplen explains, noting how the Center's work "flips" traditional institutional research models by having "the brainchild come from within the community" rather than academia. "[We're asking partners] what are some of the things you're seeing? What problems are you having? How can we address this? Or, I have an idea; might we be able to do something? Having those valuable observations can spearhead research" that benefits all. 
Bantley describes how, when Native American elders expressed concern about soil pollution, faculty Julie Maxson connected them with Metropolitan State students from the College of Sciences who utilized a new capacity to test soil for heavy metals. Friends of Swede Hollow collaborated with Metropolitan State students on a mapping project to combat destruction caused by the emerald ash borer. The Hmong American Farmers Association is interested in sharing their knowledge of traditional farming practice – and these are only a few examples.
Urban Roots, a lead partner, has been the Center's most active grower thus far.
"To see Metro's commitment to being a really vital community member is very eye-opening," says former Executive Director Patsy Noble. Noble expresses the positive changes she's witnessed over her long career working in partnership: "Who's at the table has changed…[I see] collaboratives working really hard to be representative of the community."
In fact, the connectedness of communities – including how engagement in work like the GROW-IT Center's can increase resilience and feelings of empowerment, belonging, and community connectedness – is one area of Professor Hoffman's research. 
Metropolitan State psychology major Sierra Grandy experienced the impact of working in the Center first-hand through a class with Hoffman (an experience she calls "an amazing opportunity I never thought I'd have"). A long-time community volunteer, Grandy says that her work in the Center really stood out: "[In the GROW-IT Center] you get connected with nature; you get connected with others. You have a place you belong, where you feel welcome and needed. It's a space you feel good spending time in." 
Indeed, says Hoffman, this kind of work in a communal space has unique power to unite: "When people have a place to come together and share ideas it helps to reduce anger, fear,…negative stereotypes about others."
Noble explains how for Urban Roots' nearly 80 youth interns – in addition to the cultural knowledge and respect developed through working hand-in-hand with people of different backgrounds – a key benefit of involvement in work like the Center's is truly "getting engaged in what it means to be active in civic life," teaching youth that they can contribute to their communities in ways that matter – like growing needed food for families. 
However, to take advantage of its full potential, the GROW-IT Center team must secure another $200,000 toward the estimated $700K Phase II expansion to develop an addition on the front of the greenhouse that would serve as a gathering space. If the remaining funds aren't secured by year-end 2020, certain funding opportunities will expire – a possibility Bantley calls "heartbreaking."
Bantley explains, "I really believe in the power of connecting theoretical knowledge and knowledge from lived experiences. That's why I'm so passionate about the GROW-IT Center…the issues the Center could help address are such important human issues. This is a legacy project setting the stage for generations to come."
Asplen notes the rare ability of the Center to connect different people and perspectives in a world where the likeminded typically stick together. "I can't think of a single other place at a university where you have this potential to bring together community members, faculty, and students of all kinds," Asplen says.
Ultimately, Bantley says, the GROW-IT Center will "move forward either way," but the completion of Phase II would provide vastly more opportunities for doing the kind of work for which the Center is uniquely positioned. "Then," says Bantley, "I think we could really make a dent in solving these human problems. We're truly working to transform society – we're not just plugging the holes in the boat; we want a boat that's reshaped and holds everybody up."