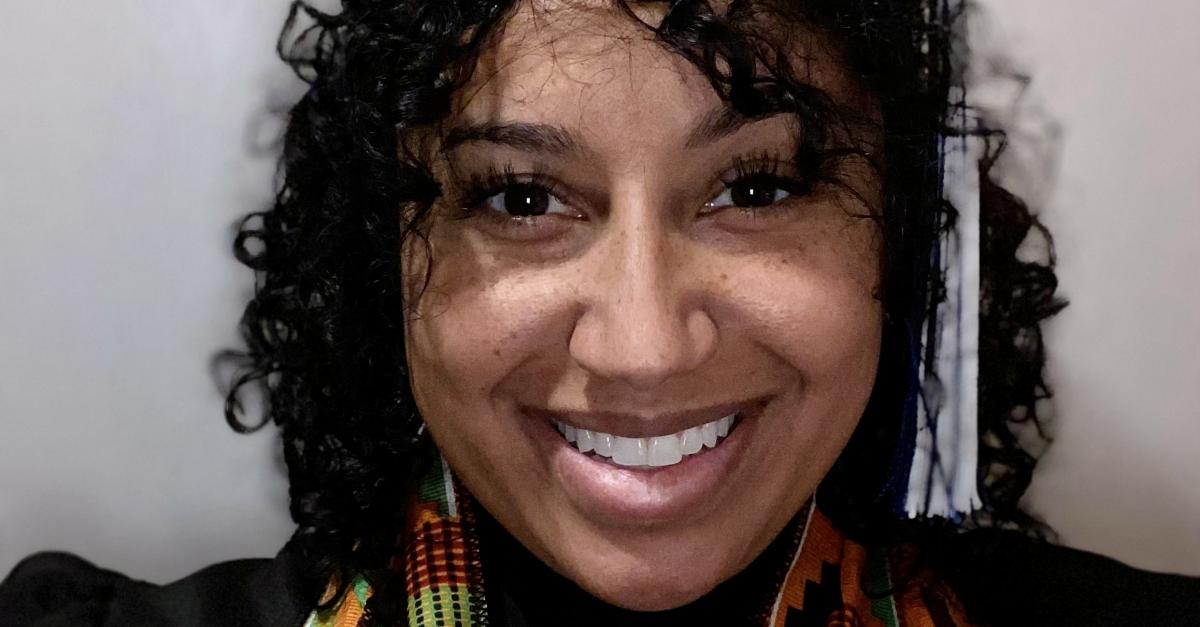 An Eagan resident has been selected a fall semester Outstanding Student at Metropolitan State University.
Jasmine Hornbrook is one of 11 Metropolitan State students who were recognized at the President's Outstanding Student Award Reception on Dec. 5, 2020. President's Outstanding Student Award recipients are nominated by their professors and advisers and selected based on their academic excellence, community service, academic innovation in the educational program and professional achievement.
Hornbrook double-majored at Metropolitan State and graduates with bachelor's degrees in Social Work and Psychology. She is chosen the Outstanding Student in the university's College of Community Studies and Public Affairs. She is one of 1,258 students receiving bachelor's, master's and doctorate degrees at Metropolitan State's 107th commencement exercises, which will be celebrated with an online ceremony on Dec. 12, 2020.
"There are many reasons why I chose Metropolitan State University. During my thorough research of choosing the right school, I found Metropolitan State to be the ideal school for me as they met all my expectations," Hornbrook says. "Metro met all my requirements from affordability, flexibility as a first-generation, non-traditional working adult student, a diverse student and faculty body without sacrificing the reputation. Lastly, I was able to connect with alumni—who often have well-regarded positions in the community—who unanimously rave about their academic experience. As soon as I started at Metropolitan State, I knew my decision to attend was the right one."
She is employed with Hennepin County Medical Center, a Level 1 trauma hospital, in downtown Minneapolis, where she has worked part time for almost five years. She is also an intern at Ramsey County Social Services.
Hornbrook will now pursue a Master of Social Work program, concentrating on clinical mental health, after which she will pursue a Holistic/Alternative Health certificate and a Master of Public Policy degree. She hopes to become a Licensed Independent Clinical Social Worker and work with adolescents and families of color with emphasis on healing and caring.
"I have become a better, whole being. I have built up my knowledge, confidence, network, and skillset. I have gained new friendships and experiences that I will carry with me for a lifetime" Hornbrook says. "And of course, the amazing professors and advisors for their expertise, commitment, and consistent support to see us all become successful. Coming to Metropolitan State was one of my best decisions so far!"
Before transferring to Metropolitan State in 2018, she attended Normandale Community College and Minneapolis Community and Technical College to fulfill her general studies requirements. At Metropolitan State, Hornbrook was active in student life and served as the Public Relations Officer of the Social Work Student Association. She is also an avid volunteer with People Serving People, a family based homeless shelter in downtown Minneapolis. She is a member and volunteer with National Alliance on Mental Illness and the American Heart Association. She also volunteers in her community as a mentor for girls and young women. "It is my calling to participate and engage in different causes surrounding mental health and social justice issues. I understand the importance of being the kind of mentor you needed when you were younger, and I try to live by that when building relationships with young women and girls," Hornbrook says.
Hornbrook lives in Eagan with her fiancé, Willie Roller, III. In addition to her academic and volunteer activities, she enjoys traveling, gardening, reading, writing, meditating, listening to music, and embracing the beauty of the outdoors. She also wants to write books for children and adults and return to playing the piano.
"With family and personal struggles during my academic tenure, and juggling work and classes, I often worried that this wasn't the right time for me. But challenges are a part of everyday life, especially as a woman of color," Hornbrook says. "As someone who has navigated many hardships throughout my life, I knew that I couldn't allow any of my challenges to overshadow my desire to succeed in school to accomplish the necessary changes that our communities need and deserve. I was able to overcome these challenges with the combined help of my supportive and optimistic fiancé, the support of my professors and advisors and the amazing women in my cohort. We are truly blessed to be a strong, relationship-oriented, and supportive social work cohort. I feel it's important to recognize everyone helping me along my journey as I share this award with them!"
Metropolitan State University, a member of Minnesota State, is the Twin Cities' public, urban, comprehensive state university providing lifelong learning and competitive academic and professional degree programs at the bachelor, master and doctoral levels.