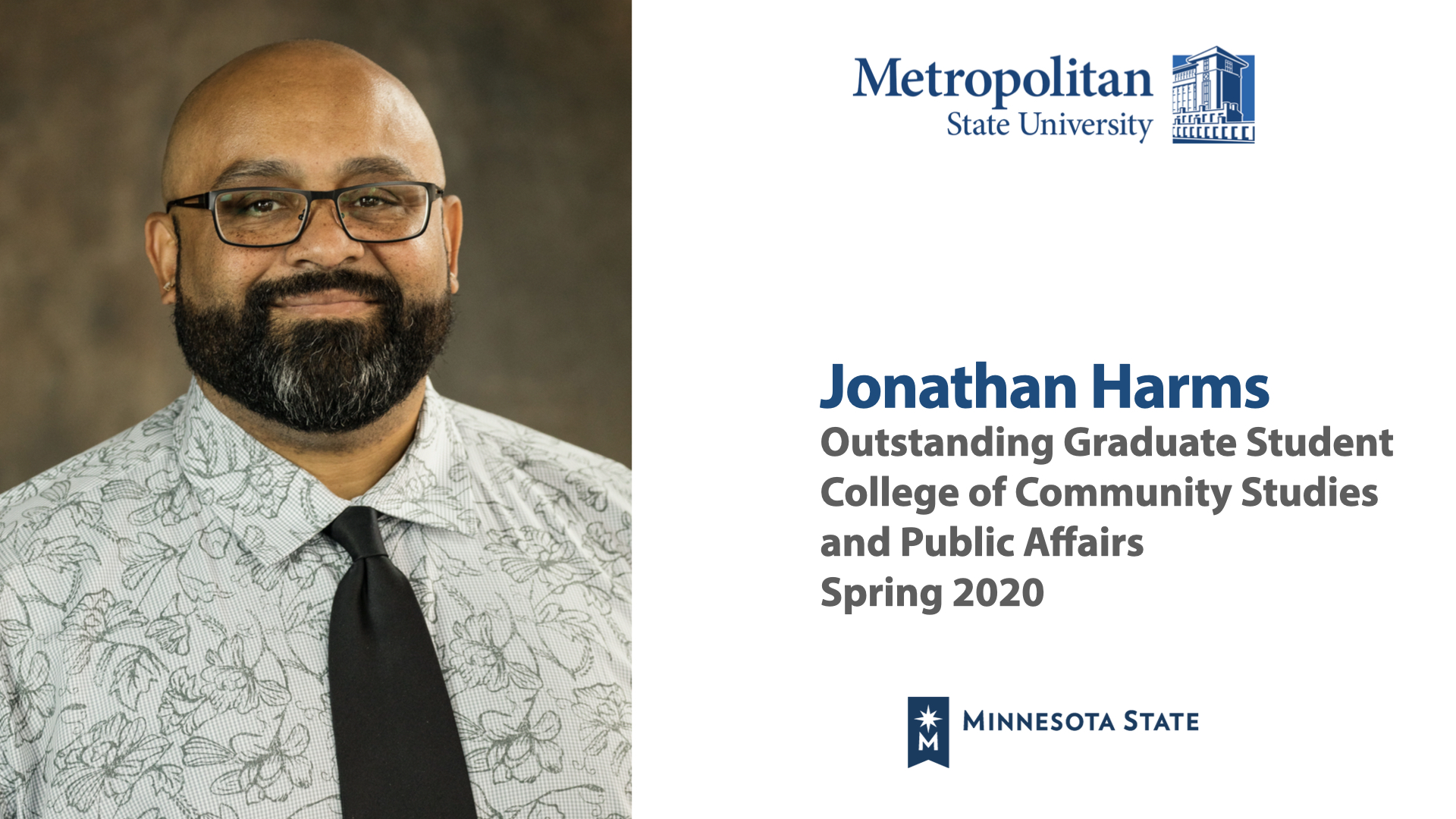 Jonathan Harms, Crystal, has been selected a spring 2020 semester Outstanding Student at Metropolitan State University.
Harms graduates with a Master of Public and Nonprofit Administration degree and is chosen Outstanding Graduate Student in the university's College of Community Studies and Public Affairs. Metropolitan State's 106th Commencement will take place as a virtual graduation exercise on Aug. 15. With spring and summer 2020 semesters together, Metropolitan State is conferring 791 bachelors, 80 masters, and 17 doctoral degrees. Since 1971, Metropolitan State University has conferred 46,003 bachelor's degrees, 4,158 master's degrees and 105 doctoral degrees.
Harms transferred from North Hennepin Community College to complete his bachelor's degree at Metropolitan State. He chose Metropolitan State for its affordable tuition and flexible schedule that makes higher education easier for the working adult.
"I had heard a lot of great things about the quality of the professors," Harms says. "Once I finished my undergraduate degree, I couldn't see myself changing schools. The experiences I had told me that graduate school would be a continuation of the wonderful journey."
Harms is employed by Hennepin County where he is currently the supervisor of Fourth Judicial District Court Violation Bureau and Criminal e-File and Serve units. He has worked in the government sector for 27 years. Now, with the knowledge gained from his master's degree, he expects to be much better position to compete for promotional opportunities. He is also considering pursuing a PhD in the future.
Harms' current place in his life and academic journey is far from where he started. He had left home by his senior year in high school and did not graduate. He couch-surfed and lived on the streets. He became a gang member and drug dealer. "Going to college was arguably the furthest thing from my mind even though people who knew me said I should," he says.
Years ago, a conversation with his eldest daughter, who was 8 years old at the time, about the importance of a college education took a turn when she reminded Harms that he himself had not finished high school. "That was the final straw that pushed me into it. Once I started, I set my goal to achieve my master's degree and I have now completed that journey. I started college for one reason: To show my children that attending college was a realistic goal for them."
Now, his daughter is a junior at Iowa State University and my youngest son is a sophomore at University of Minnesota, Carlson School of Management.
Harms has coached youth sports for more than 27 years and owns and operates his own personal training business. He attended Robbinsdale Cooper High School in New Hope, earned his GED at 20 and attended Control Data Institute where he completed a Microcomputer Specialist Degree. He lives in Crystal with his wife, Leslie, and their four children: Miya, 22, twins Taj and Tristan, 20, and Cole, 19.
As an adult learner also working full-time, Harms was concerned he would not be able to devote the attention necessary to be successful in his courses. "My greatest fear was 'time'," Harms says. "I was simply afraid that if I took on the challenge of going to college that I wouldn't have the time to do it successfully."
Harms credits his family, and especially his spouse for giving him the space to overcome his fear. "She allowed me to build in time to study while also supporting me through the ups and downs that come through a person's journey. In the end, I just refused to accept less than what I was capable of doing. I have always believed that "true crisis, breeds true character," and my journey is a shining example of that."
Each fall and spring semester, colleges at Metropolitan State nominate students for the Outstanding Student and Outstanding Graduate Student awards. Nominees are evaluated on the basis of their academic performance in their degree program, as well as achievements in their community and professional contributions. All finalists are recognized in the commencement program, outstanding students receive special recognition during commencement, and are eligible to speak at commencement.
Metropolitan State University, a member of Minnesota State, is the Twin Cities' public, urban, comprehensive state university providing lifelong learning and competitive academic and professional degree programs at the bachelor, master and doctoral levels.