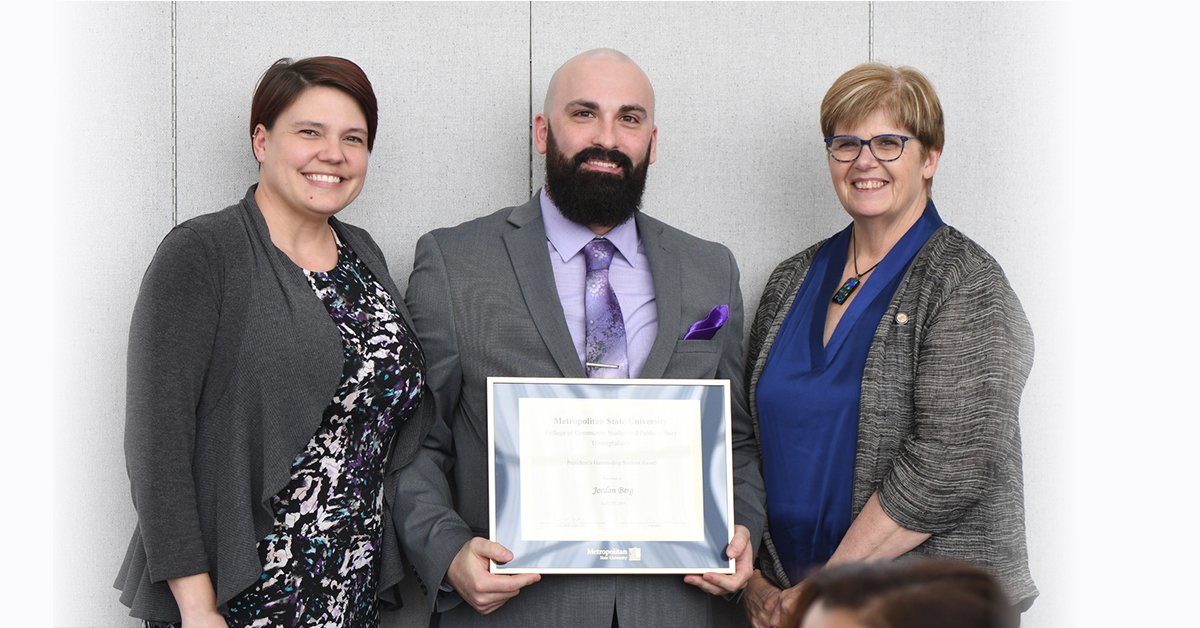 Jordan Berg of Burnsville has been selected as a spring semester Outstanding Student at Metropolitan State University.
Berg graduates summa cum laude with a bachelor's degree in law enforcement and is chosen as the President's Outstanding Student award recipient for the university's College of Community Studies and Public Affairs. He is one of 1,079 students graduating in the spring semester. Metropolitan State's 104th commencement exercises take place April 27, 2019, at the Minneapolis Convention Center to confer bachelor's, master's and doctoral degrees. Berg will also deliver an address at the afternoon program recognizing graduates from the College of Community Studies and Public Affairs, the College of Individualized Studies, and the College of Nursing and Health Sciences.
Watch Jordan's commencement address here: https://youtu.be/-H6qm6jLK0w
"I know that without challenges there is no progress. I wanted progress more than the way I felt about some challenge[s] I was having," Berg said. "I was able to overcome the challenges I had by taking one step at a time, through the relationships I built along the way at Metropolitan State."
Berg participated in student life at Metropolitan State University as the vice president of the Law Enforcement and Criminal Justice Club. In the community, he mentors for One2One and volunteers at Loaves and Fishes. Berg is also involved in the Burnsville Habitat for Humanity Home Owners' Association and the River Heights Vineyard Church.
Berg is a 2003 graduate of Simley High School in Inver Grove Heights. He plans to pursue a job in law enforcement, and wants to earn a master's degree and teach at Metropolitan State.
"I quickly learned that his positive, enthusiastic attitude is how Jordan approaches everything he does.  He is a caring helper.  That is just who he is.  Whether it's helping the neighbors in his Habitat for Humanity community, preparing and serving meals for Loaves and Fishes, leading co-workers at every job he's ever had or offering moral support to a professor whose dog was just diagnosed with cancer, Jordan cares," says Lesli Blair, assistant professor, School of Law Enforcement and Criminal Justice.
Each fall and spring semester, colleges at Metropolitan State nominate students for the Outstanding Student and Outstanding Graduate Student awards. Nominees are evaluated on the basis of their academic performance in their degree program, as well as achievements in their community and professional contributions. All finalists are recognized in the commencement program, outstanding students receive special recognition during commencement, and are eligible to speak at commencement.
Metropolitan State University, a member of Minnesota State, is the Twin Cities' public, urban, comprehensive state university providing lifelong learning and competitive academic and professional degree programs at the bachelor, master and doctoral levels.