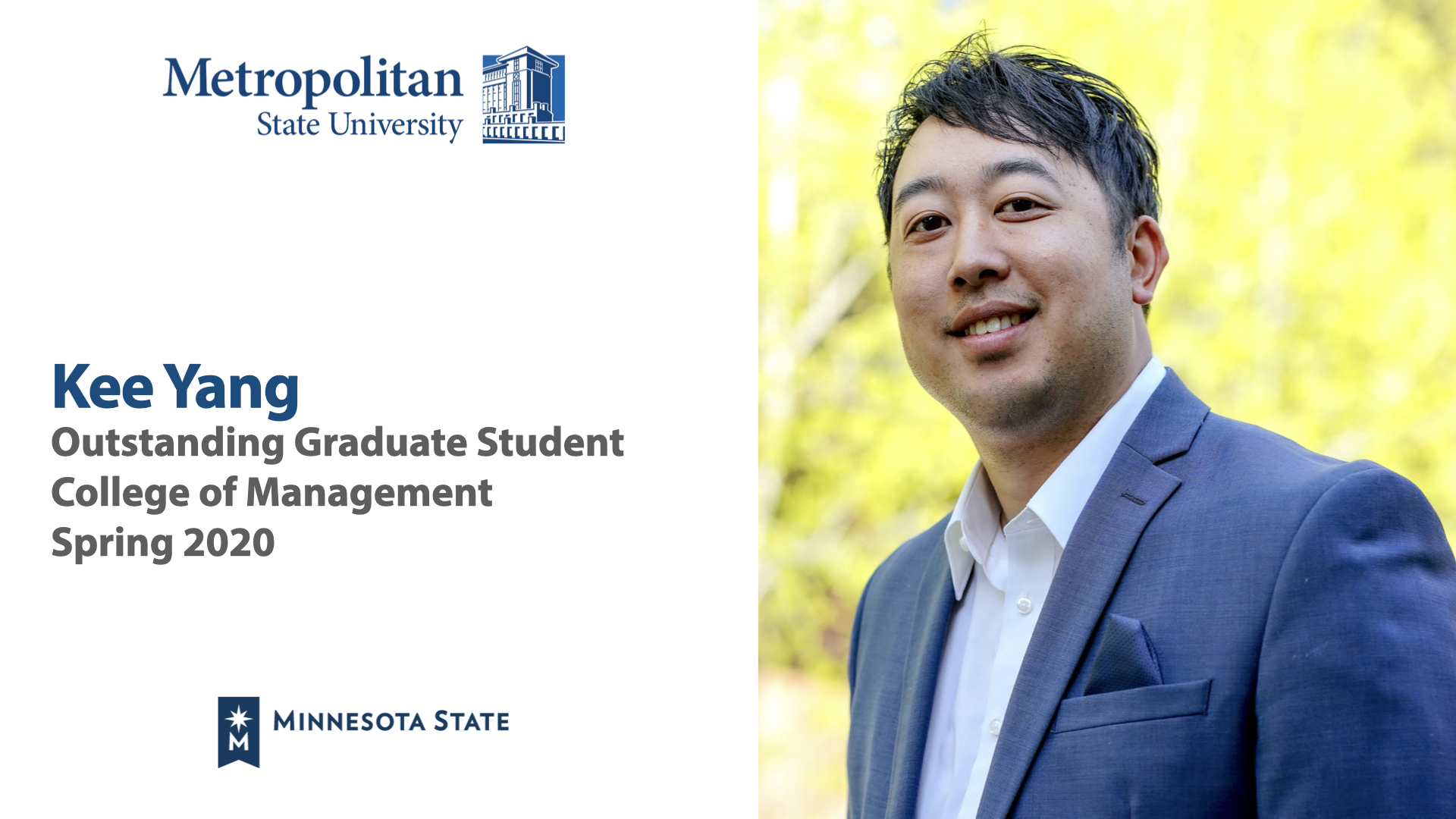 A Vadnais Heights resident has been selected a spring semester Outstanding Graduate Student at Metropolitan State University.
Kee Yang graduates with a Master of Science in Management Information Systems and is chosen Outstanding Graduate Student in the university's College of Management. Metropolitan State's 106th Commencement will take place as a virtual graduation exercise on Aug. 15. With spring and summer 2020 semesters together, Metropolitan State is conferring 791 bachelors, 80 masters, and 17 doctoral degrees. Since 1971, Metropolitan State University has conferred 46,003 bachelor's degrees, 4,158 master's degrees and 105 doctoral degrees.
Yang also earned his bachelor's degree in Management Information Systems from Metropolitan State's College of Management in 2017. He is employed as a Senior Systems Analyst for Omnetics Connector Corporation in Fridley. He plans to apply his education to his current position to help lead and provide recommendations that help drive the IT-related process, products, and solutions at his workplace. He will continue his educational path at Metropolitan State in the Doctorate of Business Administration (DBA) program starting in fall 2020.
"My goal at Metropolitan State University was to further my education, broaden my knowledge in the field, and use it as a stepping stone towards potentially teaching in higher education," Yang says. "I enjoyed how diverse Metropolitan State University is, as well as the flexibility of class offerings for a working adult."
In addition to his studies and working fulltime, Yang is also active as a volunteer coach in Junior Olympic Volleyball. He attends and helps lead worship at Saint Paul Hmong Alliance Church. He and his wife, Lee Thao, live in Vadnais Heights. He enjoys the outdoors, especially trips to the Boundary Waters Canoe Area Wilderness. He is a graduate of White Bear Lake High School.
"Staying on top of my school work was the most challenging aspect of my experience. Many people ask me how do you do it, and I tell them that if you love something you will always find a way to succeed in it," he says. "I appreciate all of the faculty members who have pushed me towards my success, notably, Dr. Simon Jin (assistant professor of Management Information Systems), for always inspiring me as well as encouraging me to reach my goals. Lastly, I want to thank my wife and my parents who have been instrumental in my academic journey."
Each fall and spring semester, colleges at Metropolitan State nominate students for the Outstanding Student and Outstanding Graduate Student awards. Nominees are evaluated on the basis of their academic performance in their degree program, as well as achievements in their community and professional contributions. All finalists are recognized in the commencement program, outstanding students receive special recognition during commencement, and are eligible to speak at commencement.
Metropolitan State University, a member of Minnesota State, is the Twin Cities' public, urban, comprehensive state university providing lifelong learning and competitive academic and professional degree programs at the bachelor, master and doctoral levels.