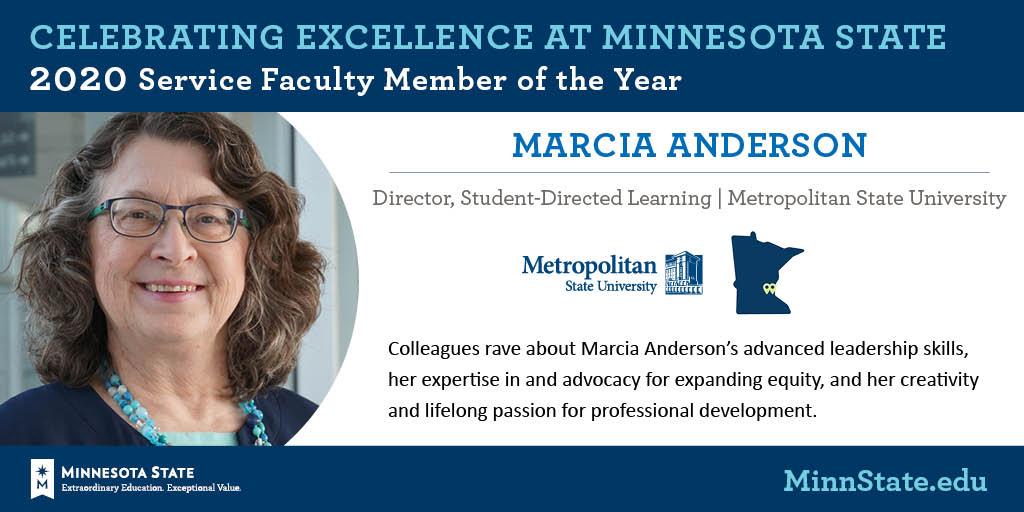 Academic Advisor Marcia Anderson has been named the Board of Trustees Service Faculty Member of the Year.
Anderson currently serves as the Director of Student-Directed Learning for the university.  She began her affiliation with Metropolitan State in 1976, as a community faculty member and received her Bachelor of Arts in Individualized Studies in 1977.  In 1987 she joined the university as the Acting Director of Publication and News Services and has served as an admissions counselor, academic advisor in the College of Individualized Studies (formerly First College), and interim director of the Credit for Prior Learning Assessment Network (C-PLAN).
Her expertise in assessing prior learning and competency-based education is unparalleled.  The colleagues who recommended her for this honor cited her advanced leadership skills, her sustained efforts to further Metropolitan State's mission, her expertise in and advocacy for expanding equity and inclusion, and her creativity and lifelong professional development.  All of us who know and have worked with her appreciate her positive outlook, her commitment to the university's mission and her dedication to student learning.