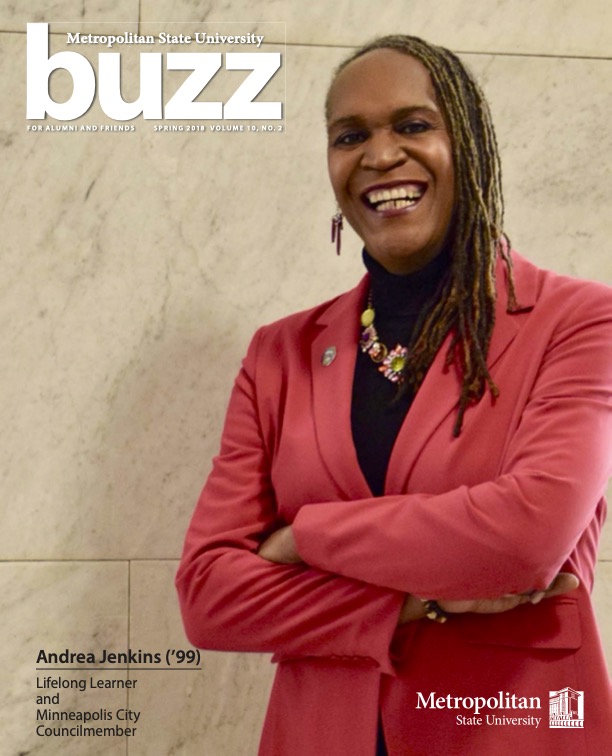 Originally published in buzz Magazine, Spring 2018
Council Vice President Andrea Jenkins' ('99) office, with its view east from City Hall, has a just-getting-started feel to it. Leaned against two walls, dark stained wood picture rails await installation, while framed pieces, including a James Baldwin poster, sit in seeming anticipation of being properly placed. Jenkins' own journey, on the other hand, seems anything but just getting started, and the artist, activist, community organizer, former city council staffer, and the newly elected council member for Minneapolis' Eighth Ward described a path that will sound familiar to many Metropolitan State alums.
"I spent three years at the University of Minnesota," Jenkins says, "I spent some time at the Minnesota School of Business, I moved back home to Chicago and went to Triton College for a couple of semesters, and Metro State was a place I could take all that experience and get credit for it."
In addition, Jenkins remembers some of the other elements that made Metropolitan State a good fit for her. "It was more affordable than other options, and it was more manageable—you could actually call the registrar! My academic advisor knew who I was; I was not just a number here." That sense of belonging extended to her academic experience, and she noted several factors that prepared her for the many stages her life would traverse afterward.
"One was when I took a class with Wally Swann. It was a nonprofit administration class, but it was more like a political science class—he was an elected official at the time. I was really interested in politics, and so we talked a lot about politics. The second factor was Metro State's strong commitment to including what we called diversity then, what I would call racial equity now, into every aspect of its curriculum. There was this powerful commitment to community—having instructors from the community, also having connections to the community—that really was a strong thread for Metro State as opposed to other institutions."
Jenkins really flourished, she says, when she experienced the practical expression of Metropolitan State's community engagement focus. "Metro State was intentional in its practice of community engagement, and to see that in a real way was inspiring. As a Metropolitan State student, I had an internship at a place called Plymouth Christian Youth Center (PCYC) in North Minneapolis. An instructor named Titilayo Bediako, was just starting a program called the WE WIN Institute, which is a program that works with African American students in the Minneapolis Public Schools to help them understand culture and history, provides after school activities, helps them stay out of trouble. One of the students in the program was a woman named Jamecia Bennett, who was pregnant at the time. She gave birth to a girl named Paris Bennett, who you may have heard of, since she was second runner-up on American Idol. The two of them recently played Glinda and Dorothy, respectively, in The Wiz at the Children's Theater Company. So she was 17, pregnant—many people would have written her off—it still happens today. But she prevailed because people believed in her. I haven't thought of this story for a while, but the community embracing our young people, that means a lot. It showed  me the power of community, giving back, being engaged."
That experience gave Jenkins the chance to build deep connections to the community, forging important networks and relationships that continue to bear fruit today. "I continued to work at PCYC after the internship was over, and really most of my professional life since has been in community-based nonprofits."
After taking a position as an employment counselor with Hennepin County, Jenkins had a transformational opportunity to replicate that community centered, networked model. "I was part of a group that started a community-based office to build on community assets and bring them to our clients. Whether they needed government assistance, a parole officer, social worker, employment counselor, all of these professionals were in one space. Many times, families receiving assistance have a probation officer that's across town, a social worker that is downtown, a case manager that they have to go to Century Plaza to see, and none of these entities ever talk to each other. So we had this integrated office, where we could get together and talk about one case. We could eliminate the situations where people were not showing up for appointments they couldn't get to and consequently losing their benefits. We became a part of the community. 'Hey that's Andrea—she's my case worker, but also my neighbor.'"
It was during that time that Jenkins met Council Member Robert Lilligren. "He asked me to join his team because of this community experience I had," Jenkins says, "I worked for him for two and a half years, in the same ward that I had been working in, so I knew a lot of the people. It was a really valuable experience; I learned a lot and then went to work for Council Member Glidden. It has just been sort of a natural progression, and now, being the council member, I have all these deep relationships with people that go way back. One of the things about being an elected official is you have earn the trust of the people, and I feel like I have been able to build that up over time through the work in the community."
Jenkins, the first openly transgender black woman elected to public office in the country, may just be getting started in her position, but it feels, as she puts it, "like a natural progression. I feel my lived experience as an African American, as a member of the broader LGBT community as a transgender person, and as a woman helps me understand a lot of the issues—you have to have all of that and you must understand and be deeply engaged in the policy to do the work."
The work seems in good hands, even before the picture rails are installed.