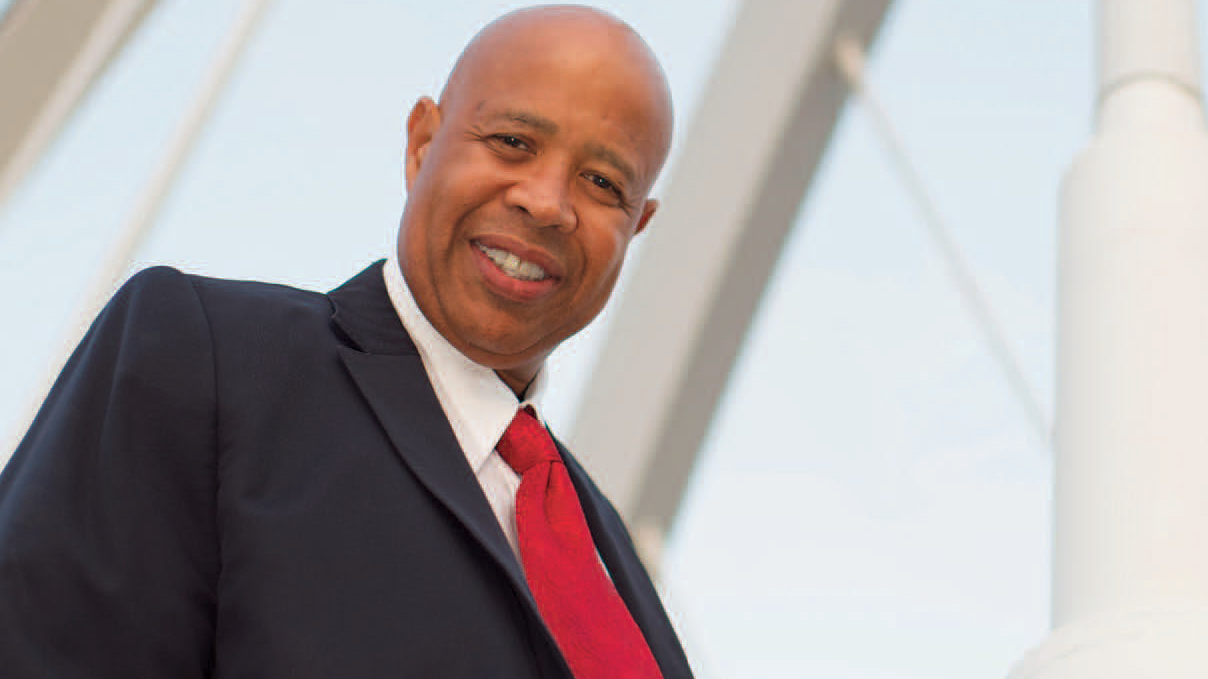 Originally published in buzz Magazine, Fall 2014
Gary Cunningham earned a bachelor of arts in public policy from Metropolitan State University in 1991 and a master's degree in public administration from Harvard University in 1992.
An array of awards and recognition have been given to him, some of which include Fellow of the National Academy of Public Administration, the Presidential Citation from the Minnesota Psychological Association, the Public Leadership Award from the Humphrey Institute of Public Affairs and the Innovation Award for Affordable Housing Incentive Fund from the National Association of Counties.
Cunningham serves as a member of the Metropolitan Council in the Twin Cities as well as serving on the Dean's Advisory Council of the Hubert Humphrey School of Public Affairs at the University of Minnesota. He serves as a board member of the Association of Black Foundation Executives as well as Generation Next, a collective impact model to improve student achievement. He is the newly appointed president and CEO of the Metropolitan Economic Development Association (MEDA), which supports entrepreneurs of color. Before working with MEDA, Cunningham served in many leadership roles, most recently as vice president of programs and chief program officer with the Northwest Area Foundation.
Chiara Marano ('13) spoke with him about his new position at MEDA, his past and present work and his reflections on it all:
Growing up, did you always know you wanted to make a difference in the community
I was about 9 in 1968 when Martin Luther King, Jr. was killed. My mother made all of us kids practice the "I Have a Dream" speech. We had to know it by heart. And I think it was between that time and the time that I was 13 that I figured out that I wanted to make a difference for people in the world. And so I set my path when I was that young, on doing just that.
Because I was a little kid in the '60s, I had an understanding for the Civil Rights Movement and what that meant. Then, getting older in the '70s, going to high school, there was a lot of social change happening in America—sea change. People actually working to address some of these deepened issues of race and poverty, sexism and homophobia within our communities. And, as a part of that, that's when I got involved with community organizing.
I organized a co-op grocery store when I was 18, in the city (Minneapolis), over on 38th Street and 4th Avenue; right across the street from where I went to high school. I was right out of high school and I opened up a store with the kids from school. And part of that was about people having some control over the food that they ate in their communities, how their dollar circulated in their community—it was really just about community. So I grew up with this kind of ethos, if you will, to use whatever talents and skills and capacity I have to make a difference with other people.
How has receiving your degree from Metropolitan State helped you in your life and career?
I was really interested, and I had been for many years, in public policy. That's where my area of focus was. At the time, I was deputy director of the civil rights department at the city of Minneapolis and I didn't have a degree. I had a lot of credits at the University of Minnesota but I needed a degree.
One of the founders of Metropolitan State said I should check out Metropolitan State. So I went over and they walked me through the courses that I would have to take in order to graduate. It was a powerful moment because what they did for me was show me the path to get there. That's powerful for someone, when you can see the path going forward, it actually frees up a lot of things.
So Metropolitan State—the degree, the classes, the caring professors, the faculty—it was an outstanding experience. It helped me when I later went to Harvard because at Harvard everyone had to do a couple things. Everyone had to take statistics and everyone had to take microeconomics. It was the base work I did at Metropolitan State that helped establish me to excel in the core curriculum at Harvard University. Without that grounding at Metropolitan State, I don't think I would have succeeded at Harvard.
What are you most hoping to achieve at MEDA?
MEDA supports entrepreneurs of color to succeed; that's their motto. And they've done a great job of that. In the last 40 years they've helped more than 19,000 minority-led businesses, and have actually created 600 or 700 businesses.
I see MEDA as opening the doors of opportunity to build businesses and entrepreneurs who are innovators within our community. One of the things I want to do is grow at least a $100 million equity pool where some of the big corporations and some of the big companies, like Wall Street and others, make equity investments, meaning they become partners with minority businesses to help them grow and flourish.
As Martin Luther King, Jr. said, "We may have all come on different ships, but we're in the same boat now." And I think it's incumbent on the business community, the nonprofit community and the public sector to work together. Not to give a handout to people of color, but to help them thrive because we all benefit from that. So that's what I want to achieve. I want to change the ethos of how we think about building small, medium and large businesses within these communities.
What is something that has surprised you throughout your career?
I've been surprised and delighted at the capacity of the human spirit. And I really mean that. I have witnessed and been in some of the most desolated places in the country, and I've seen people use whatever they have to try and make a difference to help others. I've seen people in urban ghetto areas pull together and put up a stop sign in their community or pull together to stop drifting from happening in their communities.
I've seen people with PhDs and master's degrees come back to low income communities and give up making money to make a difference. And I've seen people go into situations that I would think to be hopeless and save and nurture others. I've fallen in love with America because the human spirit in America that I've seen says that we—no matter what the circumstances or conditions—we can do it. It really surprised me and it really beat back cynicism that we so often see by looking at these situations. And these are the miracles. These are the miracles of our existence that say, it's not all about me, it's not all about I'm the one, it's about reaching out to others.
So I've got a little philosophy. It's hard, but what I've found is the more power you give away, or the more of what you have, you give to others, the more you receive back. And it's counter intuitive, and it's against capitalism. But what I've noticed in work places where I've managed people, the more authority or power that I've shared with others, the more trust, the more value, the more it comes back to you. And that's real. And until you do it, it's hard to see, it's hard to feel, because we have a tendency, and I do, too, to say, "I'm going to hold onto what I've got," or "I'm not going to share," or "I've got power so I'm going to hoard it." But I've found the opposite to be true. The more you give away, the more comes back. It's a hard philosophy. There are those times that you don't want to be generous, or you don't want to give back. But it's real. Honest to God, there's a fundamental kind of value of this place we're in, and I think that's it.
Do you have anything exciting or notable coming up that you would like to share?
In November, I'm teaching a class at the Humphrey School of Public Affairs on performance management. Also in November, I'll be inducted into the National Academy of Public Administration.  Next year, in 2015, I will be part of a world conference in Bellagio, Italy, at the Rockefeller Center—it's a conference on economic opportunity in the African American community that I'm helping to organize. This conference will only have about 25 people. These top people around the country will look at how do we create and expand economic opportunity, and how do we address some of these issues for the African American populations.
What would you say your personal mission statement is?
My mission is to use my talents, my skills and my abilities to make a difference for people that are less fortunate than I happen to be. And if I can do that, I think I've lived a well-lived life.