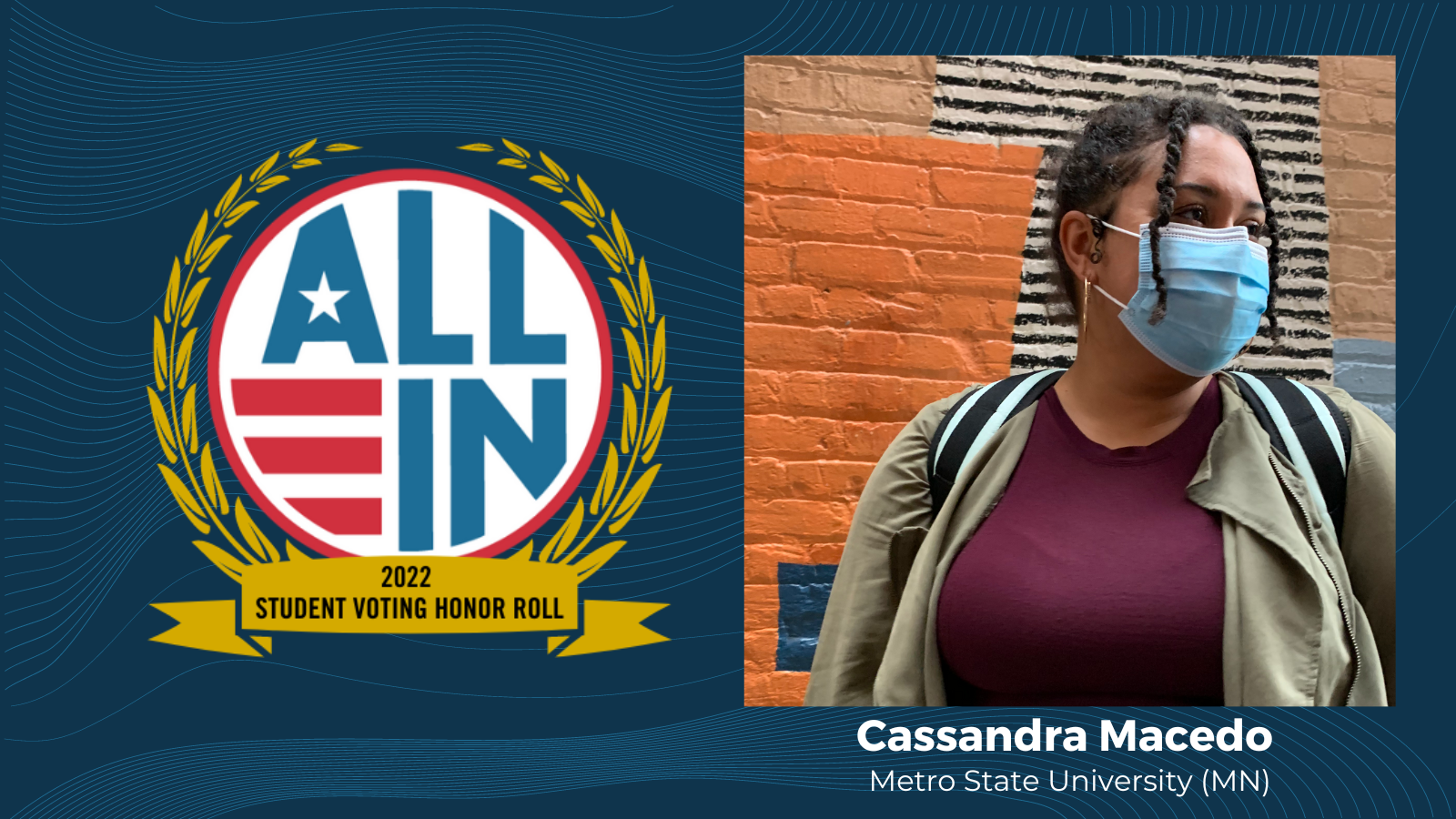 On Thursday, May 12, Metro State University and ALL IN Campus Democracy Challenge announced that Cassandra (Cassie) Macedo has been recognized on the 2022 ALL IN Student Voting Honor Roll. The ALL IN Student Voting Honor Roll is a recognition program for college students at participating campuses doing outstanding work to advance nonpartisan democratic engagement. Cassie joins a group of 82 college students recognized for their nonpartisan voter engagement efforts on campuses across the country in 2021. 

"College student voter turnout has increased since 2016, and this increase has been driven by students. The ALL IN Campus Democracy Challenge is excited to expand our ALL IN Student Voting Honor Roll to recognize these student voting champions across the country," said Jennifer Domagal-Goldman, executive director of the ALL IN Campus Democracy Challenge. "These students registered voters, served on their campus voting coalitions, spearheaded voter education efforts, advocated for campus polling locations and organized other voter engagement efforts to ensure their peers were confident and informed voters. We are excited to see what they continue to accomplish ahead of the 2022 midterms."

A student in the Masters of Advocacy and Political Leadership (MAPL) program, Macedo is a civic champion and activist dedicated to racial and economic justice in Minnesota. She was instrumental in the COVID-adapted Metro State Votes campaign to mobilize and educate the campus and broader community about the unprecedented 2020 elections. Outside of school, Macedo is an executive coordinator with the Black Visions Collective. In all her work and learning, she is an active listener whose own life experiences inform her approach to centering BIPOC and queer voices, acting with curiosity, and working in partnership to transform communities. After graduation, Macedo plans to run for office and represent marginalized voices and fight for equitable policies in her home community of Apple Valley.

The ALL IN Campus Democracy Challenge empowers colleges and universities to achieve excellence in nonpartisan student democratic engagement. Campuses that join the ALL IN Campus Democracy Challenge complete a set of action items, with the support of ALL IN Challenge staff, to institutionalize nonpartisan civic learning, political engagement, and voter participation on their campus. The ALL IN Campus Democracy Challenge currently engages over 9 million students from more than 870 institutions in all 50 states and the District of Columbia. 

About ALL IN Campus Democracy Challenge:
The ALL IN Campus Democracy Challenge (ALL IN) is a national nonpartisan initiative of Civic Nation, a 501(c)(3) organization. The ALL IN Campus Democracy Challenge strives to change civic culture and institutionalize democratic engagement activities and programs on college campuses, making voter participation a defining feature of campus life.

ALL IN, in collaboration with over 870 higher education institutions, seeks to make participation in local, state, and federal elections a social norm; substantially increase the number of college students who are democratically engaged on an ongoing basis, during and between elections, and not just at the polls; and make educating for democratic engagement on college campuses an accepted and expected part of the culture and curriculum so that students graduate with the knowledge, skills, behaviors, and values needed to be an informed and active citizen.