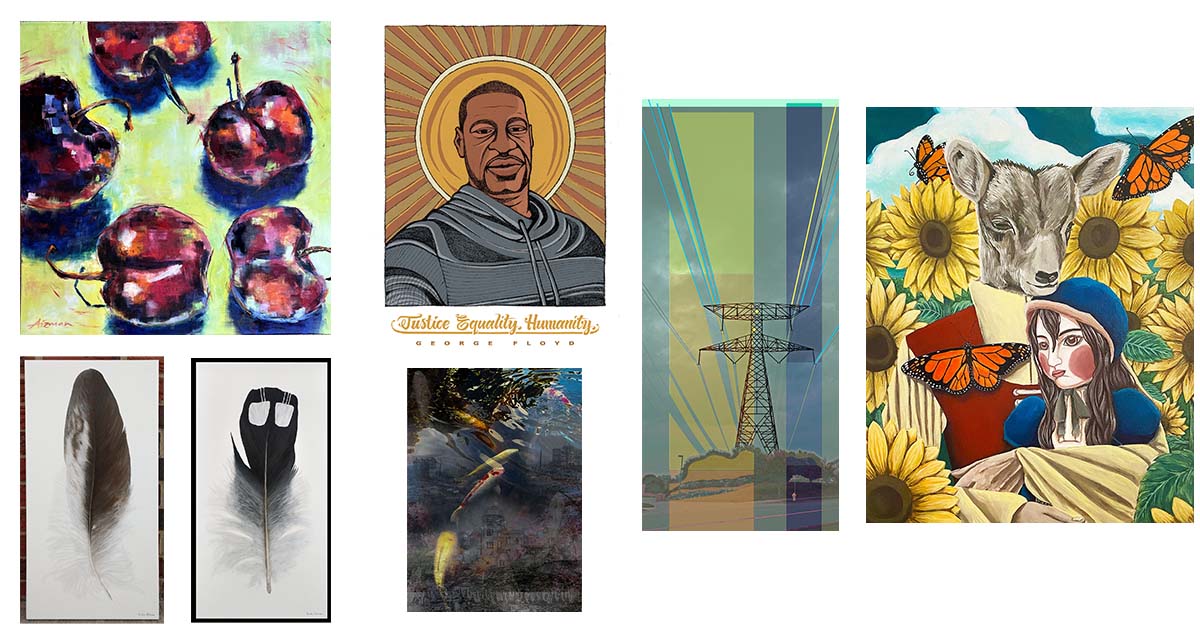 The selection of seven works by students and alumni are announced in the results of the Metropolitan State University 2022 Art Purchase Award. The university Art Exhibition Committee has selected these works for acquisition:
Justice, Equality, Humanity by Adam Bucher, digital illustration, 26" X 36", 2020 
Lake Song by Kimber Starnes, acrylic painting, 24" X 12", 2019 
River Roost by Kimber Starnes, acrylic painting, 24" X 12", 2019 
Cherries on Chartreuse by Aarah Aizman, oil on canvas, 24" X 24", 2016
Reflecting by Hana Yonekawa, inkjet print, 14" X 11" 2021 
Power by Gretchen Funk, inkjet print, 20" X 10" 2020
The Child and Their Doll by Kong Blia Thao, acrylic on canvas, 20" X 16", 2021 
The placements of the works are yet to be established.
The annual Art Purchase Award is to encourage the growth and development of student and alumni studio artists and to elevate the profile of the arts on campus. The Art Exhibition Committee orchestrates up to seven $1,000 awards, selected on the basis of artistic merit.
The 2022 Art Purchase Award is generously supported by Academic Affairs, the Alumni Association, the Metropolitan State University Student Association, the Library and Learning Center Endowment and the Office of the President. 
The 20th annual Art Purchase Award will take place in spring 2023. Direct inquiries to resident faculty member Amy Sands at amy.sands@metrostate.edu.