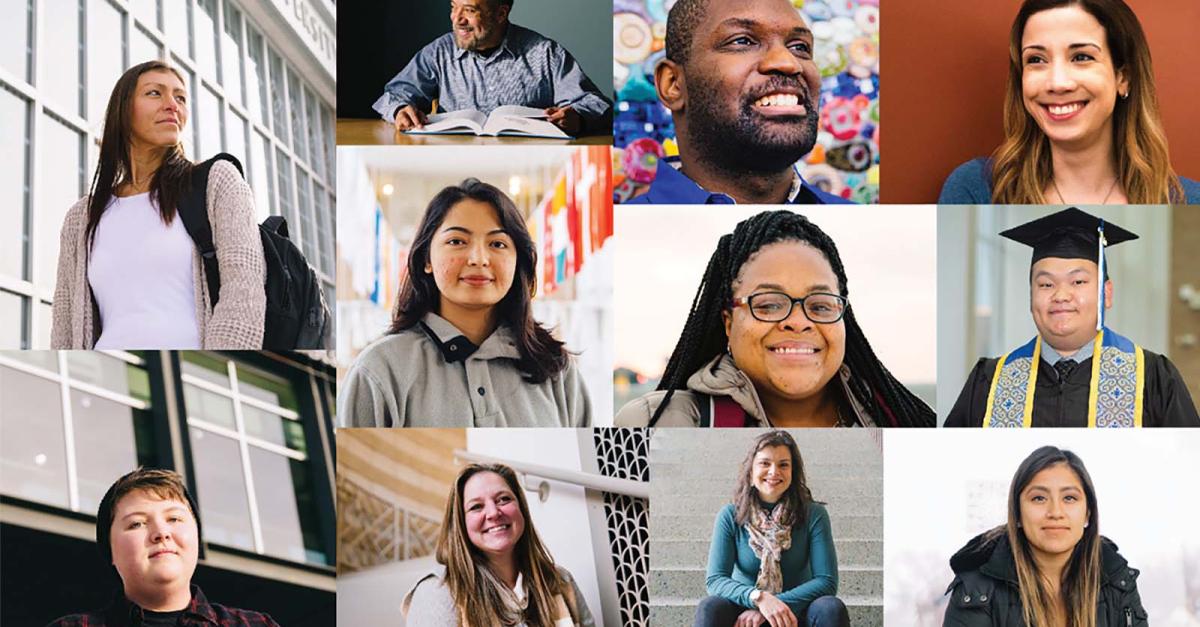 Key updates highlight the university's longstanding commitment to equity, inclusion, diversity, anti-racism, and social mobility
On February 21, Metropolitan State University launched a comprehensive new brand identity system to live into its mission, known for excellent academics, exceptional value, and commitment to equity and inclusion.  
The brand launch includes updates to the university name, platform, logo, and look.  
This launch is the culmination of planning, research, and analysis that has been in progress since January 2021. More than 3,330 students, alumni, employees, and community partners participated in surveys, focus groups, and interviews that informed the brand development process. 
The new brand positions the university to better integrate its core academic excellence with its mission, vision, and values, including its longstanding commitment to equity, inclusion, diversity, anti-racism, and social mobility. The new brand celebrates the university's achievements over the past 50 years while positioning Metro State for a successful future. 
Key updates include:
Name – The university will adapt a shortened name, Metro State University, for brand purposes while keeping its full and legal name (Metropolitan State University) for formal purposes.
New Platform – The new platform clearly articulates the university's purpose, position, principles, and personality, shaping how Metro State University comes to life in its communications.
New Logo – The new Metro State logo will encompass the university personality and have all the essentials for excellent logo design. It's versatile, flexible, simple, memorable, relevant, scalable, unique, and meaningful.
New Look – Fresh imagery, colors, and fonts will capture the vibrancy of Metro State University.
Beginning February 21, the metrostate.edu website will feature an updated look and feel. Plans are in place to universally represent the new brand across other media in the coming months. The following overview offers additional context and information about the enhancements. Please direct inquiries to communications@metrostate.edu.
Telling our story: Where living meets learning
New Name
Based on discovery, research, and audit findings, the university will adopt a shortened name, Metro State University.
The benefits of using "Metro State University"
Allows stakeholders to focus energy and efforts building the brand
This is the identity embraced by our community and most frequently used
Maintains connection with alumni
"Metro" is more commonly used to describe the Twin Cities than Metropolitan
Shortens the name length for written and verbal purposes
Wordmark is available nationally
Allows for differentiation from Metropolitan State University, Denver
The existing metrostate.edu URL aligns with the name
New Platform
Our purpose, position, principles, and personality help us summarize how Metro State University comes to life in our communications. It explains who we are, who we're here for, what we do, and why we do it. Our platform is the foundation for our voice of who we are as a university.
Purpose
We break down barriers to higher education creating opportunities for all.
Positioning
Metro State University strives to create an inclusive, anti-racist learning experience that empowers students, driving social change through individualized education.
Principles
Rigorous Academics: Our high-caliber faculty and staff encourage post-traditional learners to relentlessly pursue and apply knowledge through unique lived experiences, discoveries, and engagement.
Radical Inclusivity: We believe education is for everyone. We find unity in diversity, strength in our differences, and create a space where all people feel like they belong.
Anti-racism: We never stop building a more equitable, just community that challenges the historically exclusionary nature of higher education.
Transformation: We accelerate social mobility and economic advancement for our graduates, their families, and communities through a dynamic education designed for real life.
Personality
Advocate: We take our students' and community's interests to heart, actively supporting their academic development every step of the way.
Optimist: We are hopeful and confident, joyfully striving to create a future with limitless possibilities.
Trailblazer: We're energized by creating unconventional ways to revolutionize higher education and bring about social change.
New Logo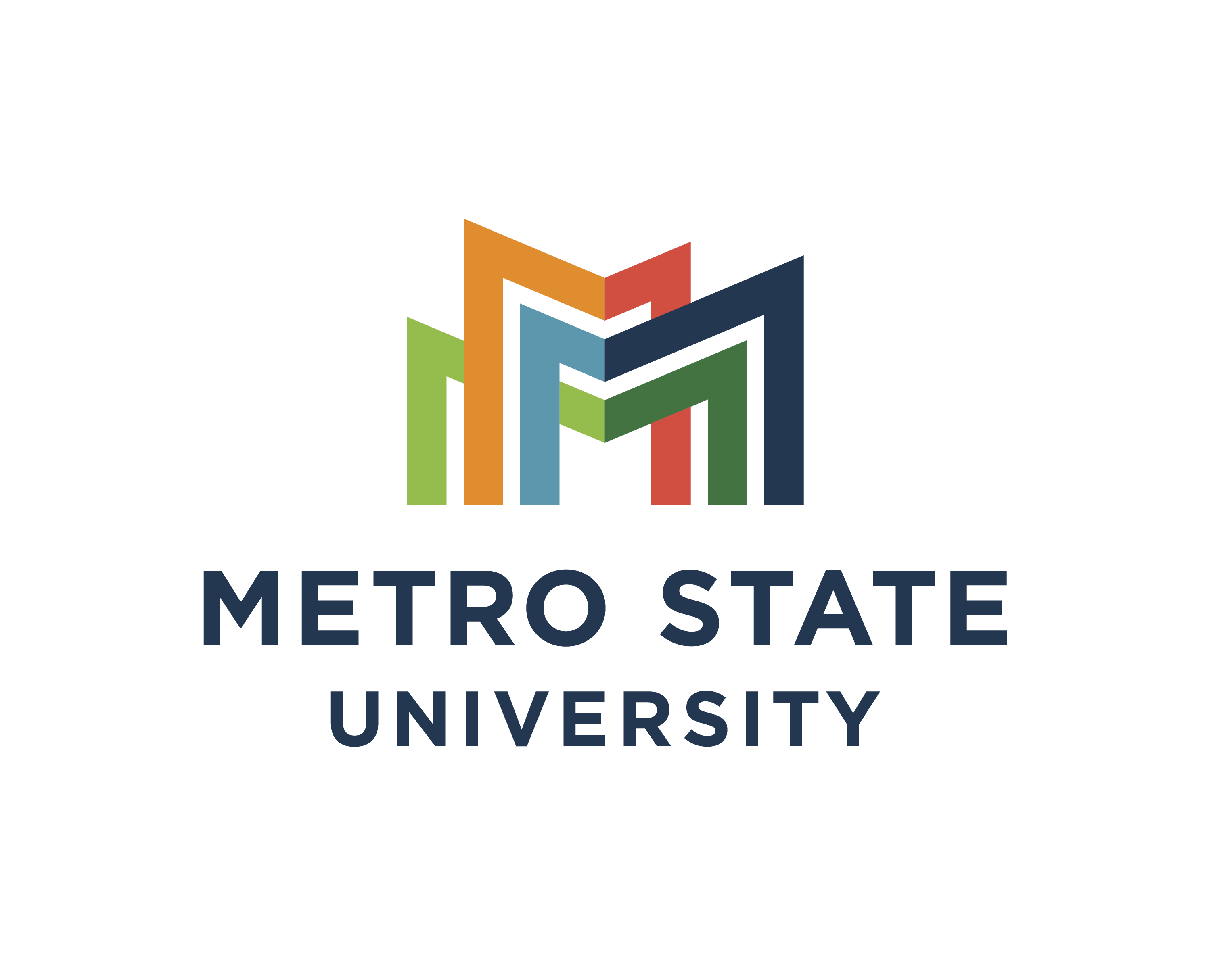 The new Metro State University logo encompasses our personality of optimistic, advocate, and trailblazer. 
The "M" expresses intersectionality and coming together, representing our commitment to equity, inclusion, anti-racism, and diversity. The upward movement signifies how we create upward pathways for bachelors, masters, and doctoral degrees. It embraces students' upward social mobility, academic achievement, and career advancement. 
The image is strong, hopeful, confident, and unique—like our student, faculty, staff, and alumni communities. The colors and movement are optimistic, vibrant and energetic. The logo intentionally has the resemblance of a city scape in our urban setting. 
New Look
The new brand leans into a multi-color approach to speak to our diversity and the inclusivity and sense of belonging the university provides. Blue still plays a major role in the color palette as a nod to the existing brand, but the specific shades were selected to work together as a modern expression of who Metro State University is today. Updated photos, colors, and fonts capture the vibrancy of Metro State University.